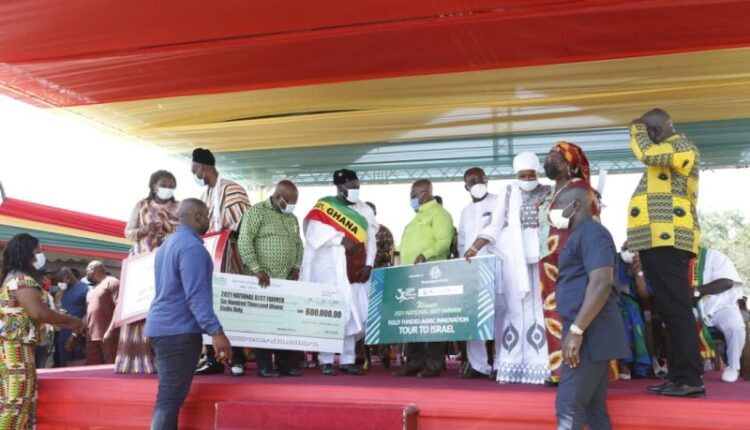 Alhaji Mohammed Mashud crowned 2021 National Best Farmer
Alhaji Mashud Mohammed, a 44-year-old man from the Mion District of the Northern Region has won the ultimate as the National Best Farmer for 2021.
He owns one of the largest farms in the country with several crops as well as livestock.
As part of the package to reward him, he is expected to receive GHC 600,000 from the Agricultural Development Bank and GHC500,000 worth of insurance cover from GLICO Insurance.
Additionally, he has been granted a study trip to Israel sponsored by Broadspectrum Limited.
He was crowned at the 37th edition of the Farmers' Day celebration held in Cape Coast on Friday, December 3.
The first runner was Mr Suleman Yidaana from the East Mamprusi District of the North East Region.
He took home a tractor, trailer, disc plough, a boom sprayer, GHC300,000 worth of insurance cover from GLICO Insurance, and a study trip to Israel.
Following closely as the second runner up was Reverend Samuel Sida from the Asutifi North District of the Ahafo Region.
For him, organisers of the programme gave him a Nissan Navara Double Cabin Pick-Up and GHC200,000 worth of insurance cover from GLICO Insurance.
For the aquaculture sector,  Mr Kwaku Ehun from Gomoa West Central of the Central Region was the Overall Best Fisherman.
He was given a two-bedroom house.
In all, 165 farmers and fishers across the country were honoured for their efforts in providing food to feed the nation over the last year.
The 2021 event was on the theme: "Planting for food and jobs; Consolidating food systems in Ghana".
Speaking at the 35th edition of the Farmers' Day, President Nana Addo Dankwa Akufo-Addo who was the Special Guest of Honour stated that his government, since 2017, has set out to transform Ghanaian agriculture through investment in integrated and mutually reinforcing measures, that are yielding positive results. 
With the central pillar of the government's policy being the Planting for Food and Jobs programme, the President stated:  "We have, through the Programme, achieved a yearly average growth of agriculture of 5.8%, from 2017 to 2020, compared to the 2.7% growth we inherited in 2016." 
To date, according to him, "a total of 1.4 million metric tonnes of fertilizers, and some ninety-one thousand metric tonnes (91,000MT) of certified seeds have been made available to farmers since 2017, with the number of beneficiary farmers now hitting the 1.7 million mark, taking off from the initial number of two hundred and seven thousand (207,000) farmers in 2017." 
"Vegetable production, under the greenhouse village concept, has also been promoted intensively, with three centres established at Dawhenya, Akumadan and Bawjiase for commercial production, and training of youth interested in establishing agribusinesses in the vegetable value chain," he said. 
President Akufo-Addo added, "To improve the efficiency of farmer operations, a total of eight thousand, nine hundred and eighty (8,980) units of various machineries and equipment have been imported to enhance access to mechanisation services by farmers. Sixty-three (63) out of the proposed eighty (80) one thousand metric capacity (1,000MT) warehouses have been completed." 
"I am happy to inform you that approval has been given by Cabinet for the recruitment of an additional number of one thousand, one hundred (1,100) veterinary officers into the Ministry of Food and Agriculture. Fifty per cent (50%) of this number will be recruited in 2022, and the remaining fifty per cent (50%) progressively taken on board over a two-year period," he added.