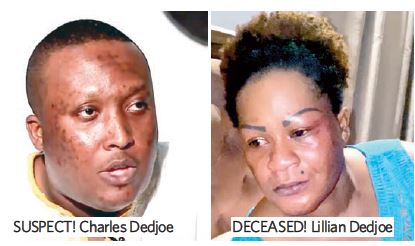 Alleged 'wife killer' seeks injunction to stop burial
A man accused of killing his wife at their East Legon residence has filed an interlocutory injunction, preventing the family from burying his wife.
The 43-year-old business executive Prince Charles Dedjoe, who has been in custody since March 10, this year, insists his wife Lilian Dedjoe should not be buried in his absence.
He, therefore, wants the Accra High Court to order his wife's family to halt the processes.
The father of the deceased Seth Charles Kanglah Blasu, on Monday, May 17, informed the district court of the latest developments.
Mr Blasu explained that he would not be available on the next adjourned date because he would be at the High Court on the same day for the injunction hearing.
The High Court is expected to move the motion on May 24, 2021.
How it all started
On March 10, this year, a district court in Madina remanded in police custody Prince Charles Dedjoe, a businessman, suspected of killing his 43-year-old wife.
He was arrested for allegedly killing his wife at their East Legon resident on Sunday, March 7, 2021.
The accused person has been slapped with a murder charge.
The police report revealed that a day before the incident, the deceased's father complained that his daughter had been severely assaulted by her husband (accused person).
But Mr Dedjoe, a day after the father-in-law's report, reported his side of the story to the police.
"At about 3:20 am on the said day, he rushed out from bed upon hearing his wife scream only to find her lying unconscious on their staircase.
"He, together with his two children, quickly rushed her to the hospital but was pronounced dead on arrival," according to the husband's statement to the police.
Following the report, the suspect was arrested and detained.