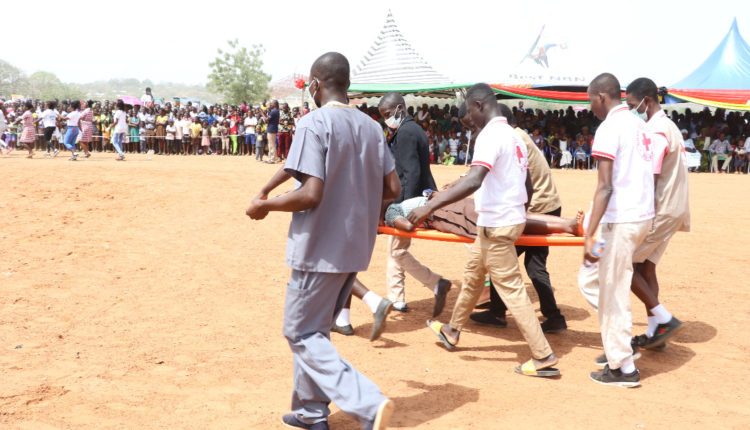 Almost 100 people, including four security personnel collapse at parade grounds
Close to 100 people, including three immigration officers and a police officer, collapsed in the Greater Accra, Bono East, and North-East regions while on parade to mark Ghana's 63rd Independence anniversary.
The heat from the blazing sun and hours of fatigue took its toll on over 75 people, mostly school children at parade grounds across the country.
Graphic Online reported that Tema recorded the highest casualty with over 60 pupils from the various basic schools collapsing even before the commencement of the march past held at the Tema Stadium.
According to the report, some pupils arrived at the parade grounds as early as 7 am without taking breakfast, thus contributing to the collapse.
It was, however, unclear if the students were able to recover to rejoin their colleagues in time for the parade at the Tema stadium.
Fifteen pupils in Techiman whose physique could not endure the drills and the heat in Techiman fainted.
About 10 students and three immigration officers collapsed during the parade held at Nalerigu, the North East Regional capital. Not even the joy of taking part in the new region's first-ever Independence Day parade could hold up their weary limbs. The sun and the long hours of standing sapped their energy.
Mr Iddrisu Imudana, an Emergency Nurse at the Baptist Medical Centre in Nalerigu, told Ghana News Agency (GNA), in an interview that the heat from the sun could have accounted for their collapse.
According to him, standing for long hours was not advisable, "When you stand for long hours and there is no adequate blood flow to the brain, it can cause you to collapse."
He, however,  said the situation was under control, as all the cases brought were immediately managed as ambulances were on standby to transport victims to the Baptist Medical Centre.
Asked if the team assessed the Random Blood Sugar (RBS) levels of the victims to rule out hypoglycemia, low blood sugar, Mr Imudana responded in the affirmative and said their RBS levels were within the normal range.
"After they recover, we give them glucose to boost their energy levels. So far we have not recorded low or high Random Blood Sugar. It is possible they collapsed because they stood for long," he indicated.
Similar to the Greater Accra incident, he also said that there was the possibility that the victims might not have eaten since morning, "imagine someone stands from 8am, and the programme started around 10am, definitely, such cases would be expected."
Mr Imudana advised that occasions such as the independence parade starts during the very early hours of the morning so participants would disperse before noon.