Ban on noise making begins May 10
The ban on drumming and noise-making preceding the Homowo festival in the capital is expected to take effect from May 10 to June 10, 2021, the Accra Metropolitan Assembly has announced. 
The Assembly, in a statement, has set out some guidelines in the interest of peace, harmony and national security.
As part of the guidelines, the assembly advised that the usual form of worship should be confined to the premises of churches or mosques and noise levels should be minimised to the barest limits during the ban.
The religious bodies are also to ensure that all Covid-19 protocols, that is, washing of hands under running water with soap, the use of hand sanitisers, the wearing of nose masks and physical distancing) are strictly adhered to.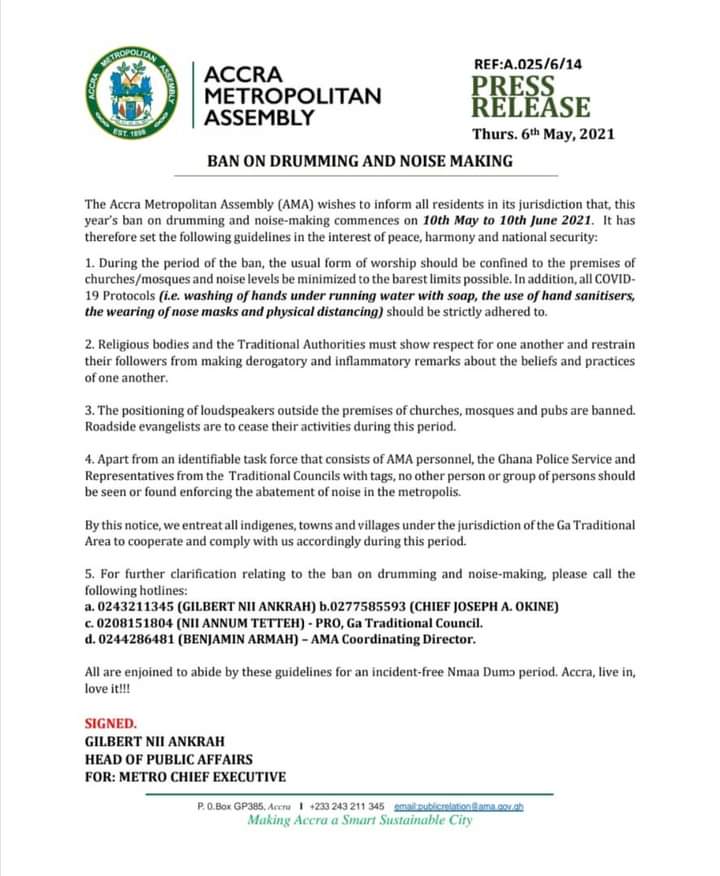 The one-month-long ban is a custom that precedes the celebration of the Homowo Festival by the Ga-Dangme people.
The period is used to fast and pray for peace, progress and the welfare of the Ga-Dangme state and the country as a whole.
Homowo is celebrated in remembrance of the famine that once happened in the history of the Ga people.