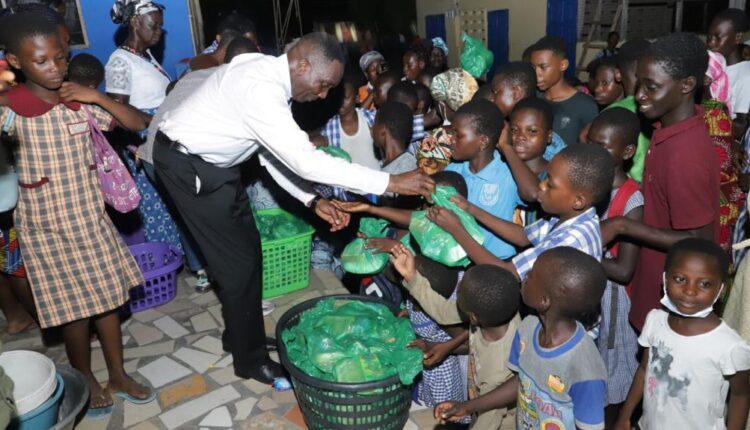 Bawjiase-based Countryside Orphanage continues to benefit from Christian organisational support
The partnership between the Renewal Christian Center (RCC), Maryland USA, headed by Rev. Dr. A.B. K Appiah, and the Countryside Orphanage, Bawjiase in the Central Region, to support children at the orphanage has yielded commendable results.
The partnership was made possible through the help of Rev. Sammy and Mrs Florence Adjepong of Alpha Beta Educational Centers, Accra.
In line with their vision to change lives and help people to their full potential, the RCC has been investing in young Ghanaians for nearly two decades.
In 2005, the Christian organisation set up an SHS Educational Fund to sponsor bright but needy students.
This sponsorship was a full scholarship that took care of admission fees, tuition. provision, pocket money, house dues, WASSCE registration fees and other related expenses.
Through this fund, 38 young people have successfully completed their senior high school education.
Some 16 out of the 38 have successfully completed universities and training colleges across the country, with one of them obtaining a first-class degree in Business Administration. The student has since proceeded to obtain a master's degree at the University of Ghana.
Another student also obtained a second class (upper division) in Procurement. Various other degrees were obtained in Analytical Chemistry, Commerce, Agricultural Technology, Accounting, Marketing and HND ICT.
After completion of their national service, a few of these individuals are looking for jobs while others want to further their courses and are in need of sponsors.
The RCC has been noted as one of the most generous churches abroad investing in the lives of young Ghanaians at home. Their sponsorships have given opportunities to help several needy children to reach greater heights in their academic pursuits.
Not only have they provided educational support, but the RCC has also, from time to time helped with payment of utility bills at the Countryside Orphanage.
Currently, the RCC has completed a new borehole for the orphanage to help cut down the cost of water. The organisation has also provided a booster pump to facilitate the provision of water for the female bathrooms.
In addition to the above, the orphanage's structure can now boast of new painting and renovations thanks to the RCC, this includes a new ceiling for the boys dormitory.
In all of this, Rev Sammy and Mrs Florence Adjepong deserve the thanksgiving for their continuous kind reception, support, generosity and cooperation over years as they manage the educational fund.