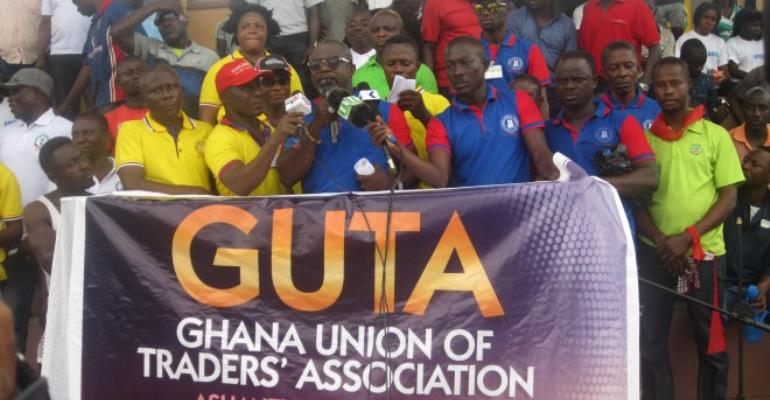 Be submissive before we reopen your shops – GUTA to Nigerian traders
The Ghana Union of Traders Association (GUTA) has given Nigerian traders a condition if they want their shops reopened.
National Organizer of GUTA, Clement Boateng, says the shops will only be reopened if their Nigerian counterparts resolve to be submissive to the association.
""At the end of the day, we may open the shops for them. If we go there this morning and they show remorse we will open it for them. They have to be submissive, they have to cool down but if they don't, we will show them that we are living in our country. We want them to know that they're in our country and they must respect our rules and regulations" he said in an interview on Starr FM monitored by theghanareport.com.
The comments come a day after President  Nana Addo Dankwa Akufo-Addo appealed to GUTA members to ceasefire in their turf war with their Nigerian counterparts.
President Akufo Addo criticised members of GUTA over their decision to close down shops of foreign nationals.
He expressed fear the situation could spark reprisals against Ghanaians living in other countries, especially in Nigeria.
In his address to traders at Makola during his three-day tour of the Greater Accra region, the President urged the Ghanaian traders to allow the relevant authorities to continue with their consultations towards addressing the matter.
"People cannot take the law into their own hands and enforce the law. If we do that, Ghana will become chaotic.
"We have to be careful about this phenomenon of taking the law into our own hands about situations that government is yet to resolve," President Akufo Addo said.
"Please allow the work that the Trade Minister and the Committee are doing with the Immigration Authorities to progress. I am confident that if we allow same to work, your issues with foreign participation in the retail business will soon be a thing of the past in line with the law," he said.
Nigerian traders
The Nigerian traders have hailed President Akufo Addo for what they say is his show of fatherly love.
Secretary-General of the Nigerian Traders Union, Evaristus Wankor, said the stance of the President has shown he is a true leader.
"The President has spoken well and we thank him for that statement.He spoke like a father, that is what we wanted. We have been appealing to him for a while now," he said in an interview monitored by theghanareport.com.
Meanwhile, Executive Director of the Africa Continental Free Trade Area Agreement (AFCTA) has described the standoff between Ghanaian and Nigerian traders as unfortunate.
Louis Afful appealed to the Trades and Industry Ministry as well as other state institutions to dialogue with stakeholders to resolve the impasse.
"Stakeholders like GUTA and all are key in decision making. So, I urge the government and the Ministry of Trade and the GIPC to have strong dialogue. It should be a multi-sectoral West African dialogue" he said.
According to him, the current impasse can be dealt with without violence.