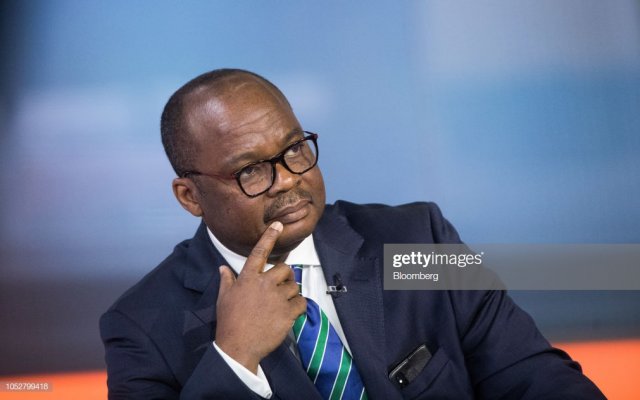 BoG recommends pay rise to stop increasing bank fraud
The Bank of Ghana (BoG) has directed financial institutions to upgrade the salaries of non-permanent staff to discourage them from engaging in fraud.
After recording a 5.4% increase in bank fraud for 2019, the apex bank has laid out some measures that will halt the offence.
Rural and Community Banks reported 55% of the total cases, and commercial banks and savings and loans institutions reported 23 % and 22 % of the cases respectively.
In total, 83 institutions reported cases in 2019, as compared to 72 in 2018.
In its 2019 Banking Industry Fraud Report, BoG said as part of the recommendations that: "Remuneration and working conditions of contract staff and mobile bankers in banks and specialised deposit-taking institutions should be reviewed and aligned to that of permanent staff"
BoG believes such workers "are often found to be involved in suppressing the value of cash and deposits".
The report said a total number of 2,295 fraud cases were reported in 2019, representing a 5.5% increased, as compared to 2,175 fraud cases reported in 2018.
"The marginal increase in the number of fraud cases reported may partly be attributed to the improved efforts by the Financial Stability Department to identify, monitor and to ensure compliance with reporting of fraud cases in the industry.
"Also, in recent times, the various forms of advanced technologies adopted by financial institutions have made the banking sector more susceptible to various risks such as phishing, identity theft, card skimming, vishing, email fraud and more sophisticated types of cyber-crime," BoG explained.
BoG further indicated reported approximately GHC 115.52 million as fraud to the Bank of Ghana.
Of the total values reported, approximately GHC 33.44 million (28.96%) was reported as losses incurred, whiles approximately GHC 82.06 million (71.04%) was recovered.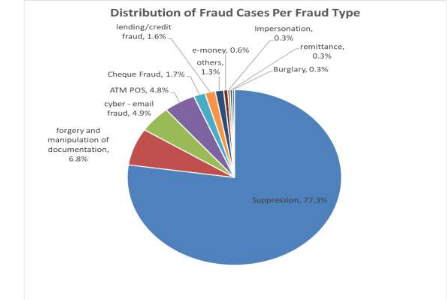 Other findings contained in the report were:
– Email Fraud had the highest attempted value in 2019 (GH¢ 20.00 million)
– The fraud case with the highest loss value involved a cyber-attack which amounted to (GH¢ 6.91 million).
– A 72 per cent decrease in value of attempted fraud was reported in 2019, compared to 2018.
– There was a 56 per cent decrease in values reported as successful/loss in 2019 compared to 2018.
– Loss as a percentage of reported values increased from 18 per cent in 2018 to 29 per cent in 2019.
– In 2019, losses incurred from cybercrime increased by 193 per cent compared to 2018.
– Losses incurred from cheque-fraud, mainly arising from cheque-cloning increased by 219 per cent from 2018. Losses arising from suppression of cash deposit values, reduced by 93 per cent from 2018.
As part of the recommendations, BoG also suggested that contract or temporary staff must be adequately vetted by the police in order to curtail the practice of employing fraudsters in the industry.
Licensed institutions are required to strictly monitor all staff.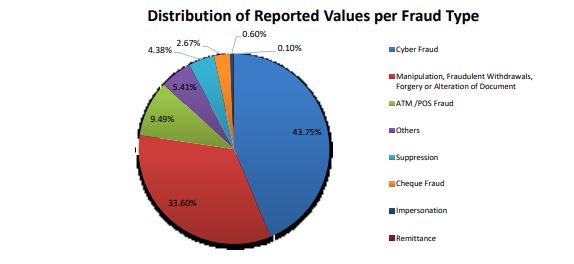 BoG wants 'Know Your Customer'( and 'Customer Due Diligence' systems of financial institutions strengthened in order to facilitate the detection of suspicious or unusual transactions initiated on customers' accounts.
"Consumers are to be encouraged to use efficient electronic payment methods that keep an audit trail of fund movements, even as banks and specialised deposit-taking institutions enforce directives and due diligence on 'over the counter' payments," BoG added.
For telecommunication companies, the apex bank strongly encouraged enhanced registration and monitoring processes in order to significantly reduce the incidence of fraudulent call diversion, chip swaps and number porting.
It is also recommended that telcos improved their cybersecurity infrastructures to prevent unauthorised access in line with the regulator's requirements.