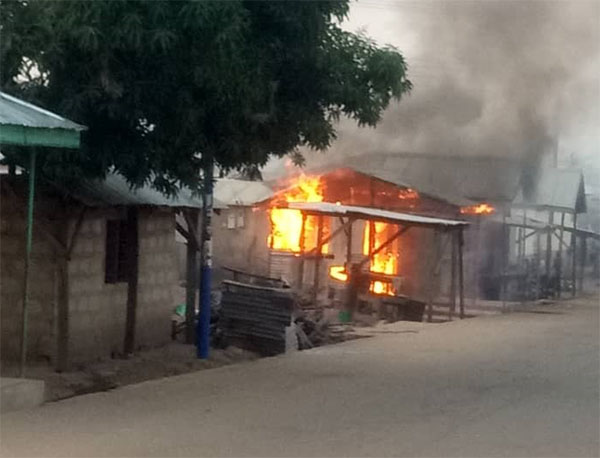 Bole: Death toll rises to two in renewed Chieftaincy clashes
One more person has been gunned down and many schools remained shut following intensified gunfire exchanges between chieftaincy factions in Bole in the Northern Region.
The fighting is between supporters of two individuals of the same royal family who have laid competing claims over the Bole skin.  It sparked Monday morning after an attempted parallel enskinment by both factions.
Tensions began to gather on Friday night as the funeral rites of the late Bolewura was being performed.  There were reports of a mass arrival of armed men (warriors) from Damongo and Busunu. Shortly after their arrival, the report said, several gunshots were heard from the directions of the rival chiefs.
Nkilgi FM, a local radio station had reported that one person named Jacob was killed and multiple persons, including two sons of one of the feuding chiefs, suffered severe gunshots injuries.
The latest casualty is yet to be identified as reports available to Starr News indicate he was hit in the sporadic exchanges.
The District Chief Executive, Madam Veronica Alele has left the town to Tamale, ostensibly to report the disturbances to the Regional Minister and Security Council.
"I'm on my way to Tamale. I left the place early and cannot tell what happened at my back even though I know about the chieftaincy issue," she told Starr News.
An eyewitness, also an Assemblyman, who refused to be named said, schools in his electoral area are refusing to open their classrooms for lessons.
No word yet from the security.
Tensions have been simmering in Bole for months now after a symbolic ruling by a judicial council of the Regional House of chiefs on the prolonged chieftaincy misunderstanding in Mandari, an important nearby community within the Traditional Area, where chiefs automatically ascend to the Bole Skin upon vacancy.
Two royal individuals, who are all members of the Safope gate, laid claims to the Mandari skin and confusion broke in June last year over the rightful candidate of the Bole skin, after the chief, Bolewura Awuladese Pontomprong Mahama (II) died.
There were reports of violent lockdown and escalating squabbles among supporters of Abdalai Issahaku Kant and his rival brother, Abubakari Abutu, forcing a deployment of armed forces to the district capital.
The latter had been allegedly appointed by the late chief of Bole as the rightful candidate for the Mandari skin, but the Yagbonwura, overlord of the entire traditional area, allegedly refused to give his blessing and rather settled on the former, which sparked the dispute.
The tensions last month forced the Northern Regional Security Council to place an injunction on all traditional activities in the area including the funeral of the late Bolewura.
source: starrfmonline