Brazil polarised as Bolsonaro seeks re-election and Lula aims for comeback
Brazilians are voting in an election which could see the country switch from a far-right to a left-wing leader.
Voting is compulsory with more than 156 million people eligible.
Incumbent Jair Bolsonaro is seeking a second term but faces a challenge from ex-President Luiz Inácio Lula da Silva.
After voting, Lula said he wanted to get the country "back to normal". Mr Bolsonaro – who has often questioned the electronic voting system – said "clean elections" must be respected.
Mr Bolsonaro has said in the past that if he loses the election, it will be because the voting was rigged.
Brazil's electoral authority has dismissed allegations of a possible rigging as "false and dishonest", but the attacks have raised concerns that Mr Bolsonaro may not accept an outcome unfavourable to him.
Quizzed by journalists on the matter on Sunday, he did not directly answer.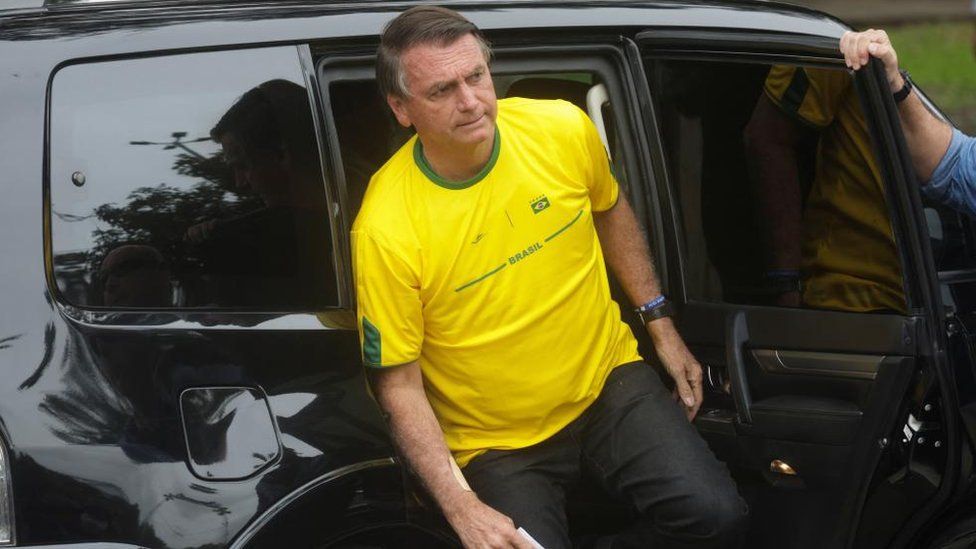 Statements made by the president in the lead-up to the election, such as that only God could remove him from office, have created a tense atmosphere.
A certain nervousness prevailed at two polling stations the BBC visited in Rio as even those wearing Bolsonaro or Lula badges would only provide their first names and refused to have their picture taken.
Many voters are showing who they back by either wearing red – the colour of Lula's Workers' Party flag – or the Brazilian football shirt, which is a favourite of President Bolsonaro and his supporters.
But there is also a fair share who have opted for subtlety out of fear they may be challenged by rival supporters.
Eighty-seven-year-old Sonia, wearing a blue shirt, lowered her voice when she pointed to her 83-year-old friend Eva, who was wearing green: "If you put our two outfits together, they make up the colours of the Brazilian flag, and that's a sign we back Bolsonaro."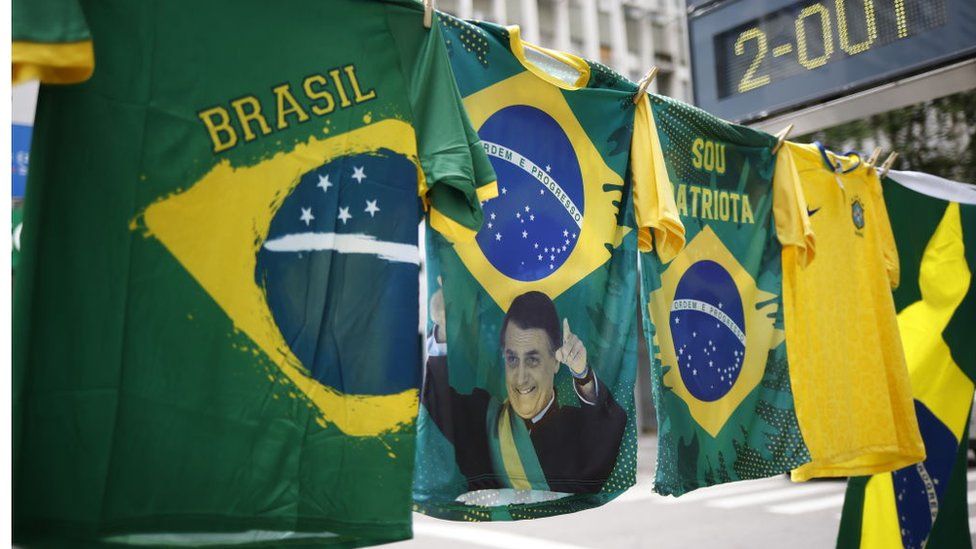 "I am a patriot, and I don't want our country to become like Venezuela," she whispered, referring to the fear many Bolsonaro supporters share that a left-wing government could drag Brazil into an economic crisis like the one crippling its northern neighbour.
The two women also think that President Bolsonaro will strengthen family values and combat the breakdown of the traditional family structure as well as make Rio safer so they do not "have to be afraid to go for a walk after dark".
Maria, 54, is also a big fan of Mr Bolsonaro. "There's so many great things he has done, I struggle to narrow it down to a single one," she says before settling on the economy.
"Look, he was dealt a really bad hand, he had to face the pandemic and the subsequent economic downturn but he did wonderfully," she gushes.
"People say he is authoritarian, but that's not true, it's the opposite, he let's people take their own decisions and weigh up risks for themselves," she says, explaining that his anti-lockdown stance during Covid meant that those living hand-to-mouth were able to go to work.
But José, 45, wants President Bolsonaro out of office. "Bolsonaro and his sons are thugs, plain and simple, they should all be in prison."
He voted for the centre-left candidate, Ciro Gomes, in the last election, but this time he will vote for Lula because he thinks he is the only one who can beat President Bolsonaro.
Mark, who works for state-owned oil giant Petrobras, is also casting an "anti-Bolsonaro vote". He says he is no fan of Lula but he strongly objects to Mr Bolsonaro's plans to privatise Petrobras.
Voters polarised views mirror weeks of acrimonious campaigning in which the two main candidates often spent more time trading insults than laying out their policies.
During a televised debate on Thursday, President Bolsonaro called Lula, who served time in prison after being convicted on corruption charges, an "ex-inmate" and a "traitor", while Lula labelled the president "a liar".