California wildfires: Death toll reaches grim milestone
The death toll in wildfires sweeping California has risen to 31, with more than 200 people still missing, officials have said.
Six more people were confirmed killed in the Camp Fire in the north of the state, taking the toll there to 29.
That fire now equals the deadliest on record in California – the 1933 Griffith Park disaster in Los Angeles.
In the south, the Woolsey Fire has claimed two lives as it damaged beach resorts including Malibu.
An estimated 250,000 people have been forced to flee their homes to avoid three major blazes in the state.
With strengthening winds threatening to spread the flames, California Governor Jerry Brown has urged President Donald Trump to declare a major disaster, a move that would harness more federal emergency funds.
The appeal came a day after Mr Trump threatened to cut funding for California, blaming the fires on poor forest management.
Harold Schaitberger, president of the International Association of Fire Fighters, called the president's comments "reckless and insulting".
What is the latest on the Camp Fire?
Emergency teams have been sifting through the remains of more than 6,700 homes and businesses burned down in the town of Paradise.
The town and surrounding area bore the brunt of the inferno, which started in nearby forest on Thursday.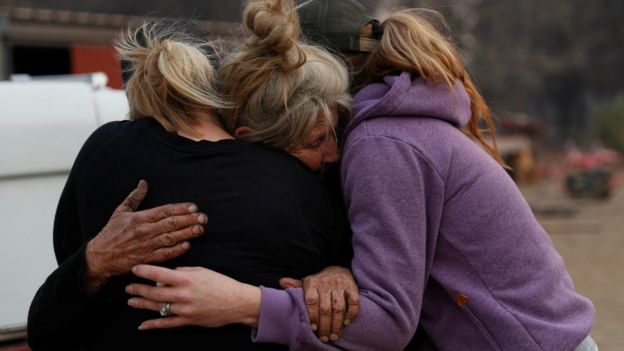 At a news conference late on Sunday, Butte County Sheriff Kory Honea said the bodies of five people had been found in their burned-out homes and a sixth was found inside a vehicle. He said that at least 228 people were still unaccounted for.
The mayor of Paradise, Jody Jones, gave the BBC an update on the situation in the town.
"Most of the residential [area] is gone. I would say 90%," she said. "I had an opportunity to go up there and take a look for myself. Just about everyone I know lost their home."
The fire is the most destructive in the state's history and the joint deadliest.
It has burned more than 111,000 acres (45,000 hectares) and is nearly 25% contained, fire officials said.
"Containment" refers to a physical barrier around a fire that stops it spreading – such as a river, or a shallow, 10ft(3m)-wide trench dug by fire crews. If a fire is 100% contained, this means it has containment lines around its whole perimeter. However – the fire may still burn for days or weeks to follow.
source: BBC