CEO of I-ZAR Group Rashida Saani Nasamu receives achievement award
The CEO of I-ZAR Group, Madam Rashida Saani Nasamu, has been crowned with the 40 Under 40 Alumni Achievement Award.
The accolade aims to acknowledge alumni of the awards scheme who have continually excelled in business.
At the 5th anniversary of the 40 Under 40 Awards, Rashida was set apart as an epitome of a young entrepreneur to encourage the youth.
Madam Rashida was one of five to receive the highly coveted award presented at the Kempinski Hotel in Accra on Friday, 9 October 2019.
The businesswoman had consistently soared above distinction since 2019 when she swept prizes at the programme and was ultimately crowned with the First Among Equals Award.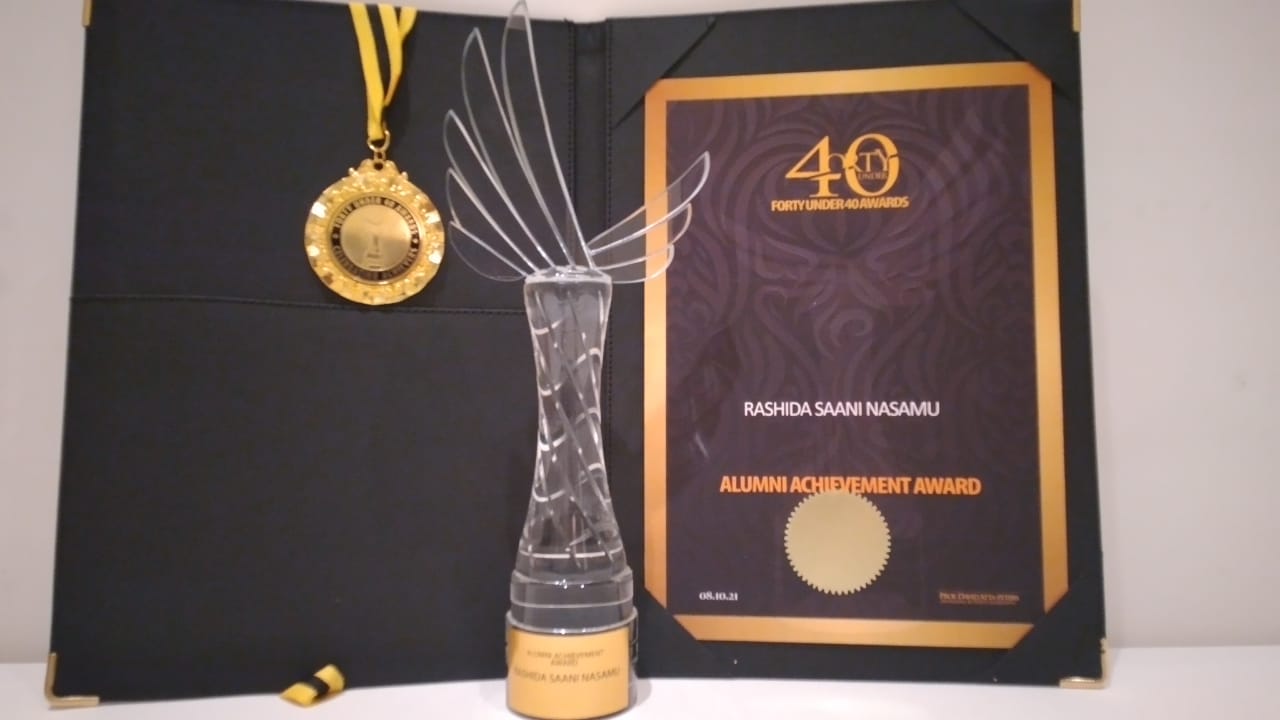 She earned the alumni badge, but she never rested on her oars. She established other businesses under her empire to employ the youth.
The 40 Under 40 Awards is dedicated to rewarding the country's most influential and accomplished young business leaders under age 40, who are committed to business growth, professional excellence, and community service.
Profile of Madam Rashida Saani Nasamu
The Group Chief Executive of I-ZAR, Rashida Saani Nasamu, propelled her business affiliates to the peak, earning her many honours for her efforts as a young mogul.
Rashida is an astute communications consultant and entrepreneur with several successful multi-industry firms under her belt.
She has a wealth of experience spanning beyond a decade in broadcast journalism and seamlessly transitioned into owning a conglomerate, having learnt to do business from humble beginnings, inspired by her father.
Her company, I-ZAR Group, has affiliates in strategic communication, real estate, IT and media investments.
I-ZAR Group boasts a range of clients and partners dotted across the globe with an impeccable track record.
Rashida's developmental projects and footprints are engraved at the USAID, UNDP, the Constitution Review Commission, EximBank Ghana, among others.
What she touches turns to gold, as evident in her latest venture, Alhaji's Wife, which is fast catching up with 'Waakye' lovers in Ghana and beyond.
Her advocacy for youth wealth-creation birthed RAWW Limited, a multi Million Cedi ultra-modern factory in Northern Ghana, established as a social enterprise to offer skills training and value enhancement to shea butter, a leading agricultural product in the Northern Region of Ghana.
She actively champions the BOYA Initiative, a non-profitable social enterprise designed to empower women and positively affect the lives of needy and deprived children.
Among her numerous high-profile activities was a moderator of the Africa CEO Forum, the world's leading international meeting of Africa CEOs in Geneva, Switzerland.
Rashida has also been a constant member of the panel of judges for Ghana's Presidential Pitch. An annual initiative for startups by the Government of Ghana.
Rashida holds a Masters in International Public Relations from Cardiff University in the UK, an MBA from the University of Ghana as well as Executive Certificates in leadership skills, improving under-performance, crisis management and coaching from PricewaterhouseCoopers.