Cloth for Rawlings' funeral out?
A swatch is making rounds on social media as the official cloth to be used for the funeral of the late former president Jerry John Rawlings.
The cloth known as "afe bi ye san"  to wit "Some years are full of bad luck" has a picture of the late former President with the name 'Papa J' printed on it.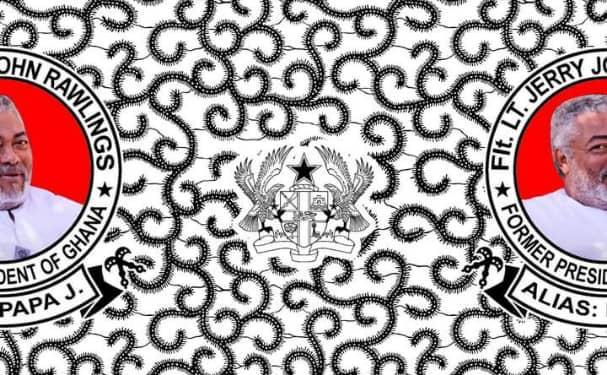 There has not been any official statement from the government on the cloth yet but it is already making rounds on various social media platforms.
Former president Rawlings died from an unknown illness on Thursday, November 12, 2020, at 10.10 am.
He was 73.
Beyond being an honour for the departed,  funeral clothes often serve as souvenirs.
It also helps to differentiate between the bereaved family and well-wishers
At most Ghanaian funerals, members of the deceased family wear red while well-wishers wear black, black to show that they empathize with the family.
Culturally, the black and red attire for funeral ceremonies in Ghana signifies a grieving period. Traditionally, red is associated with danger and black with grief, hence the use of these colours to communicate the passing of a loved one.
However, when a person grows to a ripe old age of seventy years and above, the belief is that the person has lived long and has been blessed, hence it is a celebration of life rather than grief.
Traditionally, white signifies victory or joy; so on such an occasion as the final funeral rites for someone over the age of seventy, the white cloth is used to celebrate the life of that person.
In most cultures in Ghana, too, the white cloths are worn on Sunday, the final day of the funeral rites, to show relief in the assurance that the deceased has made a successful transition into the spirit world.