Combatting COVID-19: Ablekuma West MP, MCE collaborate with CODA
The Member of Parliament (MP) for Ablekuma West Constituency, Ursula Owusu- Ekuful, has joined forces with two institutions to carry out COVID-19 education.
The lawmaker and the Municipal Chief Executive (MCE) of Ablekuma West Municipal Assembly, George Cyril Bray, and the Chief Executive Officer (CEO) of Coastal Development Authority (CODA), Jerry Ahmed Shaib, pulled resources together to educate residents of the municipality on Saturday.
They also distributed facemasks and hand sanitisers to registrants and electoral officials at some registration centres as well as to residents in some communities within the constituency.
The exercise was part of intensive public education being embarked on by the Authority to ensure that Ghanaians living within the Coastal Development Zone understand issues related to the pandemic.
CODA's efforts are also aimed at distributing facemasks and hand sanitisers to the most vulnerable groups, including frontliners, petty traders, fishers, farmers, commercial drivers, and the media as a gesture to demonstrate what is expected of all Ghanaians.
Enhanced hygiene etiquette
Mrs Owusu-Ekuful, while she distributed the personal protective equipment (PPEs), educated residents on the need to comply with the safety protocols. Most residents, who were excited to see and hear from their MP, enthusiastically received and wore their facemasks.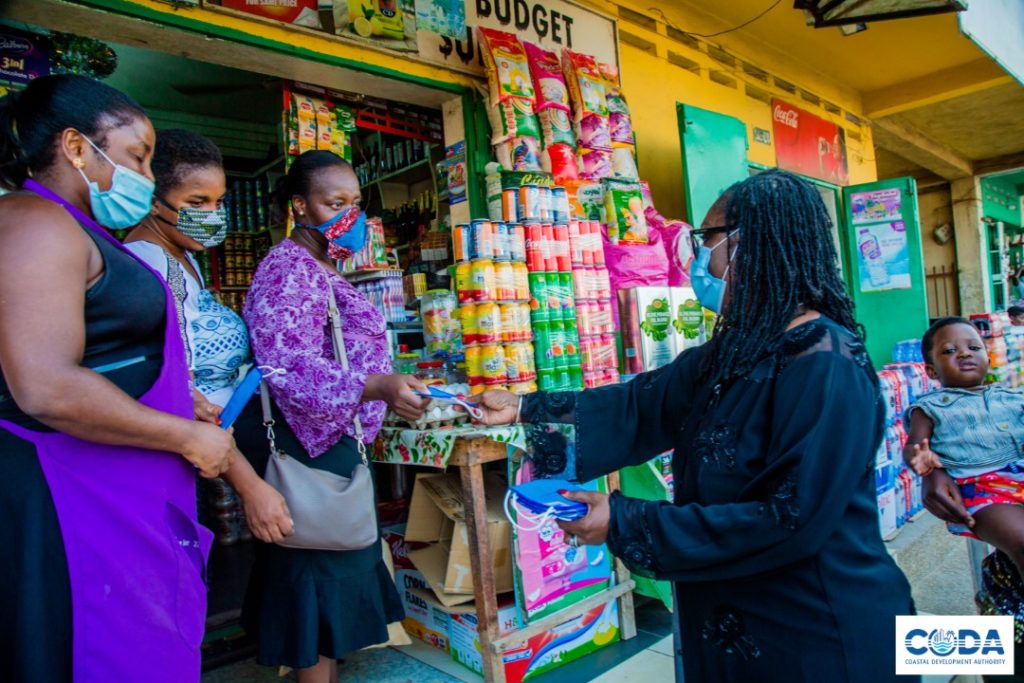 Officials at registration centers visited were happy to receive the group. They assured the leaders of their commitment to enforce the protocols to ensure that stakeholders in the registration remained safe while they underwent the process.
Among places visited were Last Stop, Chemunaa, Glefe, Shiabu and Mamponse. At the Dansoman Market, traders were educated on the need to observe the safety measures in order to protect themselves as well as their customers.
"Wear Your Mask" campaign
CODA, an implementing agency of the Ministry of Special Development Initiatives (MSDI) is leading the implementation of the Infrastructure for Poverty Eradication Programme (IPEP) in the 109 constituencies of the six (6) regions that make up the Coastal Development Zone.
Following the lifting of a partial lockdown of Greater Accra and Greater Kumasi in April 2020, due to the outbreak of the new coronavirus pandemic, CODA launched the "Wear Your Mask" campaign to reach out to people at the greatest risk of infection.
The Authority's efforts have been geared towards educating the public on preventive measures to end the spread of the virus.