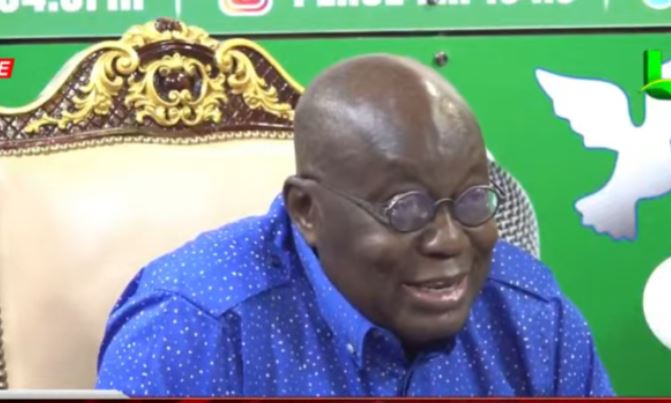 Complete abandoned school building if you're frustrated – Akufo-Addo to Aflao Chief
President Nana Akufo-Addo has asked the Paramount Chief of Aflao Traditional Area, Togbui Adzonu-Gaga Amenya Fiti V, to complete the abandoned E-block community day senior high school in the area himself if he is frustrated about the delay.
"Is he the one going to give the Minister of Education an ultimatum? If he is frustrated about the delay, he should go and do it," the president told Kwame Sefa-Kayi on Thursday, October 21.
Togbui Amenya Fiti V on Wednesday, October 20, 2021, complained about the abandoned E-Block project in his community. He gave the government a four-month ultimatum to finish the building for use.
The school, built during the John Mahama administration, is almost 90 percent complete.
It has some 26 classrooms and five departments, including a Science Block but construction has stalled since 2016.
Reacting to the request of the chief on Accra-based Peace FM on Thursday the resident, amidst laughter, wondered if the Aflao monarch was in the place to give the minister an ultimatum.
After the statement, President Akufo-Addo assured the traditional leader indicated that his government is resolved to continue projects started by his predecessor.
"For some of the projects, definitely, we will ready ourselves and complete them. But, as much as possible, I have given you these examples for you to see that despite the propaganda, [we are working on them]," he stated.
The president's comments did not sit well with some social media users, who have called the president out and demanded an apology.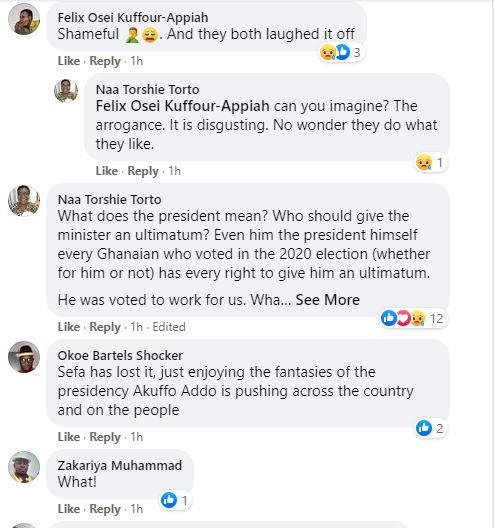 President Akufo Addo appears to be telling Togbi Fiti of Aflao to go and complete the E-Block himself…. pic.twitter.com/5DBRYCZFW3

— kwame agbodza (@KAgbodza) October 21, 2021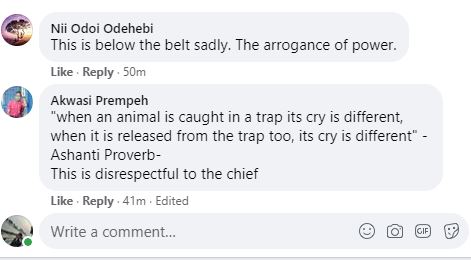 Akufo-Addo live on air insulting Togbui Fiti, the Paramount Chief of Aflao for merely asking for a school project in his town to be completed so the townsfolk can also go to school.

I have no words… pic.twitter.com/jk55Tl5sqa

— 𝐍𝐚𝐭 𝐆. 𝐓𝐞𝐭𝐭𝐞𝐡 🇬🇭 (@NatGTetteh) October 21, 2021
Nana Addo say make Aflao King go continue the E Block if he says He is tired

Show Boy 😀😀😀😀😀😀😀😀😀😀 pic.twitter.com/rDZWowr3bo

— Kojo Oduro🏆🏆 (@Qwateng) October 21, 2021
Mr President just disrespected the Chief of Aflao, what did we do to deserve this! https://t.co/09sFtMcFDq

— E.S.K Amevor (@edembill) October 21, 2021
Complete abandoned E-block if you are frustrated – Akufo-Addo tells Aflao chief, Torgbui Fiiti

Me: Imagine Nana Addo saying this to Ashanti Chief!!!#KromAyeshi #KromAy3Shi pic.twitter.com/arHrxpzQ2O

— John Terry Tresh (@JohnTerryTresh) October 21, 2021
If the Aflao Chief says he is tired of waiting for the completion of the E-Block, then he the Chief should go and complete the project 😂 pic.twitter.com/c4BPBYFlUu

— Benjamin Essuman🇬🇭 (@Benji_Essuman) October 21, 2021
Kwame Sefa Kayi: Nana, the Paramount Chief of Aflao has given an ultimatum to government regarding uncompleted E-Block project in his area.

Nana Akufo-Addo: "Is he the one to give government ultimatum? Then he (the Paramount Chief of Aflao) should go and do it himself.

— Gomoa Boy 😅💫 (@blaq_made) October 21, 2021