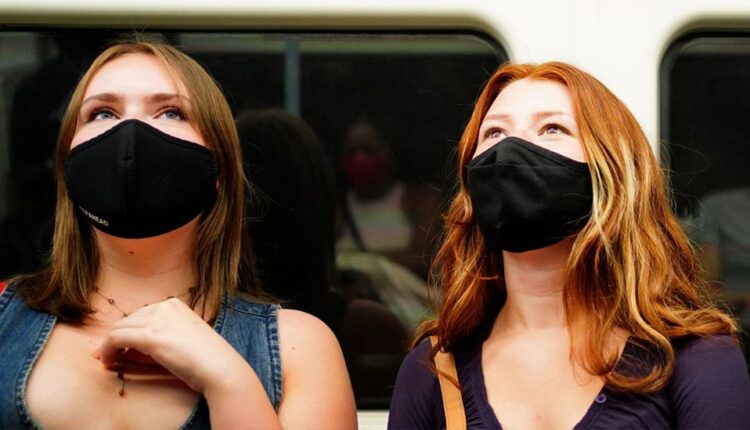 Covid: Mask law and one metre rule set to end in England
Boris Johnson is expected to confirm he is confident the majority of the remaining Covid restrictions in England can be lifted from 19 July.
Making face masks voluntary and ending 1m-plus social distancing and QR code sign-ins at restaurants will be among his press conference announcements.
The PM said people must "learn to live" with Covid and "exercise judgment".
Infections are expected to rise when rules are eased but ministers believe deaths will be limited by vaccinations.
A further 27,334 cases were reported across the UK on Monday, alongside another nine deaths within 28 days of a positive test.
The fourth and final stage of the government's roadmap out of lockdown in England was delayed last month to no earlier than 19 July.
Among the current measures are the "rule of six" for gatherings, table service in pubs and restaurants, capacity limits in theatres and cinemas, the closure of nightclubs, and working from home guidance.
However, while many of the remaining rules and guidance looks set to be swept away, the prime minister is not expected to address self-isolation, travel restrictions, or the rules in schools.
Scotland, Wales, and Northern Ireland are in charge of their own coronavirus rules, and the Scottish government has suggested it may retain some basic measures, including wearing masks, at its next review in August.
The chairman of the British Medical Association, Dr. Chaand Nagpaul, said it "makes no sense" to stop wearing face masks in enclosed public settings amid a rising number of cases of the Delta variant.
He told BBC Radio 4's Today program "face masks are proven to reduce the spread of this infection" and "we can't understand why we would knowingly want people to become infected".
Unions representing public transport and shop workers said their staff would face even more risk of infection if face mask rules are dropped.
Meanwhile, Ryanair said face masks would remain mandatory on its flight "in order to protect the health of our passengers and crew".
In comments released by Downing Street before the prime minister gives his update at a 17:00 BST news conference, Mr. Johnson said he "must stress that the pandemic is not over and that cases will continue to rise over the coming weeks".
But praising the successful vaccine rollout, he said he would "set out how we can restore people's freedoms", adding: "As we begin to learn to live with this virus, we must all continue to carefully manage the risks from Covid and exercise judgment when going about our lives."