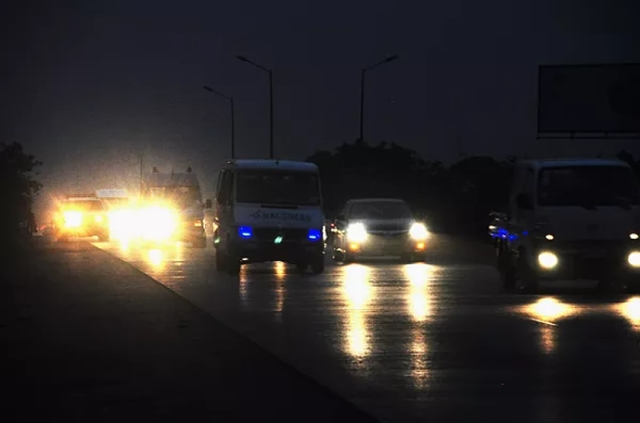 There is uproar among some residents in New Juaben South Municipality of the Eastern Region against the high number of dysfunctional Streetlights in their communities giving rise to attacks at night.
The aesthetic visibility of street lighting entering Koforidua township makes one believe every part of the city is illuminated but the reality is the opposite as many sub communities are without functional street lights hence reeling under vulnerabilities of darkness.
In the heart of the Regional Capital -Koforidua is Two -Streams a community with estimated populations of about 8,000 hosting Doctors and Nurses in the Medical Village .The Nursing Training College and Regional Medical Stores and other businesses are also located in this community but the high number of dysfunctional street lights and and absent of the infrastructure in many parts of the electoral area is providing safe haven for criminals .
Doctors, nurse, students Taxi drivers continue to suffer attacks by criminals who ambush them in the cover of darkness.
This has created general sense of insecurity in the area forcing some few well to do individuals including the Medical Director of the Eastern Regional Hospital, Dr.Kwame Anim Boamah to fix one close to their houses.
"Security in the Medical village is not the best we use to have streetlights but for the past eight months we haven't seen light and as such we are being threatened by armed robbers and criminals.We have complained to the municipal Assembly and up to know we haven't heard from them.Just last Thursday around 4 am someone came to cut a cable here.This places accommodate Doctors,Nurses and students but we are all not safe" Mr.Bismark Sarkodie the Eastern Regional Nutrition Officer at the Ghana Health Services lamented to Starr News.
Amos Otua, a tutor at the Koforidua Nursing Training College told Starr News "They broke into my car twice took away my car battery and personal effects and some of our students they trail and snatch away their bags and laptops so we think we need streetlights here"
"Due to the darkness here criminals are all over in the evening stealing car batteries, attacking taxi drivers at gunpoint .Just some few weeks ago the armed robbers hijacked a car amidst firing of gunshots just right here.Most of us here are workers and because of the darkness by the time you return from work, they have broken into your room if you are not lucky they lay ambush in front of your house and attack you," Foster Tetteh Junior, a Staff Nurse at the Regional Hospital who is a resident stated.
For Juan Takyi Amanfo, women staying at Two Streams area are the most vulnerable. " so if you are a woman you don't stay long in town,8pm you have to return home because many have been attacked their bags snatched from them".
Assembly Member Aspirant, Citizen Francis Tetteh who took journalists around the community at night to witness the sorrowful state of darkness of the area called on the New Juaben Municipal Assembly to fix the problem to provide security for the residents.
"The absence of streetlights in Two Streams electoral area is posing serious security challenges giving opportunity for criminals mostly outside this community to attack.There are many instances these criminals have attacked residents at night.so we are appealing to to Assembly, PDS to intervene to fix the streetlights ".
Street lighting is a social amenity and is an important benchmark of the relative socio-economic development status
a country.
It is axiom that Street lighting contributes to the reduction of crime,improves road safety for both pedestrians and drivers,and creates sense of safety for general business and living climate of Urban and peri-Urban communities
However Street lighting system hasn't improved much in Ghana despite a 2011 draft policy document on streetlights developed by Government of Ghana to serve as a policy catalyst for expansion of street lights infrastructure across the country.
Captured in the Policy document is that "existing and new street lighting units shall be maintained by the MMDAs to a standard that ensures, as far as
possible, their safe, economic, effective and reliable operation" with the basic requirements including the maintenance of an up-to-date electronic database of all units to ensure the satisfactory management of a maintenance process that meets legal obligations and provides information for the calculation and payment for electricity consumed.
The Policy also states "Maintenance and repair procedures that ensure expeditious responses to identified defects.The technical capacities of MMDAs shall be developed to ensure sustainable operation and maintenance of street lighting"
The Policy prescribes compulsory Payment of streetlight levy by all electricity consumers nationwide which is deducted at source for maintenance of streetlights.
However 8 clear years after the policy many cities and towns continue to have dysfunctional streetlights whereas many others are without the basic security amenity.
In new communities where the city is expanding people are building new houses and establishing businesses however there is no proper civic planning and people are living in darkness .