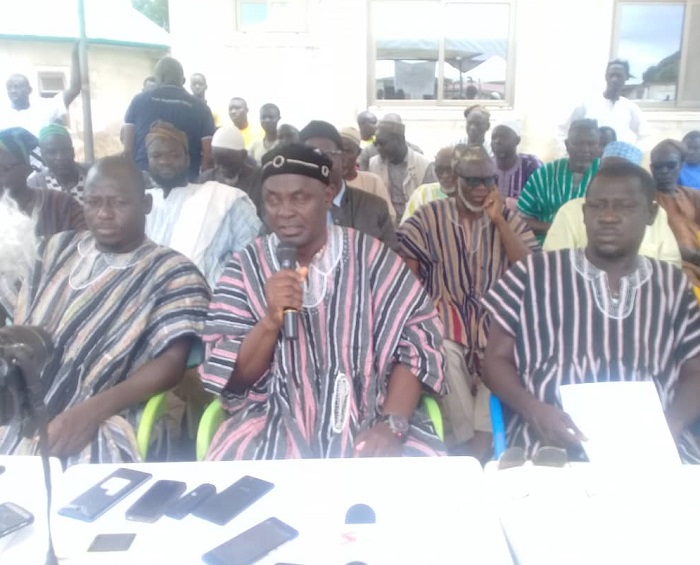 Dagbon: Andani Royal family withdraws from mediation process
The Andani Royal family has withdrawn from the Asantehene-led mediation process over contentions with the work of the committee.
It said the roadmap the committee came out with was an "imposition" and that a "false impression" was created that a settlement had been reached between the two royal families.
"In this connection, we of the Andani Royal family announce our withdrawal from the mediation process being undertaken by the Committee of Eminent Chiefs headed by the Asantehene Otumfuo Osei Tutu II," Kpan Naa Abubakari Andani said to the press.
The family also accused the committee of engaging impostors to represent the Andanis at the Jubilee House when the roadmap was agreed on.
The Andanis were represented by Vo-Naa Alhaji M. B Bawah, Warvi-Naa Andani Mahama, Lamashegu Naa, Alhaji Ziblim Abdulai, Zangbaling Regent, Yakubu Mahama, Tibung Regent, Abdulai Abukari, Gbermanda, Mahama Yakubu and Saha-Naa Abdul Latif Abubakari.
"Those individuals that the Asantehene paraded at the [Jubilee House] as representatives of the Andani Royal Family have never been authorized by the Andani Royal Family to represent the family in any capacity whatsoever."

"By refusing to deal with individuals who lack legitimacy in matters of such critical importance, the Asantehene and the committee of eminent chiefs have demonstrated clearly that their agenda is not an honourable one."
The family continued its criticism of the Asantehene, Otumfuo Osei Tutu II accusing him of looking down on the people of Dagbon.
They had earlier said the Asantehene was biased in the mediation process.
"We particularly take strong exception to the Asantehene describing Dagombas as his children… we wish to state that Dagbon is not junior to Asante," Abubakari Andani stated.
Following the temporary installation of a Regent of Dagbon, the family said the lack of clarity on the matter was dangerous.
The family suggested that certain cultural considerations had been taken for granted.
"By not spelling out clearly in writing the conditions of the enskinment of an eventual regent and the statues of such a regent, the Asantehene and his committee are preparing the grounds for a crisis far more complex and dangerous than the one they have been fumbling with for the past 16 years."
Yaa Naa Mahamadu Abdulai IV was installed under the skin name Bolin Lana to be acting overlord of Dagbon until December 28 when the funeral late overlord of Dagbon, Yaa Naa Mahamud Abdulai IV ends.
The performance of the final funeral rites of the late overlord of Dagbon, Yaa Naa Mahamud Abdulai IV, began on Thursday evening at the Old Gbewaa Palace in Yendi.
This is to be followed by funeral rites of Yaa Naa Yakubu Andani II from 4th to 19th January 2019.
source: citinewsroom