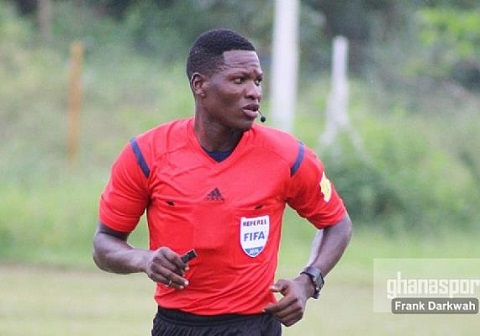 Daniel Laryea named in preliminary list of referees for 2020 CHAN
Report indicates that the Confederation of African Football has named Ghanaian Daniel Nii Laryea in a 20-man list of referees for the 2020 African Nations Championship (CHAN) in Cameroon.
The 32-year-old will join the elite referees for a pre-CHAN course.
Laryea, who holds a FIFA badge, has been one of the centre referees used for CAF's inter-clubs competitions.
In 2018, he he was selected for the CHAN tournament in Morocco.
He was among the referees selected for the 2017 African Youth Championship in Gabon and the 2017 WAFU Cup of Nations hosted by Ghana in September.
Ahead of the 2019 Africa Cup of Nations, Laryea was named in a pre-list for the tournament but could not make the cut.
Pre-CHAN 2020 list of referees:
Mogos Teklu Tsegay (Eriteria), Jean Claude Ishimwe (Rwanda), Mohammed Marouf Mansour (Egypt), Zakaria Mohammed Mahmoud (Egypt), Georges Gatogato (Burundi), Daouda Gueye (Senegal)
Samir Guezzaz (Morocco), Mohmood Ali Mahmood Ismail (Sudan), Daniel Nii Ayi Laryea (Ghana ), Ali Moussa Mohammed (Niger), Lahlou Benbraham (Algeria), Atcho Pierre (Gabon), Rakotojaona Andofetra (Madagascar)
Haythem Guirat (Tunisia), Peter Waweru (Kenya), Souleiman Ahmed Djama (Djibouti), Heeralall Ahmad Imtehaz (Mauritius), Dehane Beida (Mauritania), Janny Sikazwe (Zambia), Papa Bakary Gassama (Gambia)