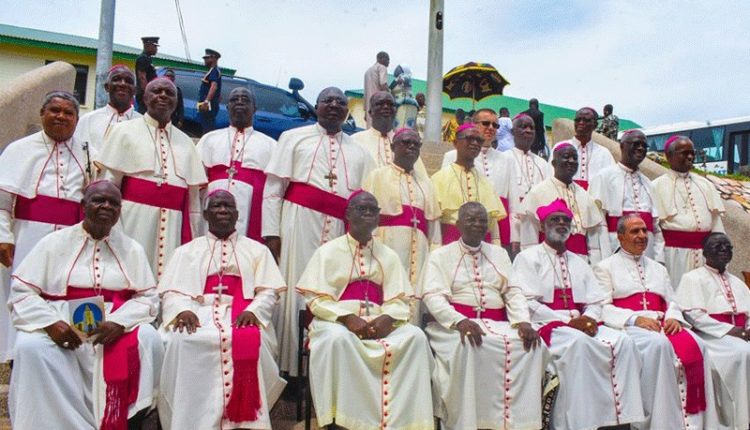 Deal with anyone engaged in political party violence without fear – Catholics Bishops' Conference to Police
The Ghana Catholic Bishops' Conference (GCBC) has urged the police to deal with any individual caught engaging in acts of political party violence. 
"To the Police, we ask you to carry out your work in a more professional manner by doing the right thing without fear or favour. The Police and the other security agencies should not be seen to be shirking their responsibilities.
Their comments come on the back of some violence that has characterized the voter registration exercise in parts of the country.
The GCBC is of the view that criminal activities will worsen if offenders are left off the hook.
"If some people commit criminal activities with impunity and get away with it, this may lead to the loss of confidence by the victims in the State to provide them with the safety and peace for which reason they may be compelled to device their own individual means of protection.
"This ultimately has the tendency of creating chaos and eventually a lawless state. Our beloved country should not be allowed to go down this road," the Bishops said in a statement.
Touching on the recent gun-firing incident involving the Minister for Special Development Initiatives, Mavis Hawa Koomson, and her NDC opponent, Phyllis Naa Koryoo,  at a registration centre in Kasoa, the Bishops' conference called on the Executive and Parliament to sanction the minister over her conduct.
The cabinet minister, who doubles as MP for Awutu Senya East constituency, admitted to firing a warning shot over claims she was under attack.
The GCBC described the actions of the minister as "very disturbing".
"While the police take action on this matter, we hope that the appropriate sanctions will be taken against her by the Executive and the Legislature."
The statement issued by the Catholics Bishops' Conference also advised the two major political parties to restrain their members from engaging in political violence.
It also urged them not to disregard the Vigilantism and Related Offences Act they both signed which was facilitated by the National Peace Council.
" Political Parties should show their commitment to the agreement by handing over to the Police any member of their group who misconducts themselves or acts in ways that will disrupt the registration exercise.
"The acts of violence engulfing the country constitute a breach of the Vigilante and Related Offenses Act, 2019 Act 999 which was passed by Parliament with the aim of disbanding armed partisan hooligans from carrying out violent activities and its contravention making political vigilantism an offence punishable by a prison term."
In addition, the GCBC urged the government "to have the courage to implement the Emile Short Commission's recommendations on the Ayawaso West Wuogon By-Election violence, especially the sections that refer to instances of criminality. This, we believe, will serve as a deterrent to these criminals, who otherwise will continue to act with impunity".