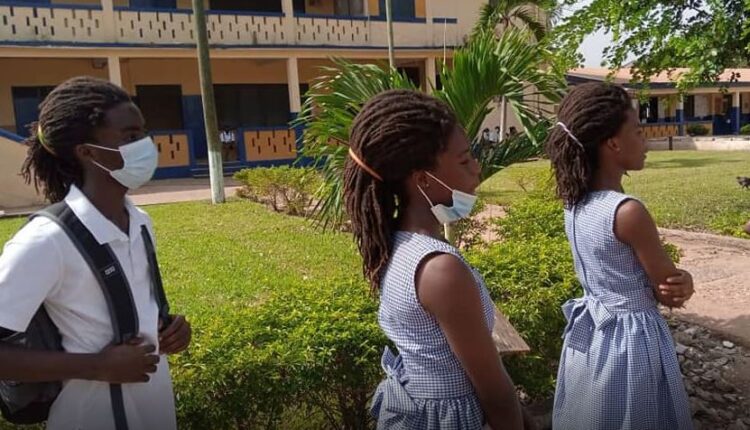 Discipline, like charity, begins at home – Dreadlocked graduate tells GES
A dreadlocked graduate of international business has rejected the argument that the prohibition of dreadlocks in schools is tied to discipline enforcement among minors.
He said wherever you are, your upbringing at home will tell on you because each individual's upbringing is reflected in his attitude in society, adding that discipline, like charity, begins at home.
His comment followed the rejection of some students wearing deadlocks by second-cycle institutions, including Achimota School.
The schools have insisted that following the prescribed form of hair was a mark of discipline.
The development has divided the nation as several people argue for the students' admission without compelling them to cut the locks.
Others have also made a strong argument that such a decision would lead to an influx of all kinds of hairstyles and demands by unrecognised groups for their practices to be accepted in public schools.
But KNUST graduate Richter Tsagli believes global events indicate that the dreadlocks tradition, from humble beginnings, continues to expand as can be seen in North, South, East and West, with Rastafarians emerging in China, Japan, Australia, Brazil, Chile, Argentina, Italy.
"Rastafarian children from good homes have been well disciplined, reading a chapter of the Bible every day. Rastas don't question other people's faith because Emperor Haile Selassie famously said that no one should question another's faith."
Mr Tsagli quoted portions of the Bible to emphasise that the wearing of dreadlocks is rooted in the good book.
"One must be dedicated to serving a holy God. Numbers Chapter 6 highlights the fashion as a mark of dedication to God as required of the dreadlocked Nazarene, whose hair must not be combed or cut.
"Remember Samson in the Old Testament who neither combed nor cut his hair. In the New Testament, it is obvious that Jesus Christ himself is a Nazarene. That is what Christianity is all about. The earth would soon be filled by such Christ-like people. Now, what would happen as more and more people embrace Rastafarianism?"
Pointing to the Catholic claim of having one billion followers, Mr Tsagli insisted that Rastafarians are like the sand on the seashore and uncountable, adding that the earth would soon be filled with such people.
"Hairstyle should never be an issue in a global village where dreadlocks have never been an impediment. We all have hair, but some prefer to shave it off while others grow it as a spiritual identity and the benefit of what it gives an individual. The love for dreadlocks is so pervasive that men, women and children who can't grow their locks braid their hair in that form," said Mr Tsagli.
"There is a good reason for the hair we were born with. For example, nose hair is a mechanism to sieve through the air we breathe to prevent dust going into our lungs."
"In tertiary institutions, dreadlocked students are not discriminated against since they are seen as adults. Such students get a lot of attention from the other students.
The problem can sometimes arise when you share a room with people who are averse to the dreadlocks."
"My low moment was not when lecturers stood up against me. My sadness on campus was when some mates I was to share a room with were discriminatory and fussy. So, I got paired up with those who have no problems with my dreadlocks."
The international business graduate recalled that at the pre-school level, dreadlocks are never a problem. However, it has become a big issue in secondary education.
Touching on workplace discrimination, the graduate of international business said regards for people must be more focused on what they can contribute to the nation and the world at large.