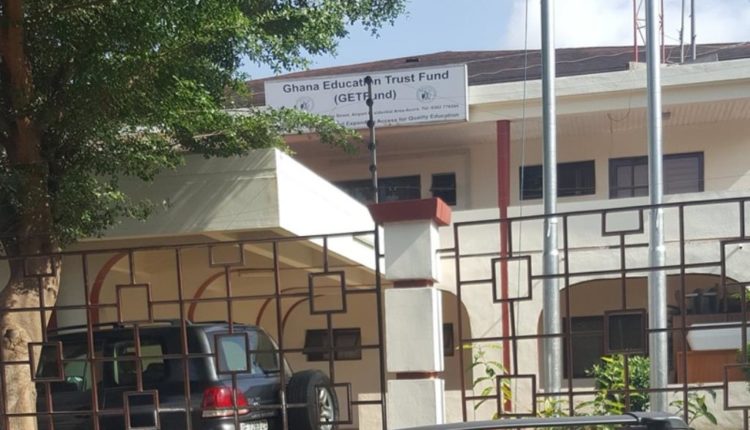 Document: How GETFUND 'gifted' more than 1,200 scholarships without seeing admission letters
The Auditor-General has faulted the GETFUND secretariat for its "haphazard" doling out of scholarships without following its own laid down procedures.
In a report littered with a litany of infractions, the Auditor-General said it found more than 1,200 beneficiaries who did not submit basic documents such as admission letters.
But this failure did not stop the GETFUND administrator from approving financial aid to the applicants.
The report speculates that it is possible these applicants "searched for schools after they had been awarded the scholarships."
According to GETFUND's own guidelines for approving financial aid, an applicant was required to submit seven documents.
The documents were: admission letter, past academic certificates, transcripts, Curriculum Vitae, proof of nationality, national service certificate (to be submitted by post graduate applicants) and recommendation letters (to be submitted by workers).
But in a staggering example of poor management, the audit report said, "GETFund did not follow the guidelines purported to have been obtained from Scholarships Secretariat, neither did they comply with best practices used by recognised scholarship awarding institutions such as the GNPC Learning Foundation in granting scholarships."
Of the 3,112 applicants who obtained scholarships, only 12 submitted a complete set of required documents.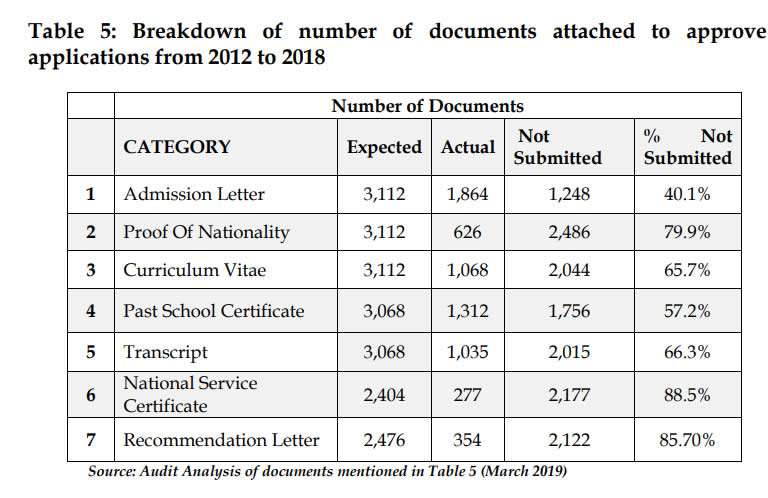 For those required to submit recommendation letters, several of them simply submitted "notes on complementary cards from Members of Parliament, Ministers of State, presidential staffers, heads of faculties and other influential
Ghanaians."
The Auditor-General's report covered the activities of GETFUND from 2012 to 2018. The report expressed concern that at least 80% of scholarships were granted to finance education programmes abroad in contravention of the stated aims of the law.
The GETFUND Act prioritises funding for educational programmes in Ghana.
The performance audit report on the GETFund Secretariat also condemned the former administrator for abusing his powers.
"The Administrator solely approved or rejected an application for scholarship. There was no panel to interview candidates neither did he formally interview applicants to determine their suitability for selected courses of study."
It said the GETFUND secretariat "failed to establish a robust selection process to
ensure scholarships were granted to Ghanaians meeting some predetermined
evaluation criteria."
"The selection process for scholarship award by GETFund Secretariat was non-structured, unfair, dominated by one person and porous. This allowed the Administrator to select any applicant of his choice to benefit at the expense of other Ghanaians who might have been brilliant and in need of the award."
The report also listed the negative effects of poor scrutiny and the failure to conduct a robust selection of applicants for an award.
Four beneficiaries were awarded scholarships even though they did not have the prerequisite grades in English language as demanded by the schools they intended to enrol,
Eight applicants residing abroad who claimed to be Ghanaian students in the middle of their studies requested support and the Administrator approved the payment of $562,307.20 on their behalf without any verification or evaluation of their claims,
86 beneficiaries who were Members of Parliament, politicians, media practitioners, lecturers, heads of institutions and associates were granted scholarships totalling $4,766,257.48 other than needy Ghanaian applicants.
GETFund Secretariat awarded scholarships totalling $1,531,364.87 to 30 lecturers from public universities who by-passed the Faculty Development Grant facility (a sponsorship grant available to lecturers with a more stringent selection process),
59 beneficiaries of GETFund scholarship were awarded additional scholarships to pursue further studies without going through a selection process.
The Auditor-General indicated in the report that it may disallow the expenditures by GETFund Secretariat in the management of foreign scholarships which he deems
were contrary to law and surcharge the persons involved.