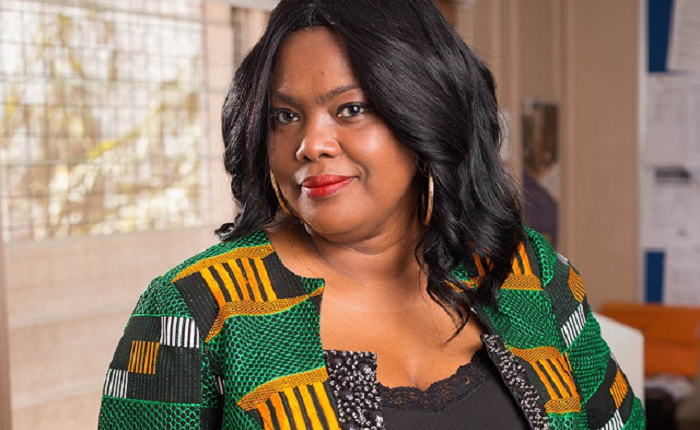 Don't give up! Nowhere cool – Joyce Ababio to young designers
Having encountered many young designers with great talent who have abandoned their tools for other professions, celebrated fashion designer, Joyce Ababio is encouraging them not to give up but climb their way to success with hard work.
In an interview with Graphic Showbiz, she revealed many young people lose focus and get distracted mostly when they feel overburdened by the stress of financing their projects but noted that there was nothing wrong with failing at the initial stages.
"I've been there and I know that the system is hard, coupled with lack of support and policies from the government but new designers should stay focused, they give up easily.
"It is important to learn how to push yourselves and get up because in Ghana, if you move one step, it pushes you back three steps but that is not the reason for not pursuing your ambitions so keep doing it until you become successful.
"I never thought it will take me over decades to build my brand and get to where I am now but this is Ghana for you where everything is not smooth sailing. You are always drawn back with any progress made because the lack of support is very huge," she stated.
With all the wings of the creative industry persistently asking the government for support, Joyce Ababio challenged young designers not to bang their hopes on investment and support from the government.
"The government can only provide loans to young entrepreneurs and the truth is that starting a company or project with loans is burdensome and not the right decision to make," she added.
A graduate of the Texas Woman's University who worked in the US for some years, Joyce Ababio came back to Ghana to pursue her career as a fashion designer and by dint of hard work produced garments for winning beauty pageant contestants and former First Ladies.
Notable among them are beauty queens Matilda Alomatu (Miss Ghana and Miss ECOWAS 1994), Manuela Medie (1995), Sheila Azuntaba (1996), Marian Sugri Bugri (1999) and Maame Ewurafua Hawkson (2000); and former First Ladies Madam Theresa Kufuor and Mrs Naadu Mills.
With a goal to see the fashion industry in Ghana become a billion-dollar industry and seeking to promote a more positive mindset about fashion design in Ghana, she saw the need to enhance education in fashion design; hence, the establishment of the Vogue Style School of Fashion and Design (VSSFD) in 1995, now the Joyce Ababio College of Creative Design (JACCD).
In light of the challenges of designers and how she can support the industry especially emerging brands, she has set up the Black White & Accent shop, an all-inclusive fashion hub in Ghana with exclusive clothes and accessories located at Labone, Accra.
According to her, the vision is to give visibility to new brands, as well as provide an exciting and easy shopping experience for clients to shop their favourite designers in one space.
"There are many designers who operate from their living rooms and some even don't have the space to sell their works and so the Black, White & Accent shop is here to give such designers the chance to rent a rack to them.
"Also, there are so many fashion brands out there whose products are not visible so this will give them the prominence because people become aware of you and give you the support that you need by patronising your works," she stated.
The Black, White & Accent shop will be officially launched on Saturday, December 19.