Don't Worry Darling: Critics mixed as Olivia Wilde film with Harry Styles premieres
Critics at Venice Film Festival have given their verdict on Don't Worry Darling, Olivia Wilde's film starring Harry Styles and Florence Pugh.
The much-talked-about movie centers on Alice and Jack, a seemingly perfect couple played by Pugh and Styles whose life in an LA company town falls apart.
It premiered out of competition at the festival, where The Guardian's Peter Bradshaw gave the film two stars.
The Telegraph disagreed, however, awarding it four stars.
Bradshaw called the film an "unconvincing tale of dystopian suburbia" which "superciliously pinches ideas from other films without quite understanding how and why they worked in the first place", he said.
"It is a movie marooned in a desert of unoriginality – and the desert doesn't bloom."
But while Hollywood Reporter's Alex Ritman said the film "generated a solid seven-minute standing ovation", the Daily Mail's Brian Viner gave it two stars, describing Styles' performance as a "trifle mechanical" compared with his co-star.
"The bigger problem is that Don't Worry Darling just isn't very good," he continued.
"Unhelpfully, it has echoes of much better films, such as the mid-1970s classics The Stepford Wives and One Flew Over The Cuckoo's Nest, and The Truman Show (1998)."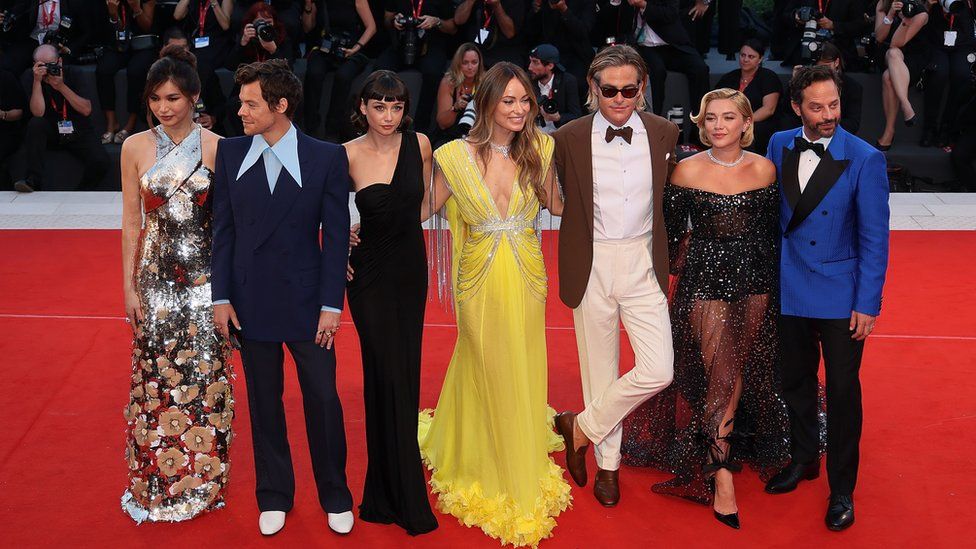 But the Telegraph's Robbie Collin was positive about Pugh's performance and the "hints of Stepford in this citrus-sharp psychological thriller".
"For a mediocre film, this could have been wounding. But happily, Wilde's is largely fantastic: the sort of juicy but accessible studio production that has all but vanished since the 1990s."
Helen O'Hara of Empire, in a three-star review, wrote: "Pugh is superb, while Wilde confidently steps up to a bigger subject and budget to deliver a slick, beautiful film. It doesn't quite stick the landing, but its flight to that point is fascinating."
However, BBC Culture argued the film was an "empty shell" full of "half-baked ideas".
"Harry Styles doesn't feel up to the material here, with leaden line delivery and a lack of light and shade making his scenes opposite Pugh fall flat," wrote Steph Green.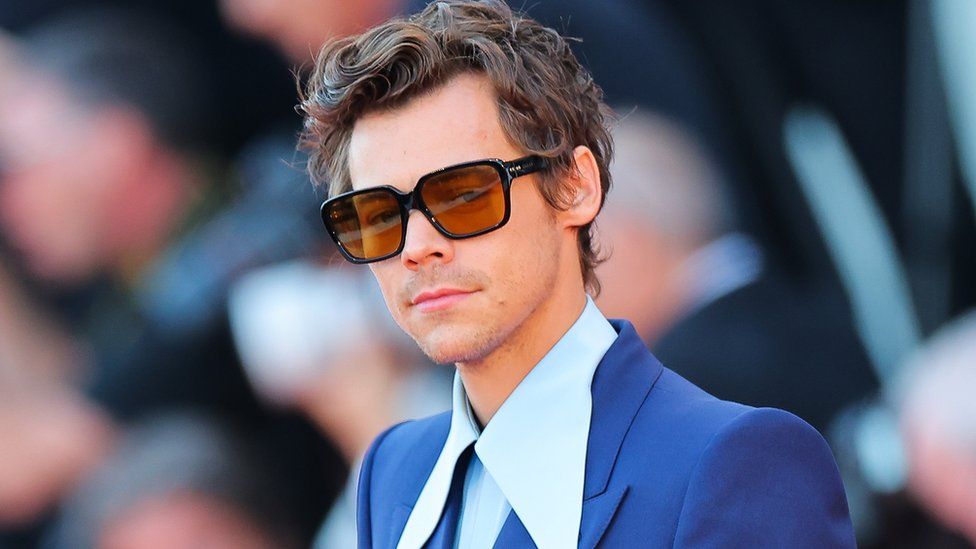 The Independent's Geoffrey Macnab also gave the film three stars but described Styles as "charisma-free" and the movie as "a messy, convoluted affair".
USA Today's Brian Truitt, praised the leading actress, saying: "Pugh, like she's done with Black Widow, Midsommar and others, continues to make everything she's in better – and, boy howdy, it's needed here as the plot grows more convoluted."
The Wrap's Steve Pond had mixed feelings, calling Pugh "reliably terrific", but adding: "If [Get Out director] Jordan Peele is the current gold standard when it comes to provocation under the cover of mainstream genre cinema, Wilde still has some catching up to do."
The film was also problematic for Variety's Owen Gleiberman, who said: "The movie takes you on a ride that gets progressively less scintillating as it goes along."
David Rooney added in Hollywood Reporter that although Booksmart director Wilde "handles the physical aspects of the project with assurance… It's just a shame all the effort has gone into a script without much of that 2019 debut's disarming freshness".
Why else has the film hit headlines?
But despite only just getting its debut, the film has already generated a lot of media attention.
The hugely successful pop star Styles – greeted by delighted fans in Venice – is in his first leading role, after appearing in 2021's Eternals and 2017's Oscar-winning Dunkirk.
But while Pugh, Oscar-nominated for 2019's Little Women, walked the red carpet for the premiere, she was notable by her absence at the press conference. She had flown over from Budapest, where she had been filming the Dune sequel.
When asked about any possible reluctance from Pugh to take part in the press conference, Wilde preferred to focus on the acting.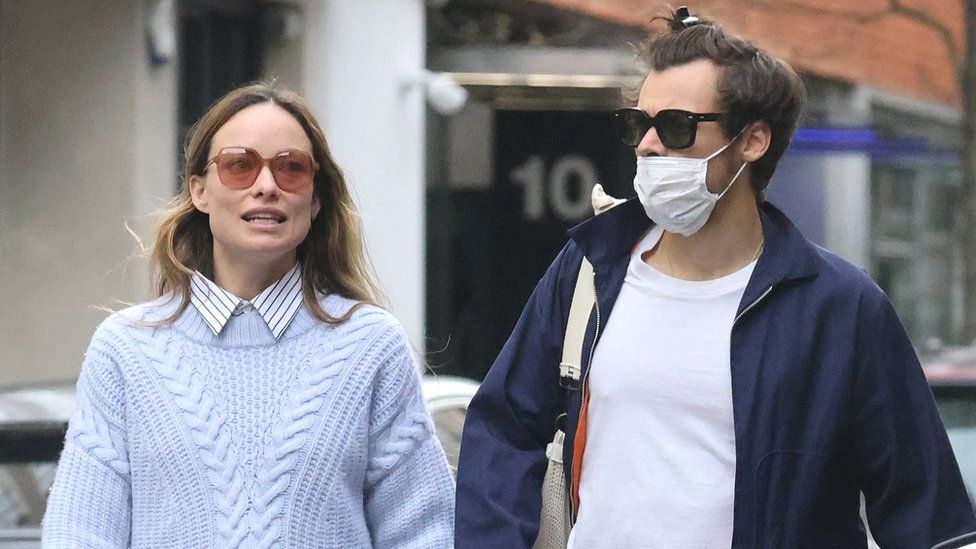 She said: "As for all the endless tabloid gossip and all the noise out there, the internet feeds itself, I don't feel the need to contribute, I think it's sufficiently well-nourished.
"Florence is a force and we're so grateful that she's able to make it tonight despite being in production on Dune," she added.
"I can't say enough how honored I am to have her as our lead."
Meanwhile, Hollywood Reporter's Ritman suggested that when Styles sat down at the premiere, "he appears to spit at co-star Chris Pine. Or does he? The reaction from Pine certainly suggests he did". Billboard Pop also shared a video of Pine apparently zoning out when Styles talked about the film.
There has also been much interest in Styles and Wilde's relationship after working together on the film. They gave an interview last month to Rolling Stone, in which Styles talked about how tough the social media response could be for those associated with him.
"It's obviously a difficult feeling to feel like being close to me means you're at the ransom of a corner of Twitter or something," he says. "I just wanted to sing. I didn't want to get into it if I was going to hurt people like that."
Wilde added his fans are "deeply loving people", and said: "I don't personally believe the hateful energy defines his fan base at all. The majority of them are true champions of kindness."
Styles' part was originally meant to have been played by Shia LaBeouf, who Wilde recently said she had fired because his "process was not conducive to the ethos that I demand in my productions".
But the US actor denied this, telling Variety he had "quit the film due to lack of rehearsal time". He stoked the flames of controversy further by sharing a video that Wilde allegedly sent him in 2020, asking him to return to the production, and asking if he and Pugh could "make peace".
But when a journalist, at the same Venice press conference, tried to probe further into the topic, it was swiftly shut down by the moderator.
Wilde's personal life had earlier been aired in public in April after she was handed child custody documents while appearing on stage at an event in Las Vegas by her former partner Jason Sudeikis, star of the hit comedy TV series Ted Lasso.
Last month Wilde described this moment as "vicious".
Deadline reported in April that Sudeikis' spokesperson said he "had no prior knowledge of the time or place that the envelope would have been delivered… and he would never condone her being served in such an inappropriate manner".
Wilde said at her film's press conference: "We want women to feel they are being heard and to feel inspired by… the kind of revolutionary who's willing to sacrifice everything to do what's right.
"Those are the superheroes I want to see at this time."
Don't Worry Darling is in UK cinemas from 23 September.