Dual Citizenship: Court orders fresh elections in Assin North
In a new twist to a dual citizenship case before the courts, the Member of Parliament (MP) for Assin North James Quayson would have to step down as legislator for the constituency.
This was after the Cape Coast High Court on Wednesday, July 28, ruled for a fresh election to be held in the constituency.
It is unclear if the sitting MP would be able to contest in the elections again.
But the court, in its judgement, said the MP who was dragged to court weakened his case when his renunciation certificate date showed November 26, 2020, less than two weeks to the December 7, 2020 elections.
Per court records, at the time of filing, Mr Quayson had two citizenship certificates.
He still had his Canadian citizenship when he filed for parliamentary elections between October 5 and October 9, 2020.
This means the National Democratic Congress (NDC) MP was not qualified when he applied to compete for the Assin North seat.
The trial judge Justice Kwasi Boakye also mentioned that it would be a scar and a blot on the country's legal jurisprudence if the error in the December 2020 parliamentary polls is allowed to stand.
The court also said it would be a cancerous tumour in Ghana's elections if Mr Quayson is allowed, and continues to hold himself as Assin North MP.
In concluding, the judge said the MP has violated certain constitutional provisions and other statutory provisions that guide Ghana's elections.
Also, a cost of GHC40, 000 has been awarded against the Assin North Member of Parliament.
Why James Quayson is in court
A private citizen and a resident of Assin Berekum, Micheal Ankomah Nimfah, filed a suit at the Cape Coast High Court challenging the qualification of Mr Quayson as the MP for the area.
The plaintiff, a mason, averred that at the time Mr Quayson filed his nomination, he was still holding onto his Canadian citizenship and failed to denounce his citizenship as required by law.
Ghana's laws bar dual citizens from holding public offices in Ghana.
In freezing the MP's right to be in Parliament, the judge said: "the allegation contained is of grave nature, and he could not hold himself as MP"
Also, the NDC MP-elect did not have the renunciation certificate to present before the court to confirm that he had indeed renounced his Canadian citizenship.
Although court documents showed the MP received his certificate on November 26, at the time he filed his nomination, he did not have the requisite qualification.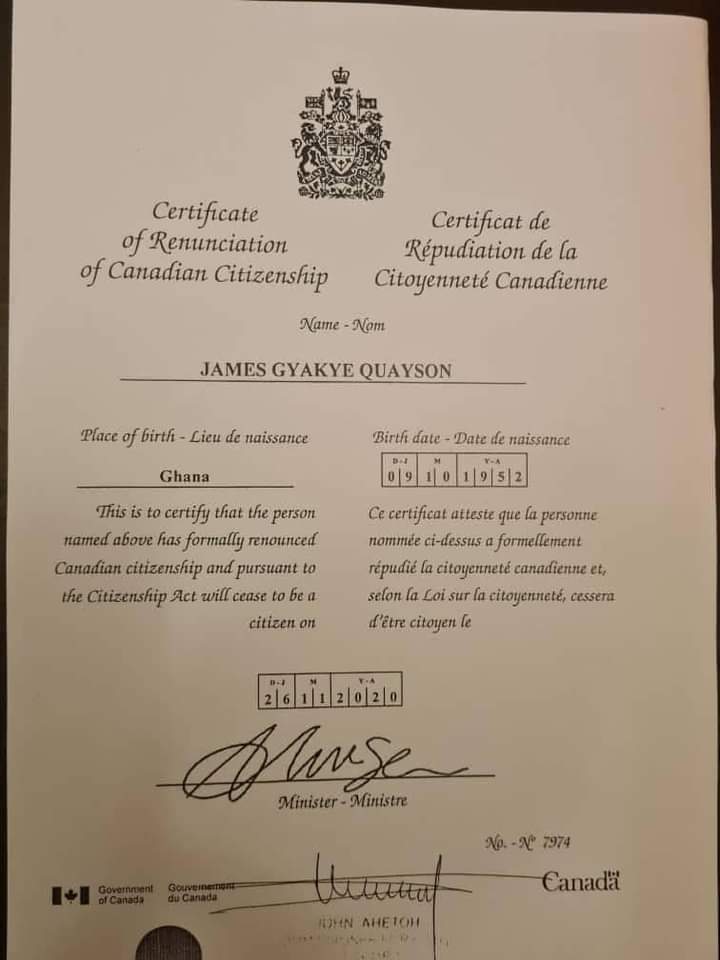 NPP strategy 
On December 23, 2020, the governing New Patriotic Party sought to trigger a by-election by challenging the eligibility of James Quayson to contest in the Assin North parliamentary elections, but he won.
Legal practitioner, Gary Nimako, had asked the Ghana Immigration Service to confirm if indeed the NDC MP-elect had renounced his Canadian citizenship before the December 7 parliamentary elections.