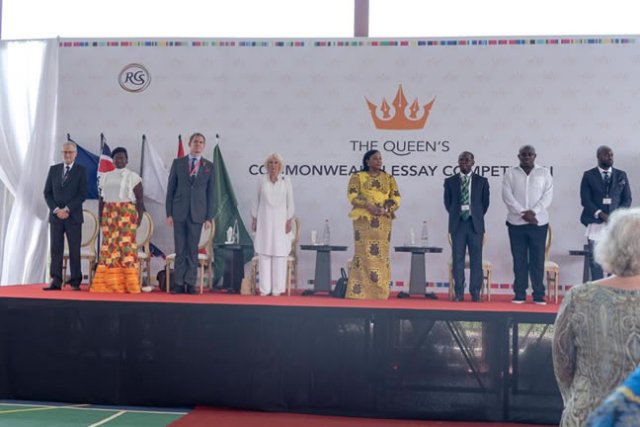 Duchess of Cornwall makes history in Ghana
Historically, Ghana has chalked many firsts. It was the first country in sub-Sahara Africa to gain independence in 1957. Ghana was also the first sub-Saharan African country to produce a UN Secretary-General in the person of Kofi Annan. In 2018, Ghana became the first country in sub-Saharan Africa to eliminate Trachoma. It also has the largest open-air market and the largest man-made lake in the world.
On Monday, 5th November 2018, Ghana added to the list,  with the historic launch of The Queen's Commonwealth Essay Competition by the Vice – Patron of The Royal Commonwealth Society, Her Royal Highness The Duchess of Cornwall. The event was historic because in its 135-year history,  it was the first time that the world's oldest writing competition had been launched outside Buckingham Palace in the United Kingdom.
In her keynote speech for the event, The Duchess spoke of being a "passionate believer in the power of the written word", adding : " I look forward, with huge anticipation, to reading the winning entries and presenting the awards at Buckingham Palace next year".
The First Lady of Ghana, who was a guest of honour at the event spoke of the importance of literacy, adding: "Anyone with limited literacy skills is virtually excluded from written information that can change their lives".
She concluded, " I am truly excited to be here with Her Royal Highness The Duchess of Cornwall to celebrate the 2018 Ghanaian winners of The Queen's Commonwealth Essay Competition.
Ghanaian Born British Editor of Vogue Magazine, Edward Enninful expressed his delight at being at such an incredible event that recognises the creative achievements of young people across the Commonwealth.
In his closing remarks, John Apea The Royal Commonwealth Society Coordinator for Africa thanked Principal of Ghana International School, Dr. Mary Ashun, for hosting the 2019 launch. He also thanked the National Partner of the 2019 Queen's Essay Competition in Ghana, Mr. Eric Kutortse, Chairman of First Sky Group and Serene Insurance, for understanding the significance of literacy in changing lives, and the British High Commission Accra for being co – organisers of the event.
RCS
The Royal Commonwealth Society is a major Commonwealth organisation with headquarters in London. Its Patron is Her Majesty Queen Elizabeth II and its Vice – Patron is Her Royal Highness The Duchess of Cornwall.
source: Myjoyonline