EC officials tampering with ballot papers arrested
The Electoral Commission officials who were allegedly caught tampering with ballot papers in today's general elections have been arrested, the commission has confirmed in a statement.  
It comes after viral images of tampered papers hit social media in the wake of the Presidential and Parliamentary polls.
The incident reportedly happened in some polling stations at Awutu Senya West and Bawku Central constituencies.
The arrested officers have been identified as Mary Adatsi from the Awutu Senya West constituency and Ahmed Shafawu of the Alhaji Salam Grinding Mill Polling Station in Bawku Central.
"In the case of Bawku Central, only one of such ballots was used. However, the case of the Awutu Senya West, none of the ballots were used," a statement from the EC said.
Pictures circulating on social media show that President Akufo-Addo has been cut off from the Presidential ballot paper.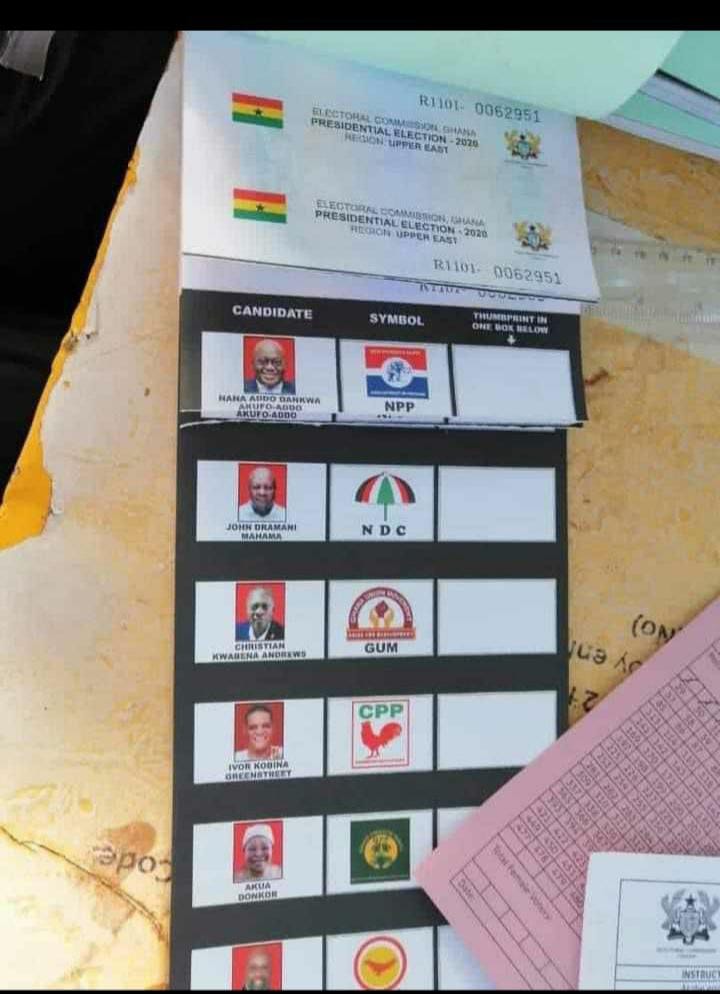 But the EC in a statement says "for a correctly thumb printed ballot paper to be considered valid and countered, all Presidential candidates must be on the ballot paper".
The commission further cautioned its officials to "let the truth guide them and integrity preserve them as they continue with this important exercise".
"We also urge the Political party and candidate's agents, and the general public to be vigilant to ensure a free, fair, credible, and transparent election," the statement added.
The commission gave the strongest indication that "the officers will be prosecuted and dealt with by law".
Ghanaians go to the polls today, Monday, December 7, 2020, to elect a President and 275 Parliamentarians.
Over 17 million voters are expected to take part in the exercise. The figure is  2 million more than the number of voters who voted in the previous election in 2016.
The electoral commission has said over 33,000 polling stations have been dedicated for today's exercise.
The race is largely between the incumbent President Nana Addo Dankwa Akufo-Addo of the NPP and former leader John Mahama of the NDC. Ten other presidential candidates are contesting in the polls.
Electoral materials have been dispatched to the various voting centers.