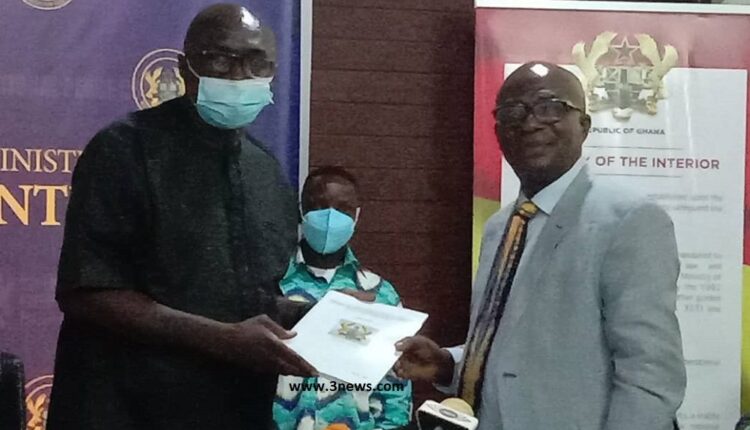 Ejura Committee presents report to Interior Minister
The tripartite committee investigating circumstances surrounding the Ejura shooting and the murder of social activist, Ibrahim Mohammed, has presented its final report to the Minister of Interior.
The committee chaired by a Justice of the Court of Appeal, Justice George Kingsley Koomson, presented their findings to the Interior Minister today, July 27.
"I want to let you know that we attached serious importance to the work and dedicated ourselves to all issues with meticulous attention and details," Justice Koomson told the audience gathered.
"Having assured ourselves after listening to 22 witnesses and reviewed volumes of documents including audio and videos, we have come with our findings and proffered some recommendations. And we hope the government through your good self [Interior Minister] will give a good ear to them and try to accept and implement them," he added.
According to him, the committee engaged 22 witnesses including journalists, police and military officers, as well as political appointees and family members of some victims who were killed in the disturbances about a month ago.
Background
Ibrahim Mohammed popularly known as Kaaka was said to have been attacked by some unknown assailants in front of his house around 1:30 a.m on Saturday, June 26, 2021, and was left in critical condition.
He was rushed to the Ejura Government Hospital, from where he was referred to the Komfo Anokye Teaching Hospital around midday on Monday, June 28, 2021, but died on admission.
Suspecting the deceased had been attacked because of his social activism, some young people in Ejura decided to embark on a demonstration after news broke of Kaaka's death.
They protested on Tuesday, June 29, 2021, when Kaaka was buried according to Islamic rites.
Consequently, the situation degenerated into chaos resulting in the youthful protesters clashing with a joint military and police team.
Two people, Abdul Nasir Yussif and Murtala Mohammed were shot dead.
A three-member committee was constituted by the Minister for the Interior, Ambrose Dery, to probe the disturbances in Ejura.
The committee was initially given 10 days to present its report but subsequently extended by a week, ending on July 16.
Other members of the committee were Dr Vladimir Antwi-Danso, a security expert, and Ms Juliet Amoah, the Executive Director of Penplusbytes, a not-for-profit organization into good governance and the promotion of new media.
A Principal State Attorney, Ms Marie-Louise Simmons, was the secretary.
Mandate
Interior Minister Dery intimated the formation of a committee at Ejura during a courtesy call on the local traditional ruler, Ejuramanhene Barima Osei Hwedie II, to commiserate with him on the death of three of his subjects.
The minister said the committee was to investigate the incident and make recommendations to forestall a recurrence in Ejura or elsewhere in the country.
He said the committee was made up of trusted people and expressed the belief that they would be able to make appropriate recommendations, after a thorough investigation of the unfortunate incident on June 29.
"This committee, I believe, is a committee of prominent personalities of this country, trusted; I believe that within the 10 days given, ending July 9, 2021, the unfortunate circumstances will be investigated and appropriate recommendations made," he said.