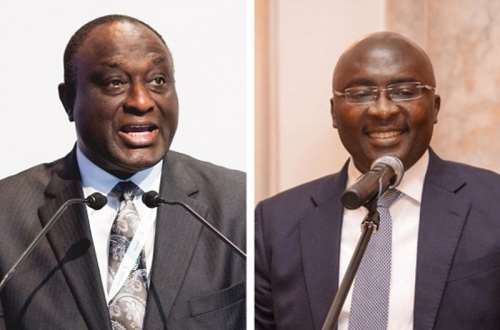 A simmering political volcano whose explosion was forecasted to occur relatively in the long term has had a miscarriage. Just a few weeks after Alan Kyerematen broke away from the governing New Patriotic Party, NPP, his supporters, and those of Dr. Mahamudu Bawumia have clashed.
Wild scenes unfolded at the Heroes Park in Kumasi, the Ashanti regional capital where the final funeral rites of a former First Lady, Mrs Theresa Kufuor were held.
So important was this event that the two political rivals had no choice but to show up, any absence would have had its own ripples.
From their lofty positions and their own pathways, the two camps made landfall in the same location and to the reality of stark divisions that were perhaps suppressed until now.
The camp of the Vice President ran into the new jargon in Ghana's political space, "showdown" as Alan, sitting comfortably in his home region barred his teeth. In many ways, it was their supporters who steamed the atmosphere by hooting at each other.
The Former Trade Minister was a key figure in the government and, until recently the presumed heir apparent to the party's leader but he unexpectedly resigned to form the Movement For Change, accusing his parent party, the NPP of schemes to give the Vice President the upper hand in the flagbearer race.
Both men have traded harsh words on their internal party campaign trails, though these have been dovetailed by the olive branch.
Their strained relations could no longer be pushed aground as pent-up feelings escaped from available outlets.
Alan was seen with key Ashanti figures symbolic of his power base in the NPP's stronghold of Ashanti. The Vice President Dr Bawumia now looks into a crystal of several colour layers. First, he has to deal with the Alan threat before taking a hard look at the traditional rival candidate, former President John Mahama of the National Democratic Congress, NDC.
Sandwiched by fairly charismatic political figures in the race to the Jubilee House in 2024, the Vice President who is a very clever fighter, is this time beset with a tall order. How he swims the twists and turns to safety, interpreted to be electoral victory would put the seal on his political precocity which has taken Ghana by storm.
The protagonist here is running against time and psychological warfare. There is an economy to deal with, and there are opinion polls that require an offsetting through a radical improvement in the economy.