Football fan sentenced over Bradley Lowery taunt
A Sheffield Wednesday supporter who taunted rival fans by mocking the death of Bradley Lowery has been given a 12-week suspended prison sentence.
Dale Houghton, 32, from Rotherham, was seen laughing as he held up an image of the six-year-old at a match against Sunderland – the team Bradley supported before he died of cancer in 2017.
Houghton, who admitted a public order offence, was also banned from attending any football match for five years.
His actions were branded "disgraceful".
Houghton had previously pleaded guilty to one count of intentionally causing harassment, alarm or distress at Sheffield Magistrates' Court on 2 October.
He was charged after pictures of him brandishing Bradley's photograph during the match at Wednesday's Hillsborough stadium on 29 September were circulated on X, formerly Twitter.
Houghton later described his behaviour to police as "enjoyable banter" and said he had "found it funny".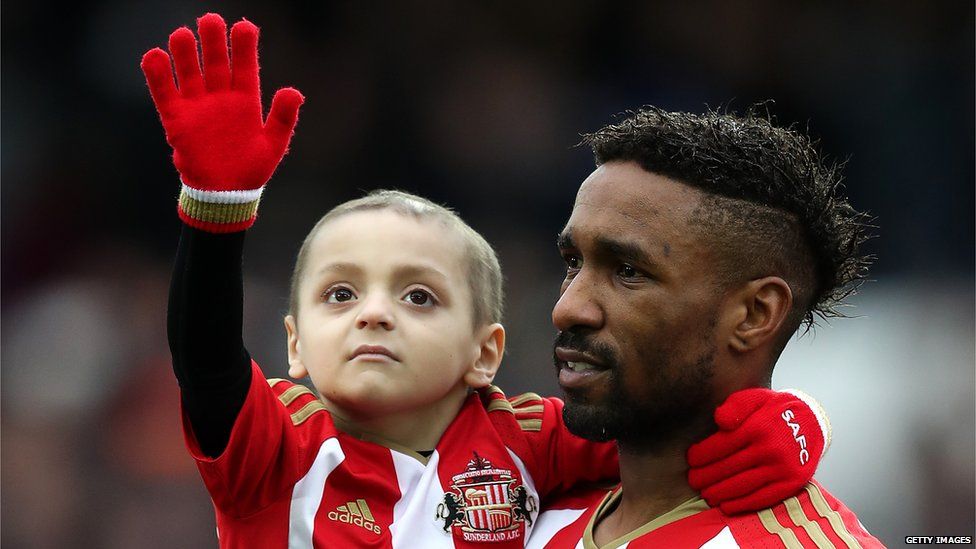 At Sheffield Magistrates' Court on Friday he was ordered to undertake 200 hours unpaid work, as well as being given the 12-week sentence, by District Judge Marcus Waite.
Mr Waite said Houghton's "reckless and foolish" actions had "inflicted more trauma on an already grieving family".
Suspending the sentence for 18 months, Mr Waite said: "Your actions that day were utterly appalling, your behaviour disgraceful.
"You showed callous disrespect to a brave young man who was rightly held in the highest esteem by football fans everywhere."
He said while there was no element of "long-term planning" he believed Houghton had taken some time to search for the picture.
"I bear in mind [that] however much time you spent doing that, at no point did you think to yourself 'what the hell am I doing?'", he told the defendant.
"The offence was targeted towards Sunderland fans and I don't think you were thinking about the family – not that that makes it any better."
Mr Waite, who accepted that Houghton showed "genuine remorse", also imposed a £154 victim surcharge and ordered him to pay £85 towards the cost of the prosecution.
'Outrageous and deplorable'
Bradley, from Blackhall Colliery, County Durham, was diagnosed with neuroblastoma – a rare type of cancer – when he was 18 months old.
He went on to be Sunderland's mascot and became "best mates" with his hero, striker Jermain Defoe.
In a statement read out in court, his mother Gemma Lowery said Houghton's actions had "brought on many emotions".
She said his behaviour was "not just disrespectful to Bradley and us all, but caused emotional turmoil to other children" and said it had left her feeling "very upset".
Constance Coombs, for Houghton, said her client "fully accepts that his behaviour was outrageous and deplorable" and that he would regret it for the rest of his life.
She said he recognised he was "entirely in the wrong" and "deserves to be punished", adding that he wished to express his "deep remorse" to Bradley's family and the general public.
She told the court Houghton had lost his job as a window fitter as a result of his actions and had also lost a second job at Next after his employers found out about the incident.
Ms Coombs said her client's relationship with his partner had also suffered and he had chosen to stay away from his family home for "fear of reprisals".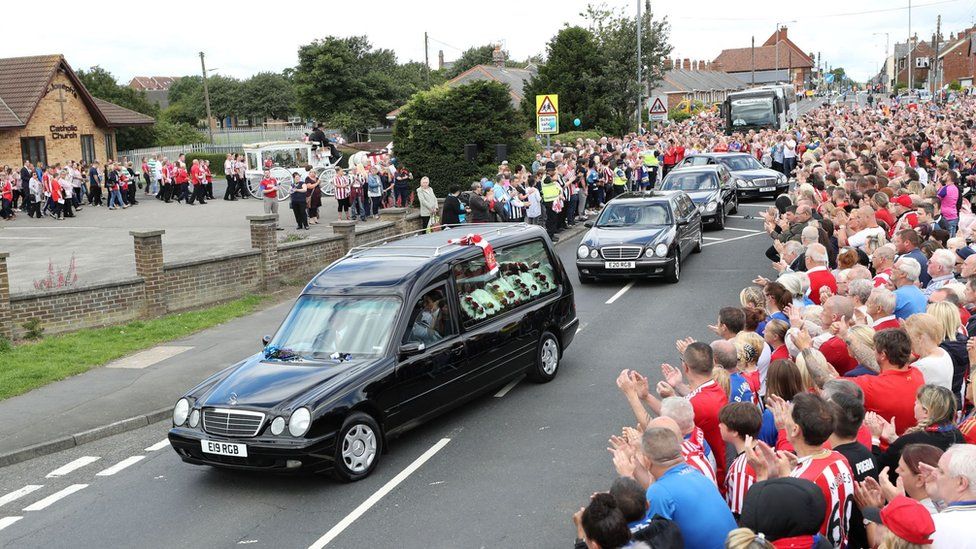 The court heard Houghton had been a Sheffield Wednesday season ticket holder for 25 years.
A spokesperson for the club said there was no place for such "deplorable actions" at Hillsborough.
They said: "We will not in any way tolerate this kind of behaviour and our thoughts remain with Bradley's family and friends."
Sheffield Wednesday supporters have raised nearly £30,000 for the Bradley Lowery Foundation over the last few weeks, "underlining the true community values of the club", the spokesperson added.