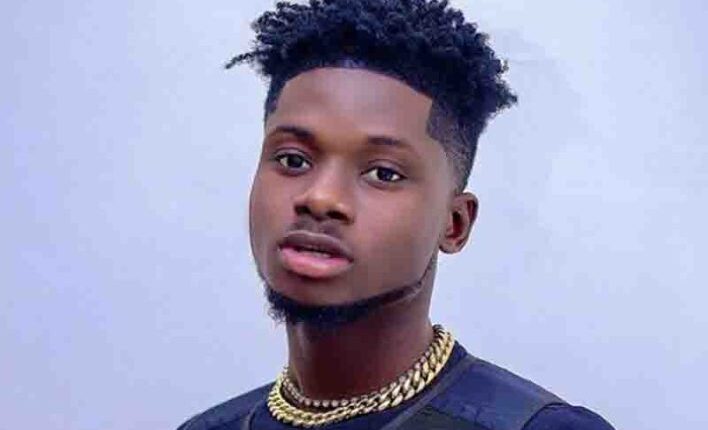 Four Times Kuami Eugene Has Been Accused Of Song Theft     
Highlife artiste, Kuami Eugene, has come under a barrage of criticism for sampling songs of other musicians and producers.
Eugene's sampling habits have been described as embarrassing by entertainment pundit Arnold Asamoah Baidoo.
"It's not funny anymore, your song theft must stop," Baidoo declared on Accra-based Peace FM.
Ahead of the 20201 Vodafone Ghana Music Awards ceremony scheduled for the  25th and 26th of June, your favourite news platform portal TheGhanaReport.com has put together four times the 'Wish me well' hitmaker has been accused of song theft.
Kuami Eugene vs Oduma Essan 
Two weeks after releasing the single Show Body, Kuami Eugene was accused by a  Nigerian artiste, Oduma Essan, of song theft.
Essan threatened to sue the 'open gate' singer for GHC120,000.
"I have been in this country for a long time now, I know what is going on in the system. I have seen all artists but the way Kuami Eugene is doing his kind of music, that is not how it is done.
"Nobody does that. Which artiste in Ghana is doing this kind of perpetual attitude Kuami Eugene is doing? This is the time to put a stop to this bullshit," he said.
View this post on Instagram
2. Malian singer Sidiki Diabaté accuses Kuami Eugene of song theft
In 2018, the highlife musician came under intense public criticisms for allegedly borrowing without permission, Malian artiste Sidiki Diabaté's song Fais Moi Confiance for his hit single Confusion.
Fais Moi Confiance, which is French for 'Have Confidence In Me'. was released in January 2016  by Sidiki and had over 10 million views on YouTube when Kuami Eugene released his single Confusion in February 2018.
Kuami Eugene admitted to having sampled the song and tweeted that Sikidi, Daddy Lumba and Kojo Antwi as his source of inspiration
3. Ice Prince's 'Juju' and Kumai Eugene's 'wish me well'
The singer plagiarized Nigerian artiste Ice Prince's song Juju in his 2018 hit song Wish Me Well.
The hook of Ice Prince's song, which comes towards the end, said: 'If you wish me well, I go wish you well oo'. The same phrase finds itself in the hook of Eugene's Wish Me Well.
A subsequent remix of Wish Me Well actually featured Ice Prince who repeated his 2012 line in Eugene's song.
4. Kuami Eugene 'steals' Koffee's Rggamuffin verse
In 2019, VGMA released their theme song for the 20the anniversary titled Our Music Lives.
The song featured Joe Mettle, Kuami Eugene, Kidi, Adina, and veteran Afrosoul singer Amandzeba.
Kuami Eugene verse flow on the song was similar to Koffee's in her opening verse on Raggamuffin.