The Rawlings Timelines: The 66 events that defined .J.J's life
Former President J.J. Rawlings died on Thursday, November 12, 2020, at 73, shocking the nation into grief.
This Thursday marks the one-week of his passing. To mark this occasion, theghanareport.com walks you through some significant moments of his life in and out of office.
June 22, 1947:   He was born as Jeremiah Rawlings John to Victoria Agbotui and James Ramsey John (Note: the military changed his name to Jeremiah John Rawlings).
1967

:   Rawlings completed his secondary education at Achimota College with an O' level certificate and also left school as a cadet.
August 1967

:  He enlisted as a Flight Cadet in the Ghana Air Force and was subsequently selected for officer cadet training at the Ghana Military Academy and Training School, Teshie in Accra.
Jan. 1969

:    Rawlings graduated and was commissioned as a Pilot Officer, winning the coveted "Speed Bird Trophy".
Jan. 29, 1977:   Rawlings marries secondary school sweetheart, Nana Konadu Agyeman.
April 1978:      He earned the rank of Flight Lieutenant.
June 1, 1978:  Flt Lt. Rawlings' first child-Zanetor is born.
May 15, 1979:

  Five weeks prior to civilian elections, Flt Lt Rawlings and six other soldiers staged a coup against the government of General Fred Akuffo, but failed. They were arrested and court-martialed by the Ghana Armed Forces.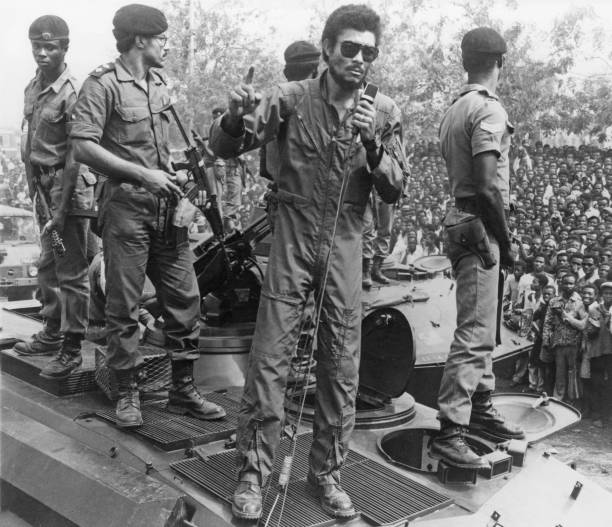 May 1979:     Flt Lt. Rawlings while on trial urges the military hierarchy to "leave his men" alone.
June 4, 1979:    While in prison, junior officers of the Ghana Armed Forces staged a coup, released Rawlings, and overthrew the Supreme Military Council II, chaired by General F.W.K Akuffo.
June 16, 1979:   Flt Lt. Rawlings signs order for the killing by firing squad of former Head of State, General I.K Acheampong, and a former Commander of Border Guards who were found guilty of embezzling state funds.
June 26, 1979:   Other senior military officers killed in 'House Cleaning' as part of AFRC.Anti-corruption campaign. They are Gen F.W.K Akuffo and General Kwasi Afrifa, Major Maj. Gen. R. E. A. Kotei, Air Vice Marshal George Yaw Boakey, and Admiral Joy Amedume.
Sep. 24,1979:    He transferred power peacefully to President Hilla Limann who became the only President of the Third Republic.
Dec. 31, 1981:   Flt Lt. Rawlings staged another coup that toppled Limann's administration.
Jan. 5, 1982: Flt Lt. Rawlings presents a detailed statement explaining the factors that necessitated the termination of the Third Republic in a radio broadcast.
July 1982:     Cadres of the PNDC ransacked the offices of a number of private newspapers in Accra including The Believer, Palaver and The Echo, whose editors fled the country. John Dumoga, the editor of The Echo, escaped to Nigeria in a refuse truck.
Nov. 23, 1982:  The PNDC foiled a coup attempt led by Major Seidu Musah.
June 19, 1983:  Another coup attempt foiled by the PNDC regime.
Dec. 1983:      Chairman Rawlings announces the setting up of a committee to review the cases of AFRC convicts and Peoples National Party activists on exile.
February 1985:   The News-editor and reporters of the Pioneer were ordered to the PNDC headquarters at Gondar Barracks in Accra where they were accused of publishing 'false reports' about an assassination attempt on the life of Flt Lt. J.J Rawlings in Kumasi.
June 30, 1983:   Three High Court Judges, plus an army officer were murdered in cold blood . A member of the PNDC, Amartey Quaye, was arrested, tried and found guilty for the act and killed by firing squad.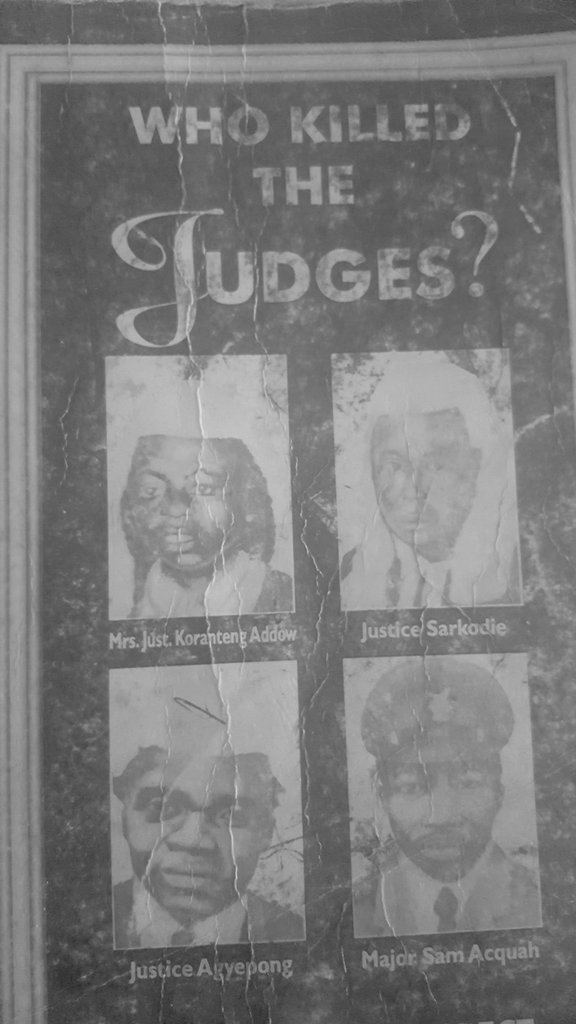 July 29, 1984:      Rawlings meets his inspirer, Cuban revolutionist, Fidel Castro. in Cuba and receives the Jose Martin medal for World peace.
1988:   The PNDC regime starts the implementation of Programme of Action to Mitigate the Social Costs of Adjustment (PAMSCAD) to power rural development including rural electrification and other labour intensive self-help projects.
Nov/Dec. 1988:  First district level elections held in Ghana as part of decentralization world peace.
1990:    The National Development Policy Framework (NDPF) was developed under the National Development Planning Commission, which subsequently became known as Ghana Vision 2020 – a long-term plan for Ghana to become a middle-income country by the year 2020.
April 28, 1992

:   A referendum on a new constitution was held. The main issues were the of multi-party politics and the division of powers between the president and parliament.
1992:       Flt Lt. Rawlings resigns from Ghana Armed Forces to contest elections.
May 1992:   Ban on political activities imposed in 1982 lifted.
June 10, 1992:  The National Democratic Congress is born.
Oct. 1992:  A failed presidential candidate in the 1979 elections, Dr John Bilson, challenged Rawlings' nationality on grounds that he had not renounced his Scottish citizenship as his father was from Scotland.
Nov 3, 1992

:   Ghana goes to the polls 11 years after Flt Lt. Rawlings seized power on December 31, 1981.  Rawlings wins presidential elections.
Dec. 6, 1992:   The New Patriotic Party (NPP) boycotts parliamentary elections as it protests results of the presidential elections Rawlings won.
1993:  Rawlings wins the Hunger Project's Africa Prize for Leadership for the Sustainable End of Hunger. The $50,000 prize became the seed money for the establishment of the University of Development Studies.
Jan 7, 1993:   The 1992 constitution comes into effect with Rawlings sworn-in as the first President of Ghana's Fourth Republic.
1994:    He became the ECOWAS Chairman during the first Liberian war. Under his chairmanship, the Akosombo Accord and Accra Peace Agreement were signed.
Dec. 28, 1995:   A cabinet meeting turned violent when Rawlings and Vice-President Ackah brawled– the worse turn for strained relations between the country's two most powerful men.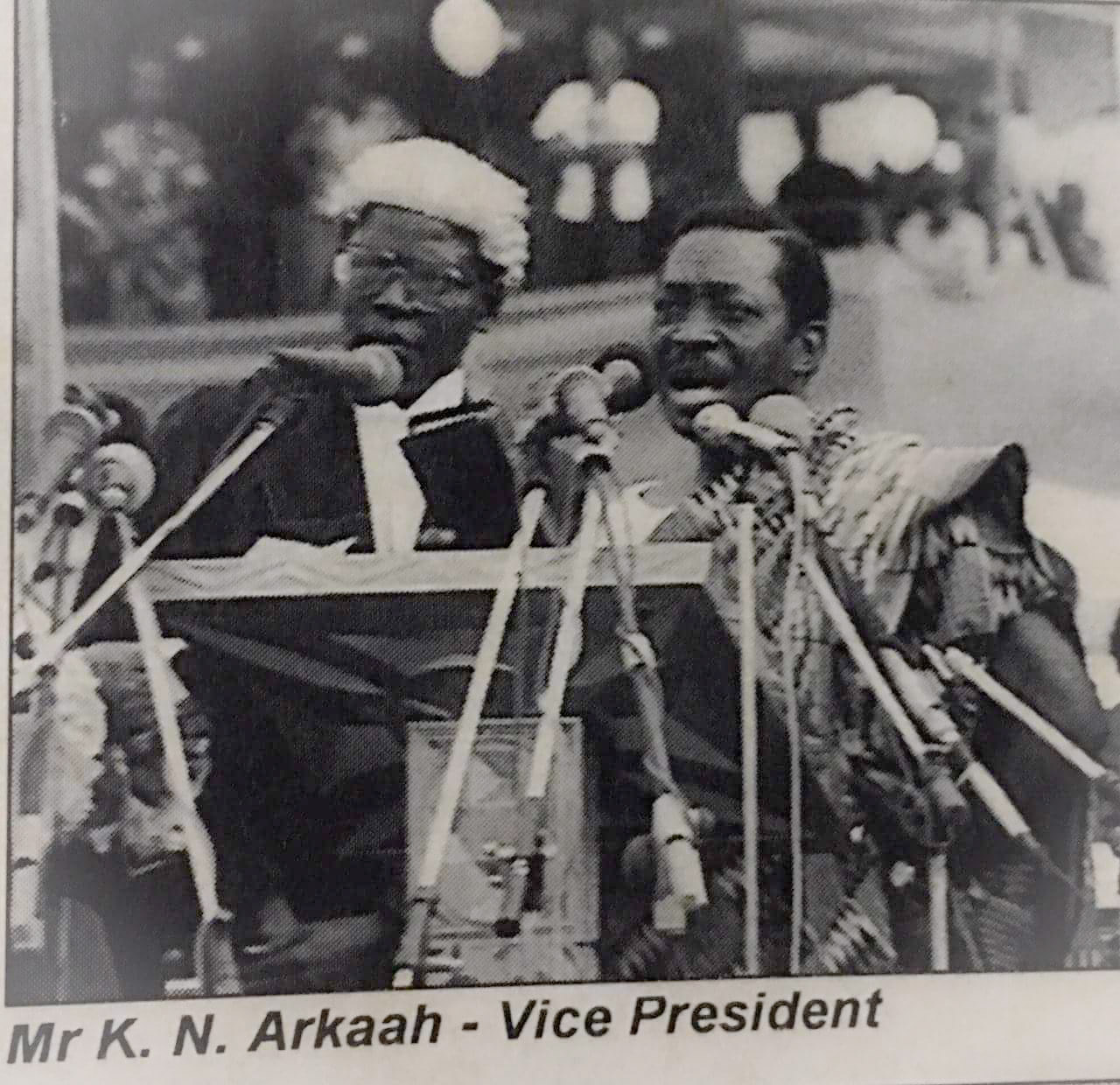 Dec. 7, 1996:   Rawlings defeats John Kufuor and the Great Alliance in the Fourth Republic's second elections.
1997:    Rawlings sacks Mines and Energy Minister, Fred Ohene Kena in London in connection with a bid to sell the government's shares in the Ashanti Goldfields Co Ltd.
March 23, 1998:   US President, Bill Clinton, visits Ghana.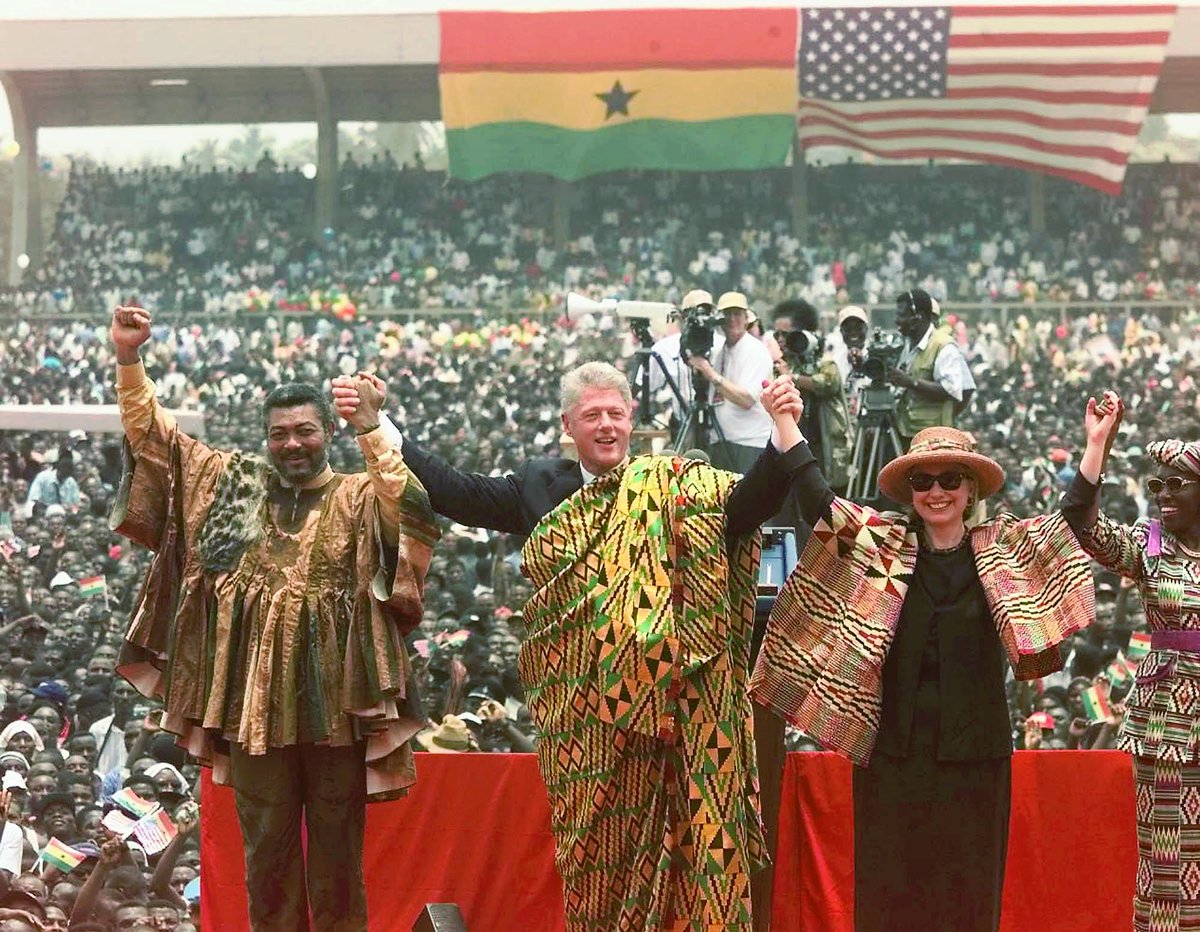 June 6, 1998:     Rawlings anoints Prof J.E.A Mills as his successor at a rally that has now become known as the 'Swedru Declaration.
Nov. 7, 1999: The Queen of England, Elizabeth II, visits Ghana.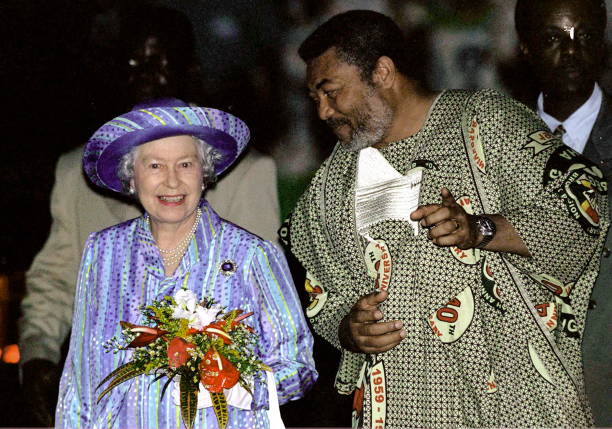 Jan. 7, 2000:  Rawlings hands over power to Kufuor who succeeded him as the second president of the Fourth Republic.
Aug. 8, 2000:    He pricks his fingers and uses the blood to endorse the NDC manifesto which was auctioned for 150 million old cedis.
June 8, 2001:  Armed military and police personnel invaded the Ridge residence of the former President after Mr Rawlings criticised the government for removing June 4 from the list of holidays.
2002:  Rawlings accuses the Kufuor administration of being complicit in the murder of overlord of Dagbon Yaa-Naa, Yakubu Andani, who was murdered, alongside 40 of his elders.
Aug. 2002:  Former President advocates positive defiance against Kufuor administration in Kumasi.
Aug. 13, 2002:  The former President re-appears before an investigative panel at the Bureau of National Investigations (BNI) offices in connection with alleged subversive and treasonable.
June 2003: Rawlings urges the government to invite an independent investigator to conduct a lie-detector test on him and ministers in the Kufuor government he accused of serial killing of women that stunned the nation in 2000.
June 11, 2003:   Police question former President Rawlings over allegations that some ministers in the Kufuor administration were involved in the serial killing of women.
Sept. 11, 2003: Kufuor's government withdraws courtesies of the former President in a letter signed by the then Foreign Minister, Nana Akufo-Addo.
Feb 12, 2004:

Rawlings made a brief but tumultuous appearance before the National Reconciliation Commission (NRC) to answer questions about controversial killings that took place during his tenure as military head of state.
October 2011: Rawlings appointed Ambassador of the Pan-African Parliament in October 2011.
June 4, 2013:  Former President Jerry John Rawlings and leader of the Armed Forces Revolutionary Council (AFRC) dipped his hands into a blazing fire at the Revolution Square in front of the Flagstaff House after lighting the perpetual flame during June 4 celebrations.
Oct. 12, 2013: The University for Development Studies (UDS) conferred an honorary Doctor of Letters on former President Jerry John Rawlings in recognition of his contribution towards the founding and establishment of the university in 1992.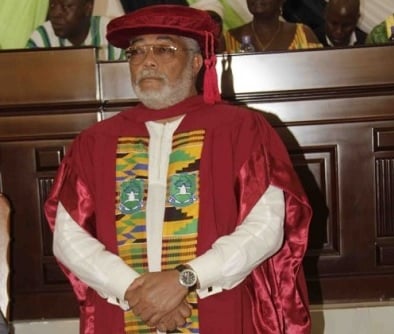 Oct. 30, 2016:  The Chiefs and Elders of the Anlo Traditional Area of the Volta Region installed former President Rawlings as a sub-chief of the area, under the stool name, Torgbui Nutifafaga I for his meritorious contributions towards peace and the development of the area.
April 17, 2017: All three living ex-Presidents of the country behind closed doors at the Flagstaff House with current President, Nana Akufo-Addo.
April 9, 2019: Former President Rawlings declined the proposed renaming of the University of Development Studies (UDS) after him.
Sept. 2020: Rawlings loses mother, Victoria Agbotui, who was 101. He was the only surviving child.
Nov. 12, 2020:

 Former President Rawlings dies at the Korle Bu Teaching Hospital in Accra at 10.10 am.
This article was originally published on November 19, 2020.