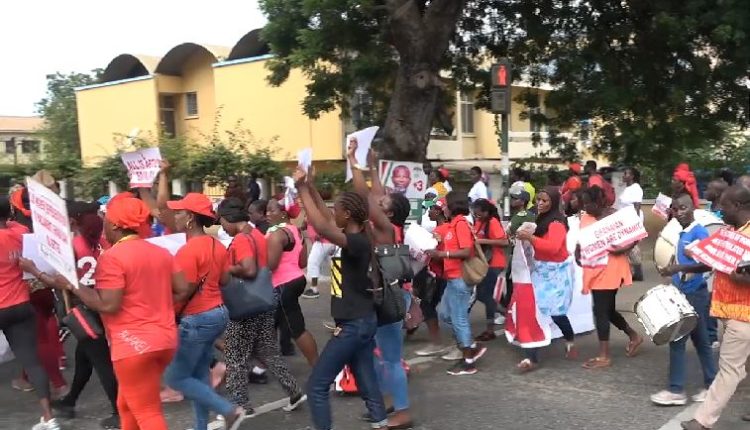 Gender Ministry petitioned over Affirmative Action Bill
A Civil Society Group, Cluster on Decentralization and Citizen Participation, has petitioned the Ministry of Gender Children and Social Protection on the need to lay before parliament the Affirmative Action Bill by the end of the year.
The bill, which has been pending for about 13 years, is expected to increase the participation of women in decision making.
The Convener of the group, Efua Chidi in an address after they marched to protest the delay in the passage of the bill said it is critical for Ghana's development.
She said the bill will help Ghana achieve Goal 5 of the Sustainable Development Goals that seeks to increase the participation of women in decision making.
"The passage of the affirmative action bill will accelerate Ghana's development and its effort in meeting the Sustainable Development Goals, Goal 5, which targets gender parity in decision making by 2030 and the African Union gender agenda of 50-50 representation of both men and women in decision making."
She said the group's collaboration with the Gender Ministry and Parliament is to ensure that the affirmative action bill is passed.
Meanwhile, the Chief Director at the Ministry of Gender and Children and Social Protection, Dr Comfort Asare who received the petition said the Ministry will work to ensure that progress is made on the bill.
"We see this as a support and a push for us to make sure that the affirmative action bill is laid before parliament. We want to assure you that when the minister comes, we shall submit your petition to her. We've taken note of all the actions that you want the minister to take and we want to assure you that we will not relent in our efforts to make sure that we work quickly on the bill and have it laid before Parliament before the end of the year," she said.
Ghana's Affirmative Action Bill, when passed into Law, will require government to ensure equitable gender representation at all levels of governance and decision-making in Ghana, as well as address other social and economic imbalances.
When passed, it is expected to affect women's representation in the public service, ministerial positions, independent constitutional bodies, boards of state institutions, the security services and political parties.
The final draft of the Bill received cabinet approval in 2016, but was not tabled in Parliament and, therefore, did not reach the consideration stage before the end of the 6th Parliament of the 4th Republic.