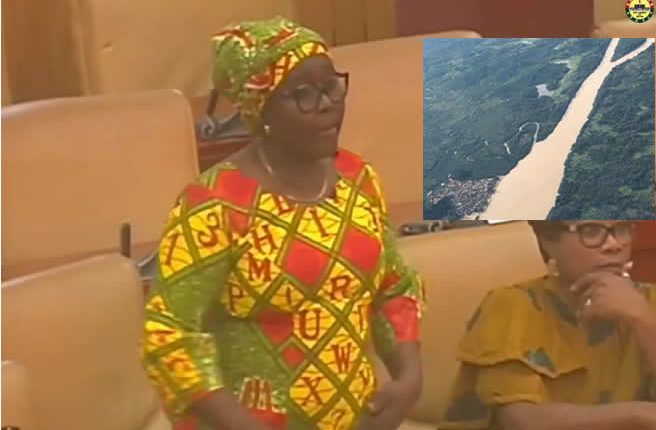 'Germany took 30yrs to clean destroyed water bodies' – Minister urges patience in 'galamsey' fight
Local Government Minister, Hajia Alima Mahama, has talked up success stories in the fight against environmental degradation, as perception of failure is believed to be growing.
The Minister said several youths, who once engaged in illegal mining, had now abandoned the destructive work and were undergoing apprenticeship training in various disciplines.
Suhuyini starts a fight
The Minister, who is MP for Nalerigu/Gambaga constituency in the Northern Region, made the comment as a push back to an onslaught by the Minority Members of Parliament, who had lined up to crucify the President over the fight against illegal mining, dubbed 'Operation Vanguard.'
At the head of a line-up of several NDC MP to condemn the government was Tamale North MP, Alhassan Suhuyini,  read a statement calling recent media reports of persisting illegal mining, "depressing."
Operation Vanguard soldier allegedly 'pockets up to GH¢45k bi-weekly' from illegal miners
There are photos showing turgid water bodies, evidence of the menace continuing. Prof Kwabena Frimpong Boateng, the head of five ministries that coordinates the fight against illegal mining, has been under severe pressure after he revealed some excavators seized from illegal miners had gone "missing."
Alhassan Suhuyini pointed to "political patronage" and greed as having compromised the move to deploy soldiers and police officers to flush out illegal miners, many of them foreign nationals.
NDC demands display of excavators, and other seized mining equipment from 'galamseyers'
But not taking too kindly to the NDC MP's critique of failure, NPP MPs rose to launch a push back.
Struggling to speak above a noisy chamber, the Local Government and Rural Development Minister, Hajia Alima Mahama, insisted "there are some success stories."

The state of Ghana's water bodies
Addressing what she called a "hullabaloo" over missing excavators, the minister said investigations were underway to find out how the heavy-duty equipment could go missing.
Several seized 'galamsey' excavators missing – Minister reveals
She joined the chorus in disputing the number of excavators reported missing. Not without surprise from the NDC MPs, she claimed a report showed about 34 excavators at Tema could not be traced.
The Local Government Minister who is part of the Inter-Ministerial Committee on Illegal Mining said investigations into the missing excavators' saga was yet to be completed.
But she was quick to add that once it was done, "if there is a need for prosecution, I will accordingly do it."
The Minister called on Ghanaians to exercise patience with the government, stressing the restoration of Ghana's water bodies would take time.
"This will not happen in a day or in a year," she said and pointed to Germany's struggles to restore water bodies destroyed during World War II.
"Germany took 30 years to clean their water bodies," she said.

A 250kg WWII bomb exploded under the Frankfurt river
Germany's post-World War history on environmental degradation
Several parts of Germany endured heavy bombing during the Second World War from 1939 to 1945.  Although the war is long over, about 2,000 tons of bombs and live ammunitions are found buried in the soil in Germany every year, a ghoulish reminder of the war that now rarely makes news, a Latimes article has reported.
No timeline on the fight against illegal mining
The  Nalerigu/Gambaga  MP said President Nana Akufo-Addo did not give a timeline to complete the fight against illegal mining.
The minister explained the government had put in place an alternative livelihood empowerment programme to dissuade youths from engaging in illegal mining
Some 6,000 of these youths had shown an interest in vocational training, she said.
Alima Mahama said some 1,000 were being trained in plumbing works, construction, hair-dressing, and fashion among other income-generating skills.
"Come to my office, you will get all the evidence" she was forced to yell in response to the heckling of doubting Thomases.
She chided the Minority MPs for playing politics with 'galamsey' fight.