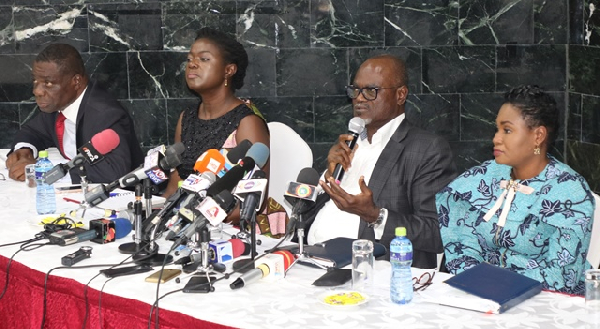 GFA to pay Nyantakyi's GHS 2.4million FIFA fine if he defaults
The Ghana Football Association (GFA) will be forced to cough up the 500,000 Swiss Francs fine imposed on it's former President Kwesi Nyantakyi by FIFA if he fails to pay.
Mr Nyantakyi was handed a lifetime ban from all football activities by the independent Ethics Committee on Tuesday, October 30.
He was found guilty of having violated Article 19 (conflict of interest), Article 21 (Bribery and corruption) and Article 22 (Commission) of the FIFA Code of Ethics, 2012 edition and fined 500,000 Swiss Francs (over GH₡2.4million).
Nyantakyi has denied any wrongdoing and signaled his intent to appeal the verdict at the Court of Arbitration for Sport.
Some analysts including the Editor-in-Chief of the New Crusading Guide newspaper, Mr Abdul Malik Kweku Baako have advised the former FIFA council member not to pay the fine because he has been banned for life.
However, per Article 15 (4) of the FIFA Disciplinary Code 2017 edition, the GFA may be jointly liable for Mr Nyantakyi's fine even though he has resigned his role as the head of Ghana football.
"Associations are jointly liable for fines imposed on representative team players and officials. The same applies to clubs in respect of their players and officials. The fact that a natural person has left a club or association does not cancel out joint liability," the FIFA Disciplinary code says.
Some analysts have suggested that FIFA would deduct the fine from the benefits due Nyantakyi after he served as a FIFA Council member, member of the FIFA Associations Committee, First Vice President of CAF and President of Zone B of the West African Football Union (WAFU).
He relinquished those roles in June this year following the premiere of an undercover investigation which captured him accepting a "cash gift" in an undercover documentary titled Number12.
In January this year, the New York Times reported that the 37-members of the FIFA council were paid $250,000 in salaries, plus tens of thousands of dollars more in travel expenses, in 2017.
Nyantakyi was first elected to the FIFA Council in September 2016. He was re-elected for a second term in March 2017 for a four-year term which was truncated by the bribery scandal.
source: Graphic Online