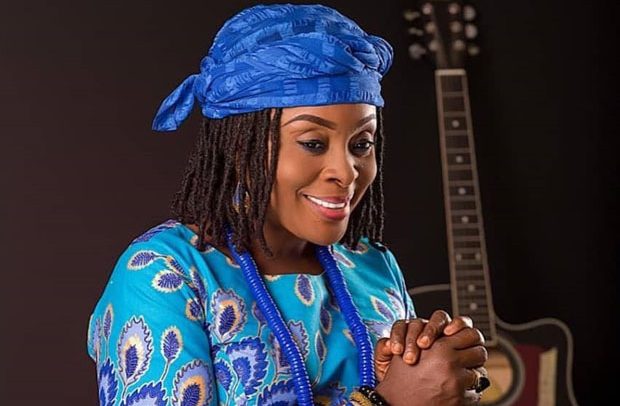 GHAMRO to sue Akosua Adjepong for spreading 'rumours'
The Ghana Music Rights Organisation (GHAMRO) has served notice to legally deal with veteran highlife musician, Akosua Adjepong for making what they believe are false statements against the organisation.
This was disclosed by Diana Hopeson, a member of the board of GHAMRO.
She was speaking in a radio interview with Rainbow Entertainment.
According to her, the allegations by some of GHAMRO's members particularly Akosua Adjepong has contributed to the current woes of the delay of its licence to operate.
"Aside from that, some members who continue to spread false rumours about the organisation will continue to make false claims. Some of them, notably Akosua Adjepong, advise businesses not to pay royalties.
"It demonstrates her aversion to GHAMRO. She is the greatest person to explain to you what she is doing and why she is doing it. GHAMRO is prepared to go to court this time because whatever she is doing is impacting GHAMRO.
"She keeps spreading false rumours that we are operating illegally, so we are prepared to take her on legally. She wants to be in charge, therefore she is on a mission to ruin us, but when elections come around, she does not file to run.
"She is also aware that what she does disqualifies her because our laws state that dragging the name of the organisation through the dirt may result in a penalty, which is why she rarely files. We have repeatedly requested that she appear before us to reply to matters, but she has failed to do so. Unfortunately, she is not interested in the organisation's success," she said.
In an interview with Graphic Showbiz in May 2023, Akosua Adjepong urged the office of the Attorney General to close down GHAMRO because the operations of the interim management committee was illegal.
According to her, the interim management committee with Rex Omar as Chairman was working illegally as their mandate was not backed by any law.
The Kokooko hitmaker pointed out that the office of the Attorney General hadn't renewed GHAMRO's licence so those at the helm of affairs had no business running the organisation.
While GHAMRO was hopeful of its licence being renewed, things rather seemed to have gone sour for the organisation when Rex Omar, Executive Director of the Interim Board disclosed at a press conference on Thursday, June 1, that the Attorney General declined renewing their licence.
Even though it was widely reported in the media that their licence had been revoked, Rex Omar corrected the impression in an interview with Kwame Dadzie on Rhytmz A-Z yesterday, June 3.
He pointed out that they had hoped to have their licence renewed but that has not been possible due to misinformation being peddled about GHAMRO by some of its members spearheaded by Akosua Adjepong.