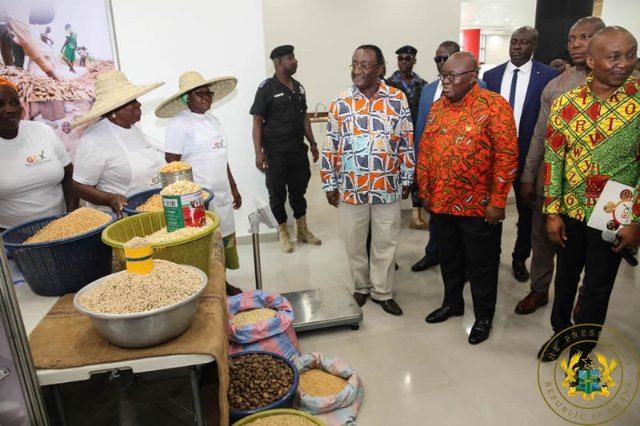 Ghana commodity exchange to create 200,000 jobs – Ken Ofori-Atta
Ghana commodity exchange is expected to create about 200,000 jobs for farmers and traders in the value chain, Finance Minister Ken Ofori-Atta has said.
According to Mr Ofori-Atta, the opening of the Exchange is a boost to government's quest to create an orderly, transparent and efficient market system for farmers.
"The creation of approximately two hundred thousand jobs of both high and non-skilled areas will be open for commodity traders, data analyst, risk managers, business advisors, storekeepers, credit officers among others whiles some of the non-skilled jobs include cleaners, winnowers, re-baggers and loaders among others," he said.
The Commodity Exchange is a regulated market that links buyers and sellers of commodities to trade by rules that assure fair trading.
The GCX is the first to be established in West Africa to trade in maize, soybeans, rice, dry bean, millet, and sorghum among others.
Ken Ofori-Atta said the government is working on strengthening the ADB bank for farmers to get readily accessible credit facility to enhance production.
"What we are doing with ADB is actually a commitment and a decision to strengthen the bank to increase support for farmers," he noted.
According to President Akufo-Addo, the phenomenon of farmers chasing traders to sell their products will be a thing of the past with the coming on board of the Ghana Commodity Exchange.
After the first year of operation, the Exchange will begin trading international commodities like cocoa coffee and subsequently the mineral products.
Buying and selling on the GXC, Farmers get their payment for goods sold within 24 hours.
GCX warehouses are located at Kumasi, Wenchi, Ejura, Tamale, and Sandema.
Farmer and Trader, Evans Sackey expressed optimism that the Exchange will help farmers mitigate the many challenges faced after harvesting their produce.
"What we expect the Ghana Commodity Exchange to do is to deal with the issue of pricing of goods among farmers and traders after harvesting. We also expect that the GXC will also help farmers to access credit at the low-interest rate," he said.
source: JoyBusiness