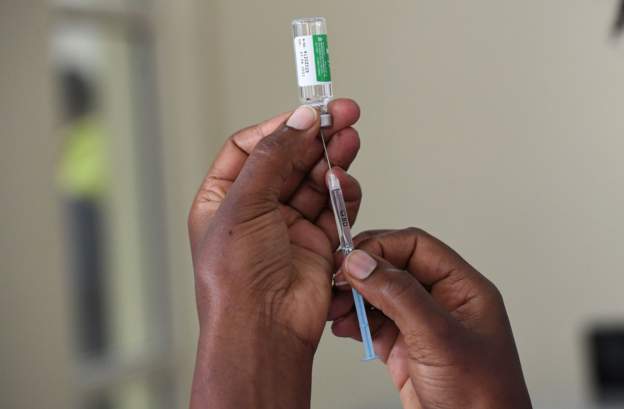 Ghana gets 1.5m AstraZeneca doses from Germany
The German government has made 1.5 million doses of AstraZeneca vaccines available to Ghana to shore up the country's stock for the ongoing vaccination programme.
The donation formed part of an effort of the German government to provide African countries with 70 million doses of COVID-19 vaccines this year to help the continent's fight against the pandemic.
President Nana Addo Dankwa Akufo-Addo has since dispatched a plane to Germany to take delivery of the consignment, the Director of Communication at the Office of the President, Eugene Arhin, announced during a press briefing in Accra on August 30.
Extra vaccines
Mr Arhin further indicated that the United States government has also donated 1.5 million doses of Moderna vaccines to Ghana.
This is to support the country in its quest to have at least 20 million adult population vaccinated by the end of the year.
"All in all, we should be hitting 5 million vaccine doses so far, and I believe at this particular stage, it is a good initiative that has been undertaken by the government of President Akufo-Addo towards helping to rid our country of Covid-19.
"Hopefully, his pledge of ensuring that 20 million Ghanaians by the end of this year are vaccinated, slowly but surely, I believe we are no cause for alarm realising that particular pledge of ensuring that the entire adult population of Ghana is vaccinated," Mr Arhin, said.
READ ALSO: Most African Countries Will Miss Herd Immunity By End Of 2021 – COVID Taskforce
These vaccines are coming at a time that the global Multilateral Leaders Taskforce (MLT) on COVID-19 has raised alarm over many African countries missing herd immunity targets by the close of the year.
This is because of the vaccine inequity among developed and developing countries.
The Taskforce observed two troubling trends regarding the global rollout of Covid-19 vaccines, with low-income countries being dealt with acute shortage, making them unable to meet the targeted 40% coverage by the end of the year.
This observation was made last week when the task force held a meeting to tackle obstacles to rapidly scale up vaccines in low- and lower-middle-income countries, particularly in Africa.
With the observation made, the taskforce called on all countries to eliminate export restrictions and any other trade barriers on Covid-19 vaccines and the inputs involved in their production to enable access to the vaccines by African countries.
The taskforce also appealed to countries that have contracted high volumes of vaccines to swap near-term delivery schedules with COVAX and AVAT and urged vaccine manufacturers to immediately prioritise and fulfil their contracts to COVAX and AVAT and provide regular, clear supply forecasts.
Update on the president's visit to Germany
Touching on the president's seven-day working visit to Germany, he mentioned that bilateral talks had been held to strengthen Ghana's relations.
He noted that President Akufo-Addo also discussed issues relating to vaccines and the acquisition of naval patrol boats for the Ghana Navy.
During his visit to Germany, President Akufo-Addo participated in the G20 Compact with Africa (CwA), a partnership initiated under the German presidency to promote private investment in Africa.
President Akufo-Addo remarked during the summit that the G20 international economic cooperation has helped Ghana's macroeconomic stability.
READ ALSO: President Akufo-Addo Hails G20 Compact As A Catalyst For Macroeconomic Stability
He stated that the compact has systematically tackled structural challenges, paving the way for the country's ambition of becoming Africa's investment hub a reality, with some automobile and industry giants already setting up in Ghana.
He also delivered a speech in Düsseldorf, Germany, on Monday, August 23, as part of the 75th Anniversary celebration of North Rhine-Westphalia, Germany's number one industrial region and most populous state.
Addressing the gathering, which included Chancellor Merkel and the Minister-President for North Rhine-Westphalia, Armin Laschet, President Akufo-Addo, said Ghana was determined to participate fully in the global marketplace as an exporter of manufactured goods.
President Akufo-Addo added that the country was drawing inspiration from the success stories of North Rhine-Westphalia and Germany because, "likewise, we want to build a progressive and prosperous country".
He said with Germany being a major exporter of industrial products and technology, led by North Rhine-Westphalia, Ghana's relationship with Germany was of utmost importance and must be hinged on that.
Regional tour
Mr Arhin also disclosed that President Akufo-Addo would embark on a tour of the Western North and Western regions from September 3 to September 6, upon his return to the country.
It would be followed by a tour to the Oti and Volta Regions.