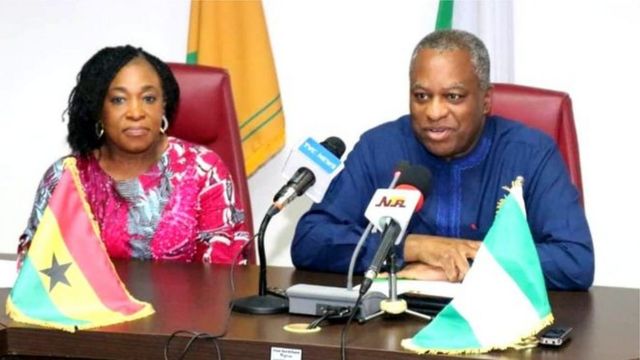 Ghana shouldn't make Nigerians pawns for 2020 elections – Nigerian Minister
The Foreign Affairs Minister of Nigeria, Mr Geoffrey Onyeama, has kicked against using Nigerians living in Ghana as tools for political gain as shop closures intensify.
The Nigerian authorities hold the belief of political undertones in the crackdown of retail shops operated by Nigerians in Ghana.
"We know that there are upcoming elections in Ghana, but we would certainly hope that Nigerians will not be pawns in an electoral game and electioneering," Mr Onyeama said following a meeting with Chargé d'Affaires of Ghana to Nigeria, Iva Denoo.
A delegation of Nigerian traders in Ghana led by the National President of the Progressive Ambassadors of Nigeria (PAN), Mr Jasper Emenike, and National Director of PAN , Ruth Ango, were present in the meeting held in Nigeria on Monday, August 17.
The Presidential Committee on Retail Trade under the Ministry of Trade and Industry undertook the recent crackdown on the illegal shop operators.
Previously, the Ghana Union of Traders' Associations (GUTA) carried out a series of lockdowns in different locations in recent years.
They have justified their actions citing the Ghana Investment Promotion Centre (GIPC) regulations.
Under the new GIPC Act, 2013 (Act 865), all enterprises in the country with foreign participation are required to register with the GIPC.
The minimum capital required for retail business has moved from US$300,000 to $1 million, while foreign investors who participate in joint venture enterprises have to show a minimum capital of $200,000 with wholly-owned foreign enterprises showing a minimum capital of $500,000.
Additionally, Section 28(5) of the Act stipulates that the minimum foreign capital requirements to invest in Ghana, including for engaging in trading, do not apply to the foreign spouse of a citizen of Ghana to the extent that the foreign spouse is or has been married to a citizen of Ghana for a minimum period of five years continuously or holds an indefinite resident permit prior to registration of an enterprise, amongst others.
However, the Nigerian authorities see the development as affront to ECOWAS directives on the movement of free goods and services as well as cross-boundary trade between member states.
"It is in conflict with ECOWAS provisions," Mr Onyeama insisted. "What is the point in having an economic community if at the end of the day, we can't trade, and we will make laws and regulations that are in contradiction."
He said the Nigerian government would be proactive and ensure a lasting resolution within the shortest possible time.
He said Nigerian would ensure that the sub-regional bloc addresses the "non-respect" of ECOWAS protocols by Ghana.
For his part, Mr Emenike explained: "The whole thing is like a political scenario from what is playing out because we are aware that this year Ghana is going into presidential elections."
"Virtually all the shops [operated by Nigerians] in Greater Accra has been closed. People have been forced out of their shops. People were almost harassed, beaten by security agencies," he lamented.
He pointed out that the leaders have restrained Nigerians in Ghana from breaking laws in Ghana and any retaliatory actions on Ghanaian retailers in Nigeria.
Meanwhile, Chairman of the Committee on Trade, Industry and Tourism, Nana Marfo Amanianpong has told Joy FM that measures are far advanced to resolve the matter.
He, however, called on Nigerians to abide by the laws of Ghana which reserves certain businesses for indigenes.
"When you come to Ghana, you can take Ghanaian nationality and use it as a bargaining chip to work here. But when you are a foreigner, and you don't want to obey the law, no one is going to allow that," he admonished.
He said the Nigerian traders must do the right thing and regularise their trading activities in Ghana.
This is, however, not the first Nigerian traders went to the ECOWAS Court for redress for the closing down of their shops in Ghana compliance with the GIPC Act.
In 2013, Africa's most populous country's National Association of Nigerian Traders (NANTS) and the Nigerian Union of Traders Association, Ghana (NUTAG) sued Ghana.
They believe the act is in contravention of the ECOWAS Protocol on Free Movement of Goods and People and are thus, praying the sub-regional court to intervene and stop Ghana from continuing with its implementation and enforcement.
Ghana, through the ministries of Trade and Industry (MOTI), Foreign Affairs and Regional Integration and Justice and Attorney-General, has responded to the matter, urging the court to discard the petition.