Ghanaian 'linked to Russia' busted for 'meddling in 2020 US election'
The National Cyber Security Unit has busted a Russian-linked operation in which Ghanaians were recruited to 'meddle' in upcoming US elections.
The raid on February 6, 2020, in Accra found some 16 Ghanaians whose daily work was to set up fake social media accounts post several times a day, to stoke racial tensions in the US, ahead of that country's November elections, the CNN has reported.
On the day of the raid, security personnel pointed guns to the heads of the workers who were ordered to lie down, as a cyber-security unit described their activities as one of "organized radicalism with links to a foreign body."
The link to that foreign body Russia is Seth Wiredu, whom the workers said spoke Russian. He told the CNN he did a lot of translation services for Russian organisations but denied receiving funding from Russia to set up a small nonprofit group that called itself Eliminating Barriers for the Liberation of Africa (EBLA).
"I wouldn't say I have Russian partners. I have friends … but to call them partners wouldn't be right because I don't ask someone to come and support me," the CNN quoted him as saying.
Wiredu insisted it was funded from his resources and condemned the raid on the rented compound. He described himself as a "blacks fighter".
"I fight for black people," he said. He claimed the accounts had been "talking about what is important to black people, talking about racism, talking about police brutality."
But he confessed he set up a fake account, calling himself Amara and posing as a South African, engaging in trolling activities.
A statement from national security said the group, "EBLA receives its funding from an anonymous source in a European country."
EBLA
The CNN reported that some 16 Ghanaians worked at EBLA. Many of them were in their 20's. They worked only with mobile phones given to them by Seth Wiredu, and they communicated on less popular social media platform Telegram.
One of them who spoke to CNN on condition of anonymity said she had no idea she was being used as a Russian troll.
They would gather around a table, create fake Facebook, Twitter and Instagram accounts to post around late afternoon and in the night in Ghana to reach US audience who would have been active on social media.
"So you get stories about LGBT, you get stories about police brutality, depends on what you are working," she said.
The workers were encouraged and told they would receive bonuses if they were able to reach their targets, which included getting the most followers or reaching a wider audience.
The most popular Instagram account had more than 25,000 followers, mainly Americans. One of the images branded EBLA was retweeted by a Twitter account that had some 126,000 followers.
One fake troll on Twitter, @AfricaMustWake , posted a video last December which showed police brutalizing blacks in Chicago.
In a post on Facebook which has been deleted, one of the trolls targeted a Republican state senator and said, "Someone needs to take that Senator out."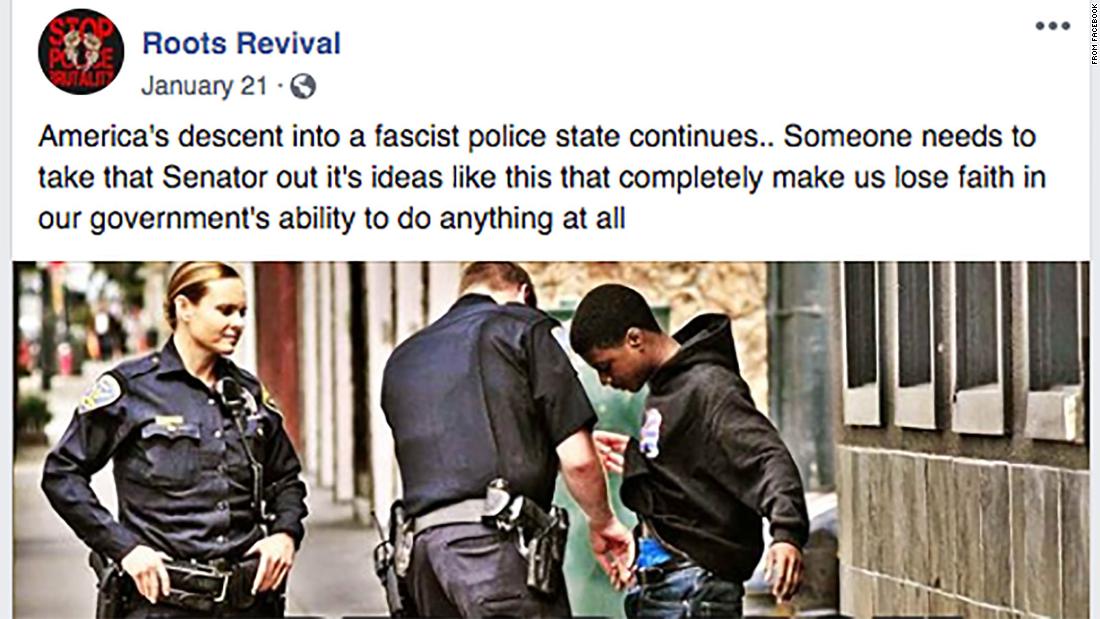 On another occasion, @africamustwake tweeted: "YOU POLICE BEEN KILLING BLACKS SINCE YA RAGGEDY MOMMAS GAVE BIRTH TO U. HAPPY MLK DAY TO U HYPOCRITES."
The CNN working with Facebook, Twitter and Instagram found Ghanaian trolls had created over 200 accounts  — the vast majority in the second half of 2019.
CNN notified two social media companies of its investigation. In a statement Thursday, Facebook said that its "subsequent assessment benefited from our collaboration with a team of journalists at CNN" and it had "removed 49 Facebook accounts, 69 Pages and 85 Instagram accounts for engaging in foreign interference."
Facebook said: "This network was in early stages of audience building and was operated by local nationals — witting and unwitting — in Ghana and Nigeria on behalf of individuals in Russia. It targeted primarily the United States."
Facebook says that about 13,200 Facebook accounts followed one or more of the Ghana accounts and around 263,200 people followed one or more of Instagram accounts, about 65% of whom were in the US.
Twitter told CNN that it had removed 71 accounts that had 68,000 followers. "Most were tweeting in English and presented themselves as based in the United States," it said in a statement. "The accounts — operating out of Ghana and Nigeria and which we can reliably associate with Russia — attempted to sow discord by engaging in conversations about social issues, like race and civil rights."
The Russian organisation at the heart of the 2016 and 2018 'meddling of US elections was the Internet Research Agency (IRA).
The IRA was funded by Russian oligarch Yevgeny Prigozhin, who is so close to the Kremlin and he is nicknamed "Putin's chef."
Seth Wiredu denied links to IRA, the CNN said. In a secret meeting with his employees, he told them that the raid and harassment by the Ghanaian authorities would soon pass. He appeared undeterred and determined to continue with EBLA operations.