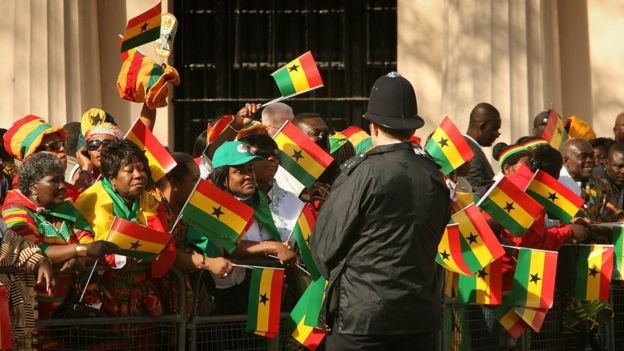 Ghanaians in UK begin registration ahead of 2020 election plans
Ghana's High Commission to the United Kingdom has said it has begun registering Ghanaians there ahead of a possible implementation of a law that allows them to vote.
"We are hoping that when ROPAL is being implemented we would have been positioned to get as many Ghanaians to vote", Ghana High Commissioner, Paapa Owusu Ankomah told  Joy News' presidential correspondent, Elton Brobbey in London.
He said the Commission is helping Ghanaians living in the Diaspora to get passports which is a proof of citizenship.
"We have been going around the country. …Manchester, Liverpool even parts of London to make the acquisition of passports easier", he said.
The UK Office for National Statistics estimates that the Ghanaian-born population of the UK was 96,000 in 2016. Concentrations of Ghanaians reside in the London boroughs of Waltham Forest, Barnet, Haringey, Brent, Hackney, Hounslow and Croydon.
Outside London, there are also sizable populations in Reading, Berkshire, Liverpool, Milton Keynes, Southampton, Bracknell, Manchester, Birmingham, Cardiff, Swansea and Glasgow.
There is also a large number of Ghanaians who have settled in the UK while others face documentation challenges.
Ghanaians living in the UK had to travel to Ghana to vote until a law was passed in 2007 directing that provisions be made possible for them to vote while living abroad.
That law, the Representation Of the People Amendment Law (ROPAL) amended Section 7 and 8 of PNDCL 284 which states that Ghanaians abroad are allowed to vote except they should have continuously stayed in the country at least six months to the elections.
It meant that interested citizens should have returned to Ghana by July ahead of the December general elections.
The EC only makes provision for persons who work in diplomatic missions or international organisations of which Ghana is a member. Their spouses are also allowed to vote. Students on government scholarship and members of the Army and Police on peacekeeping duties are eligible to vote.
Ghana has organised three general elections since the law was passed in 2007. But at each election, the elections governing body, the Election Commission, has signalled it is not ready to implement the law.
The then Electoral Commissioner Dr. Afari-Gyan remarked in 2007, "ROPAL is in stages and….we are in the preparatory stages."
A decade later, the Electoral Commission's 2016-2020 strategic plan states "there is currently no plan" to implement the law.
Nonetheless, the Commission has set a 2018 deadline to clearly define a roadmap for ROPAL implementation. The document mentions staffing and funding as some of the barriers to its implementation.
President Akufo-Addo in May 2017 told Ghanaians living in Togo his government will be working with the Electoral Commission to ensure the law allowing Ghanaians abroad to vote in the country's elections becomes fully operational.
President Akufo-Addo has expressed disbelief that ten years after the  Representation of People Amendment Law was passed, it is yet to be implemented.
"We passed the law and I can't understand why 10 years later it is dormant on the statute books," he said reiterating an NPP 2016 campaign promise to revive ROPAL.
source: myjoyonline