Government withdraws Luxury Vehicle Tax
Government says it has withdrawn the controversial Luxury Vehicle Tax levy which was met with a lot of resistance when it was first introduced.
Finance Minister, Ken Ofori- Atta, who made this announcement in the 2019 Mid-Year Budget Review on Monday said the Akufo-Addo led government had taken note of the concerns raised by many following the introduction of the tax.
"We have noted suggestions from the general public on the implementation of this tax and Mr. Speaker, as a listening Government, we are proposing to the House, the withdrawal of the levy," he said.
According to the minister, his ministry will nonetheless continue to improve and expand the tax net through other innovative sources of raising domestic revenue.
The minister said, "We will continue to improve compliance, expand the tax net and explore other innovative sources of raising revenue."
The luxury vehicle tax was introduced in July last year to levy vehicles with engine capacities of more than CC2.9 in line with the Sustainable Development Goals (SDGs), in order to control emissions and reduce the impact on climate change.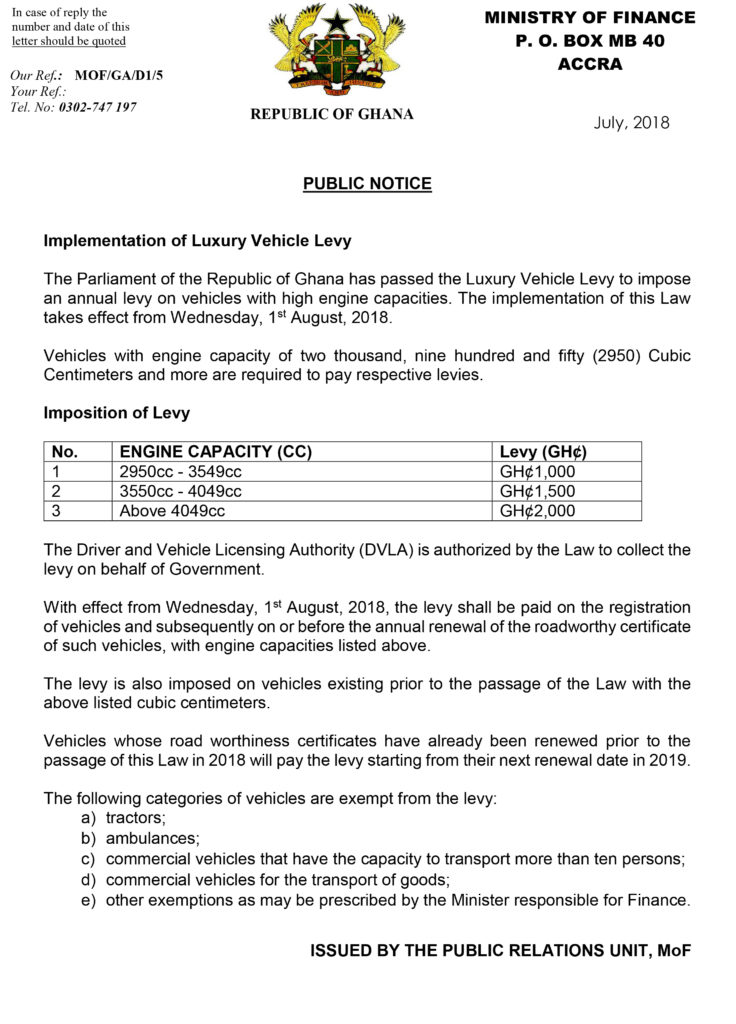 Under the said levy, vehicles with engine capacities from 3.0 to 3.5 litres were to pay an annual tax of GHC 1,000. Those with engine capacities between 3.6 to 4.0 litres were to pay GHC 1,500 annually while those with 4.1 litres and beyond were required to pay an annual tax of GHC 2000.
Almost a year after its implementation, the levy has been met with opposition from several stakeholders.
The Minister said, the decision to withdraw the tax was influenced by feedback the government received on the implementation of the law from some stakeholders.