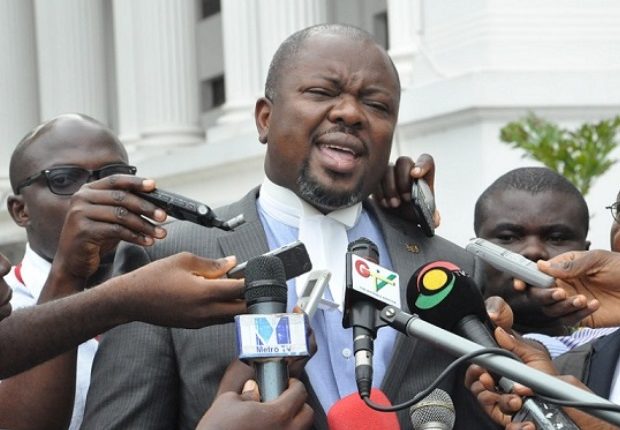 Gov't takeover plot: Treason felony charge 'empty' – Suspects' lawyer
Victor Adawudu, the lawyer for three of the suspects charged with treason felony after being accused of trying to destabilise the country says the state's case lacks substance.
Speaking to Citi News, Mr. Adawudu said: "The facts that support the charge are empty."
"For every element, as treason, it should mean that you have been in possession of all the [necessary means] to make sure that you are actually going to commit [treason]."

"[For the treason charge] you must prove intention and you must prove that the person had the capacity to do it. So even if you prove intention and cannot prove capacity, the law says that the people should be discharged," he argued.
In all, the state charged nine persons accused of plotting to take over the government.
The nine were: Dr. Fredrick Mac Palm, Col. Samuel Kodzo Gameli, Geshong Akpa, W.O.2 Esther Doku, Lance Corporal Ali Solomon, Lance Corporal Albert Baba Ibrahim, Lance Corporal Sylvester Akapewon, Bright Alan Debrah and Corporal Seidu Abubakar.
They had initially been charged with possession of explosives, arms and ammunitions without excuse.
All the suspects aside from Dr. Frederick Mac Palm, Donya Kafui and Bright Alan Debrah, who Mr. Adawudu represents, had the weapons charges dropped.
All the accused persons are members of an NGO, Take Action Ghana.
According to the government, between June and August 2018, they were plotting to " obtain weapons, take over key installations, and secure funding for the purpose of taking over the reins of government."
The government also said meetings between the suspects and serving military personnel with a view to executing a plot to obtain weapons, take over key installations, and secure funding for the purported coup "were closely monitored."
A joint security operation on September 20, 2019, led to the arrest of Mr. Adawudu's clients after a raid on the Citadel Hospital in Alajo, which Dr. Mac-Palm manages.
Security personnel also discovered five locally manufactured handguns, a foreign handgun, three locally manufactured handgun barrels, three smoke grenades, 22 Improvised Explosive Devices (IEDs) and some AK-47 rounds.