GUBA Awards USA 2019: Meet the first black female Neurosurgeon from Johns Hopkins University
Nancy Abu-Bonsrah has been trending on various social media platforms for emerging as the first black female to graduate from the Johns Hopkins University school of Medicine as a Neurosurgeon.
Nancy is the first black female to be accepted to train as a brain surgeon at Johns Hopkins School of Medicine, the school where the medical discipline of neurological surgery was founded.
Born in Ghana, Nancy moved to Maryland when she was 15 after completing her basic education at Hannah School complex in Madina, Accra.
She studied chemistry and biochemistry at Mount Saint Mary's University in Maryland and proceeded to John Hopkins University to study medicine.
Nancy received several awards including the Harvey Cushing Medical Research Award, AANS Young Neurosurgeons Committee Mission Fellowship and the Young Alumini Award from Mount St. Mary's University in 2018.
She was among the final year students from various medical institutions in the United States of America who participated in the 2017 Match Day ahead of their residency training in the coming summer.
She has over 36 medical research paper publications to her credit.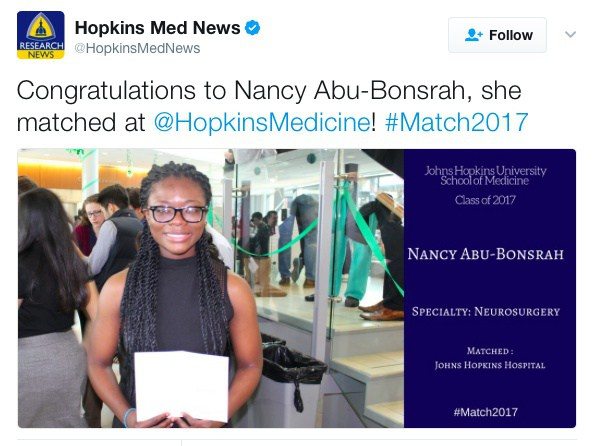 She will be receiving the Blackstar Award in this year's GUBA Award ceremony in the United States of America.
Speaking about her future plans for Ghana and her community, Nancy said she plans to come back to Ghana over the course of her career to help in building sustainable surgical infrastructure.
She stressed, "I want to be remembered for serving my community either through providing quality surgical care or helping mentor the next generation of Surgeons."
She is married to Kwabena Yamoah who is also a physician.
GUBA Awards seeks to reward, celebrate excellence and innovation of African individuals and organisation in the diaspora and Africa, working to the advancement, empowerment and progression of the African community in the Diaspora.
This year, GUBA's award ceremony will also place emphasis on the Sustainable Development Goals (SDGs) and will be held under the theme: "African Diaspora, the Catalyst for Growth and Innovation."