Heavy security presence at GIJ as students protest
Students of the Ghana Institute of Journalism (GIJ) are protesting against what they termed an insensitive directive from management asking those who paid their fees after the registration deadline to defer their course.
The protesting students converged in front of the locked campus gates and spoke to the media in the presence of the police maintaining the peace.
Among the students' grievances is GIJ's inability to give students an allowance for internet data although teaching, as well as examination, are conducted online.
"We are furious by the fact that the institute made us pay full fees, only to suddenly stop classroom lectures in favour of online teaching, bringing extra expenses to unfortunate parents smarting under the impact of the COVID pandemic. This is very insensitive, said a spokesperson for the aggrieved students.
"We were made to pay GHC200 as a penalty for late payment yet they are refusing us from writing the end-of-semester exams. This is unfair," an aggrieved student said.
Irate students clad in black and red stormed the premises of the school's old campus to petition management but were met with a heavy security presence.
They said the recent directive is the last straw that broke the camel's back, adding that GIJ has a tradition of unfairly compelling brilliant students to re-sit examinations even when lecturers post erroneous details that should be amended by the Academic Affairs unit.
"GIJ as a journalism training institute has failed to live accountably even though it is meant to inculcate the spirit of accountability in students,' said a student in disgust.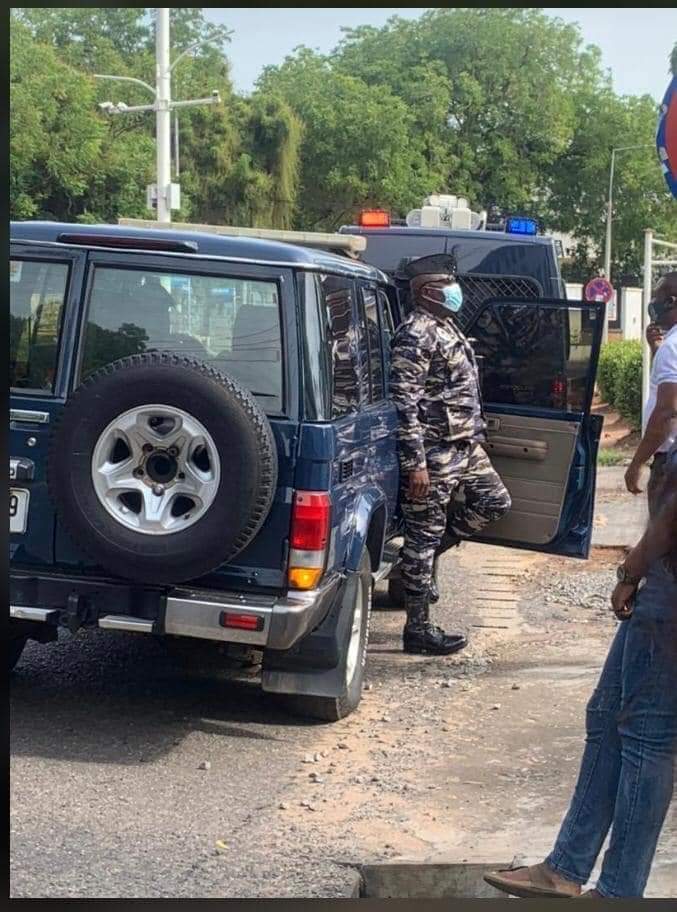 The directive sparked uproar on social media as some users pointed out that it is really insensitive especially in a global pandemic.
"Management of the Ghana Institute of Journalism, at its meeting held on Monday, March,22,2021, decided that students who paid their school fees after the registration deadline should defer their programme," said a terse statement from the administration of GIJ.
Father Lord,

GIJ is by this notice asking all students who paid their fees after the registration deadline to defer their programmes….

Posted by Esinam Osei on Tuesday, March 23, 2021

So GIJ just because students are complaining about the way you are treating us, this is what we get in response?

Just to present a petition and we have the Riots Control on standby?? Wow!!!!

Posted by Smart Kwaku Takyi Nixon on Wednesday, March 24, 2021
Some Twitter users have started a hashtag JusticeforGIJstudents in solidarity with aggrieved students.
It's unfair to tell students to defer after late payments. Simply unfair! #justiceforgijstudents

— MrDumelo (@johndumelo1) March 24, 2021
You did not provide data for online exams, you increased fees despite Covid 19, still we no bore. Now students suffer pay fees, one week to exams rydii you dey come flow we say make students defer. Which school does that for Christ sake? #justiceforgijstudents pic.twitter.com/TTIZB8ehHm

— Kennedy Twumasi (@kenny_twumasi) March 24, 2021
Then Vs Now pic.twitter.com/he6iwZunUL

— PRESLEY™ (@osaabherima) March 24, 2021
Look at what GIJ did to @gyaigyimii some time ago. This quite guy became violent.

We are seeing another repeat of needless stress of the students again.#justiceforgijstudents pic.twitter.com/8PuhVdZ60S

— Ghana First! 🇬🇭 (@Gyamfilee) March 24, 2021
This is unfair!!!!#JusticeforGijStudents pic.twitter.com/K3VLIMtqLa

— Oti Desmond (@OtiDesmond10) March 23, 2021
#JusticeforGijstudents
Except for the fact that this is sheer nonsense and wickedness.
The school provides absolutely nothing for us to stress us during such a time. Releasing such a notice a week to examination. They have paid, irrespective of the time. pic.twitter.com/h1HoLj45bH

— Maame🦋🦀🌹 (@maayowah) March 23, 2021