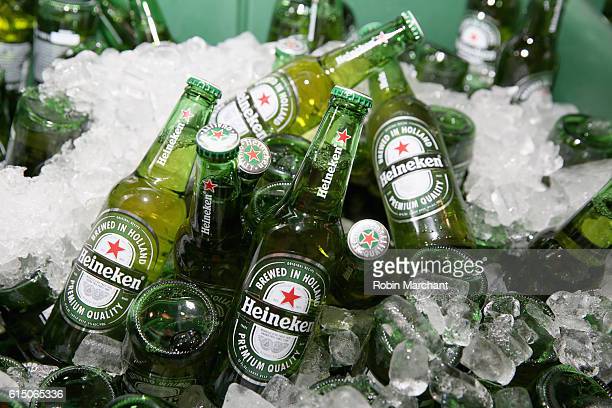 Heineken to Buy Distell for $2.5 Billion in Africa Expansion
Heineken NV agreed to buy South African wine and spirits maker Distell Group Holdings Ltd. for 2.2 billion euros ($2.5 billion), creating a new regional group to compete with larger rival Anheuser-Busch InBev SA and spirits giant Diageo Plc.
The Dutch brewer made an offer of 180 rand a share that's been recommended by Distell's board, according to a statement on Monday. Heineken will also look to buy a majority stake in the owner of Namibia Breweries Ltd., a regional partner, the company said.
The result will be a Heineken majority-owned entity with a total valuation of about 4 billion euros. The firm will produce the brewer's signature lager and Namibia's Windhoek, plus Distell staples such as Klipdrift brandy and Savanna cider and a number of wines for export and local consumption.
Bloomberg News first reported the companies were in talks in May.
The deal sees Heineken Chief Executive Officer Dolf van den Brink, who got the top job in June of last year, accelerate the decades-long strategy of predecessor Jean-Francois van Boxmeer, who invested hundreds of millions of euros in markets such as Ivory Coast and Nigeria. Heineken is also looking to counter plunging beer sales in Asia.
"I came away very impressed by Distell and Distell's leadership," Van den Brink said in an interview. "This is a very well managed, successful business that had a lot of momentum going into this deal."
"The negotiations with Heineken have been rigorous and intense," Distell CEO Richard Rushton said on a call with reporters and investors. A deal committee "was formed to evaluate various discounted cash flow scenarios of our business under various conditions. You'll know the South African context — the opportunities and not insignificant risks."
Remgro Ltd., a vehicle of South African billionaire Johann Rupert, said it will vote in favor of the transaction and is electing to receive shares in the new company. The investment firm and the Public Investment Corp., Africa's biggest money manager, each hold a little more than 30% of Distell, according to data compiled by Bloomberg.
The PIC didn't immediately say how it will vote, though Distell Chief Financial Officer Lucas Verwey said the custodian of government-worker pensions is positive about the tie-up.
The purchase is expected to boost earnings in the first year after completion, Heineken said. The move comes a few years after AB InBev bought Castle Lite and Hansa maker South African Breweries, the country's largest beermaker, as part of its megadeal for SABMiller Plc.
Namibia Breweries, the market leader in the southwest African country, exports to 17 countries in addition to South Africa. It will remain listed on the Namibian Stock Exchange, with public shareholders continuing to hold a minority stake.