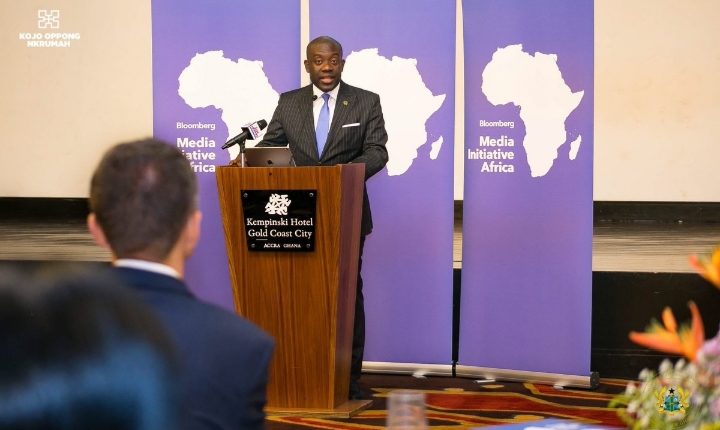 Help change the African narrative – Oppong Nkrumah urges Journalists
Minister for Information, Kojo Oppong Nkrumah is urging journalists to analyse stories in broader perspectives to better serve their audiences the world over.
According to Mr. Oppong Nkrumah, the media remains a very powerful tool journalists can use to project Africa in a positive light, hence his call on Ghanaian journalists to help change the African narrative.
Speaking at the launch of the Bloomberg Media Initiative Africa (BMIA) training for Journalists, Kojo Oppong Nkrumah expressed his excitement for the project by Bloomberg philanthropies to help empower Ghanaian journalists.
"We are pleased that BMIA has launched its financial journalism training programme in Ghana. The Ghanaian economy is becoming increasingly complex, so it is crucial that the Ghanaian press develops accordingly," he said.
He added "I am confident that this programme will support continuous progression of the Ghanaian media by exposing them to leading financial journalism experts".
The Minister reiterated the government's commitment to assisting media practitioners to enhance their capacities.
He encouraged the 50 selected delegates, majority of them Ghanaians, to use the platform to build their capacities to comprehensively shape the African economic narrative to the satisfaction of all stakeholders.
The delegates are expected  to spend 19 days in sessions spanning six months.
They will be taught by faculty from the University of Ghana, Ghana Institute of Journalism and the Strathmore Business school in Kenya.
The Training Programme sponsored by Bloomberg Philanthropies aims to contribute to the advancement of African businesses as well as financial reporting by equipping journalists with the requisite skill set to report on financial and economic issues rather accurately.