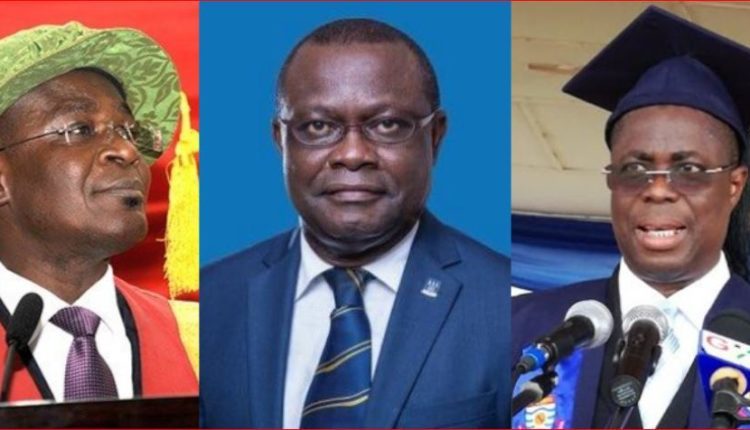 How gov't is fulfilling its covid-19 safety promises to universities
Universities across the country have stepped up efforts to protect staff and students returning to campus as the government provides masks for the university community.
The government gave the green light for tertiary institutions to resume on June 15 with the promise of protective kits to cushion schools against the spread of the dreaded coronavirus.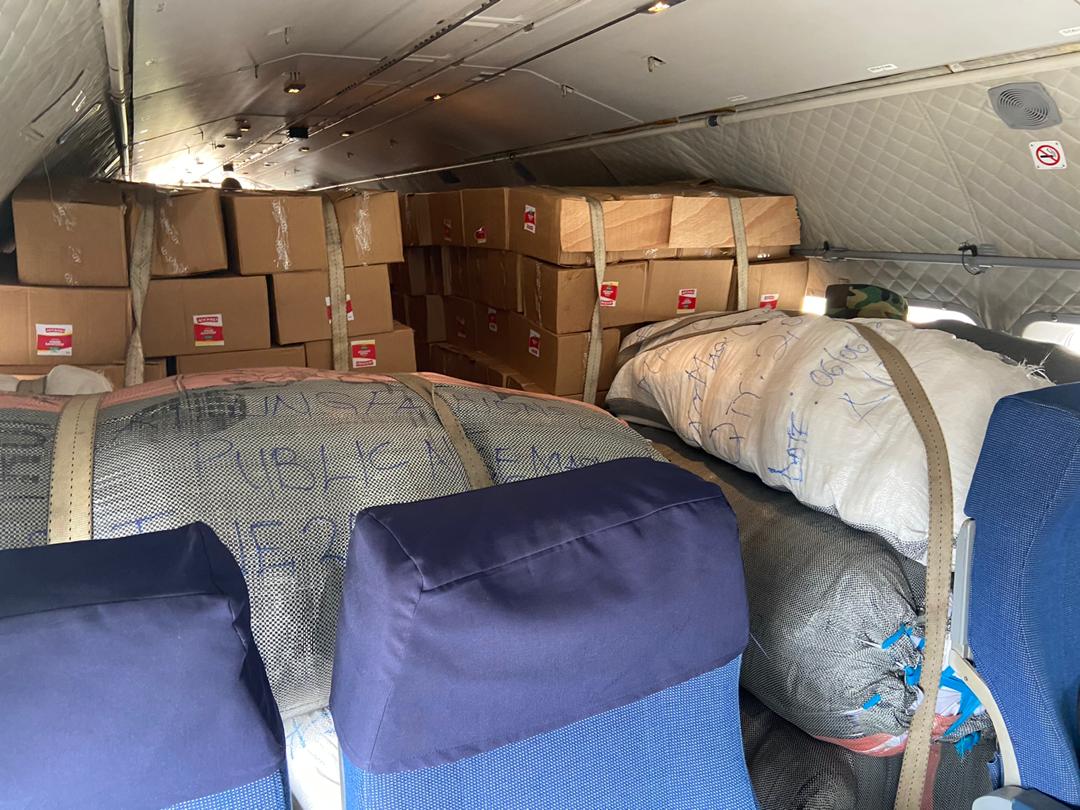 President Nana Akufo-Addo said 600,000 face masks; 1,700 Veronica buckets; 200,000 litres of hand sanitiser; 3,400 litres of liquid soap and 900 thermometer guns had been distributed during his address a day before resumption.
Checks by theghanareport.com show that major universities across the country have received their packages but some students complain that they are yet to get their masks.
University of Ghana (UG)
The management explained to theghanareport.com on Friday, June 19, 2020, that 2,400 students mostly undergraduates are back on campus.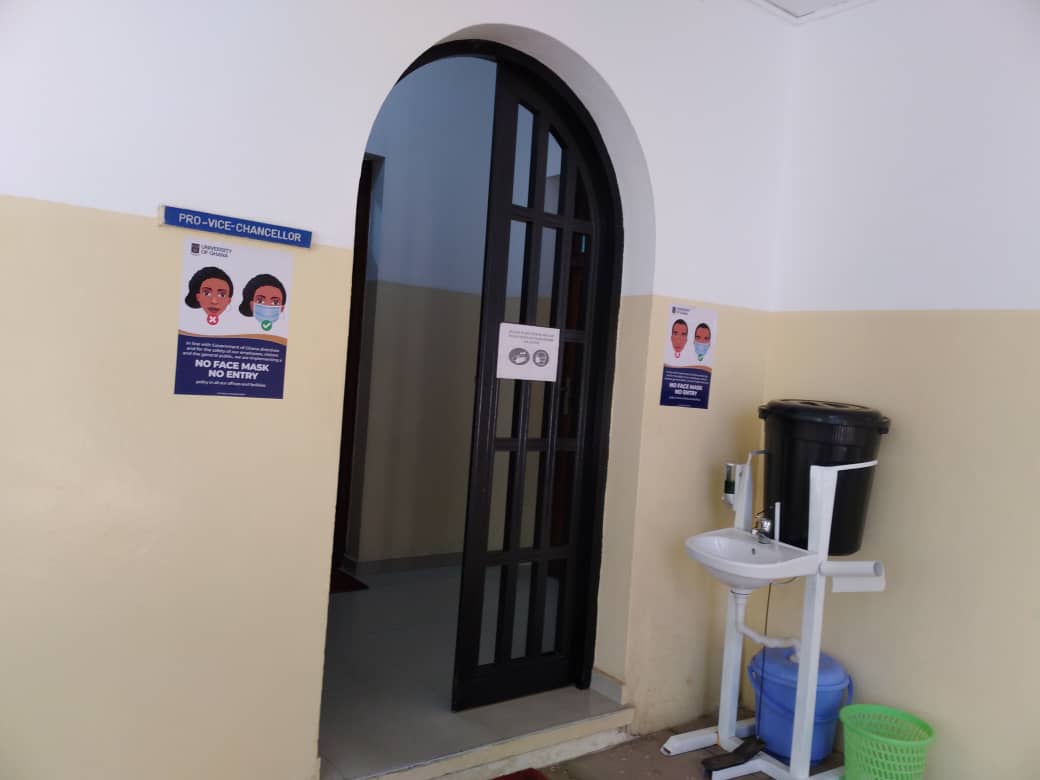 The university rolled out an online teaching and learning programme for students at all levels and examinations will be taken online.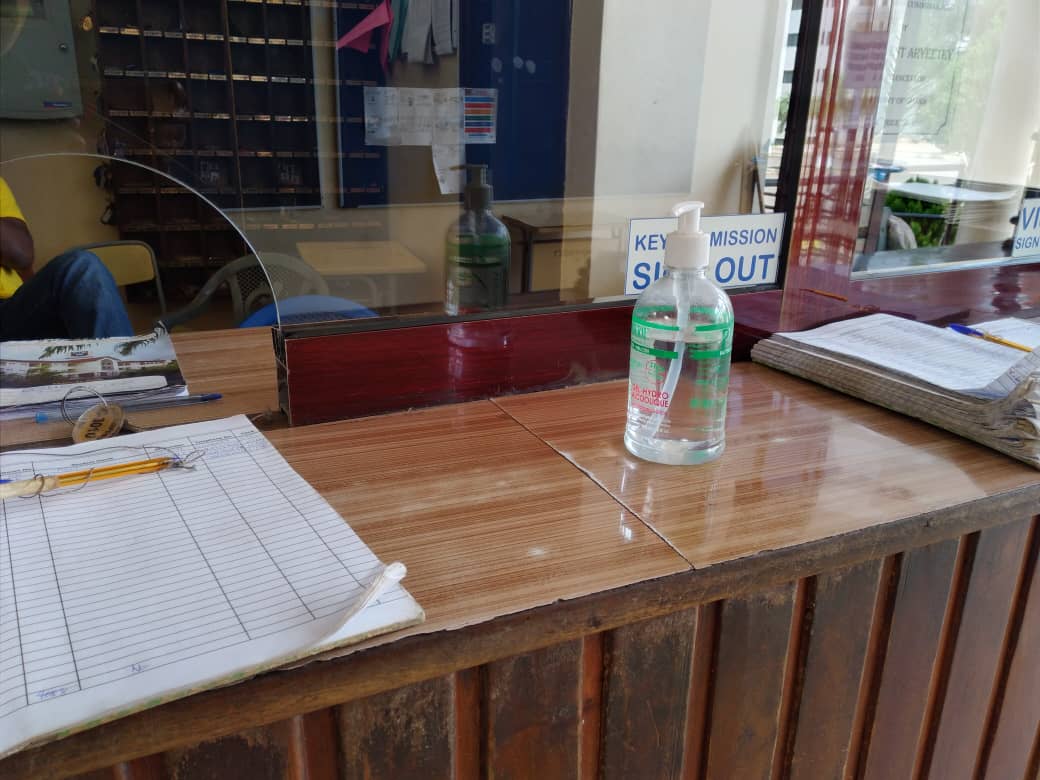 Students with peculiar challenges are those expected back on campus.
Director of Public Affairs at the University of Ghana, Mrs Stella A. Amoa, provided the breakdown of items received to make the campus safe for academic work.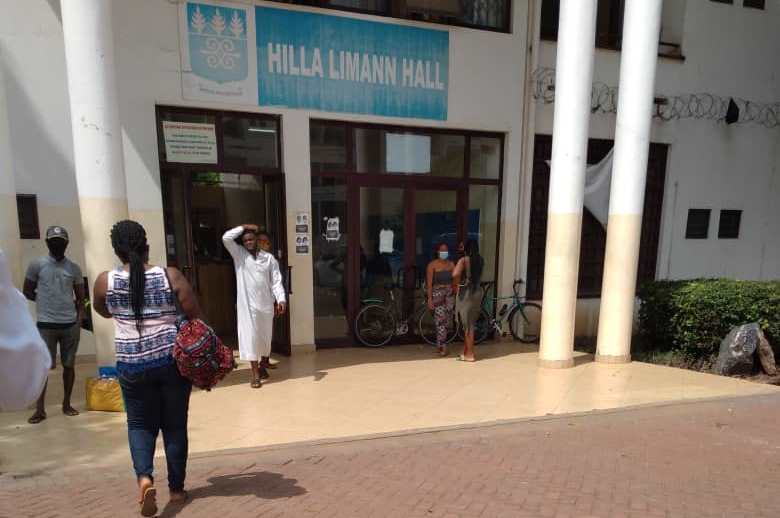 In total, UG has taken delivery of 25 pieces of Veronica buckets with stands, 35 washing bowls, 50gallons liquid soap, 50 rolls of tissue paper 56,782 face masks, 20 gun thermometers and 18,927 bottles of hand sanitizers.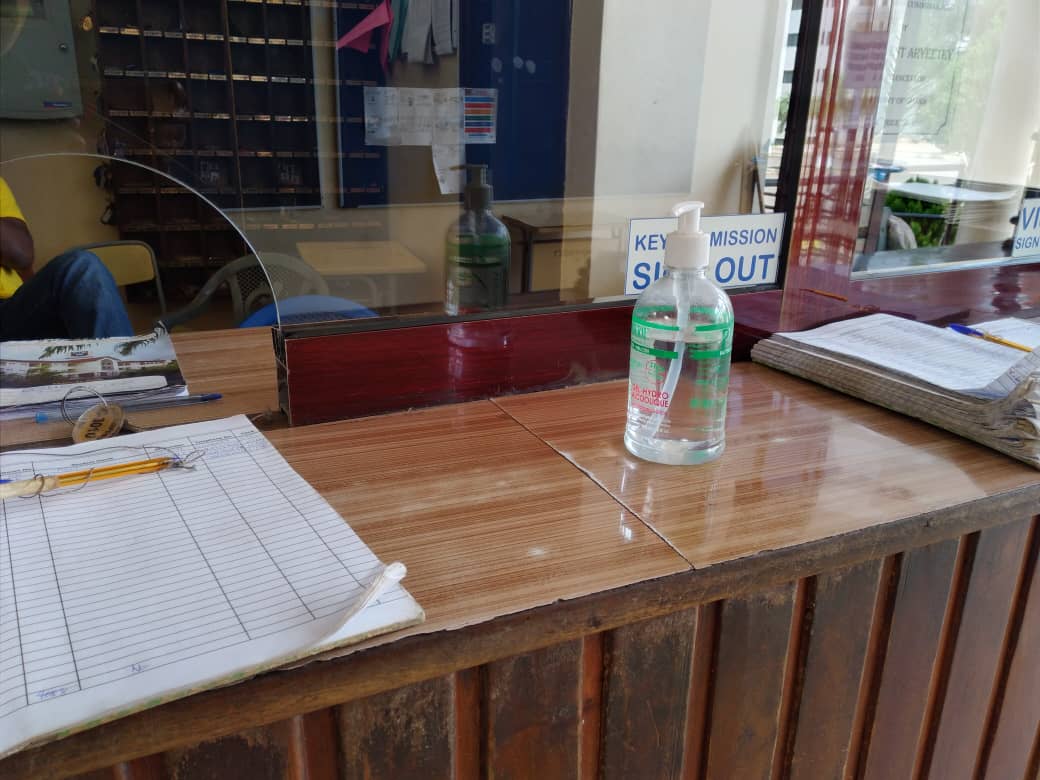 "Distribution of face masks is ongoing at the halls; 3 for each registered student. This will be followed by the distribution of sanitizers to start soon.
A visit to the University of Ghana campus on Tuesday, June 19, showed strict COVID-19 protocols implemented by management.
At the entrance to every Hall of residence, a Veronica Bucket containing water had been provided with liquid soap and tissue.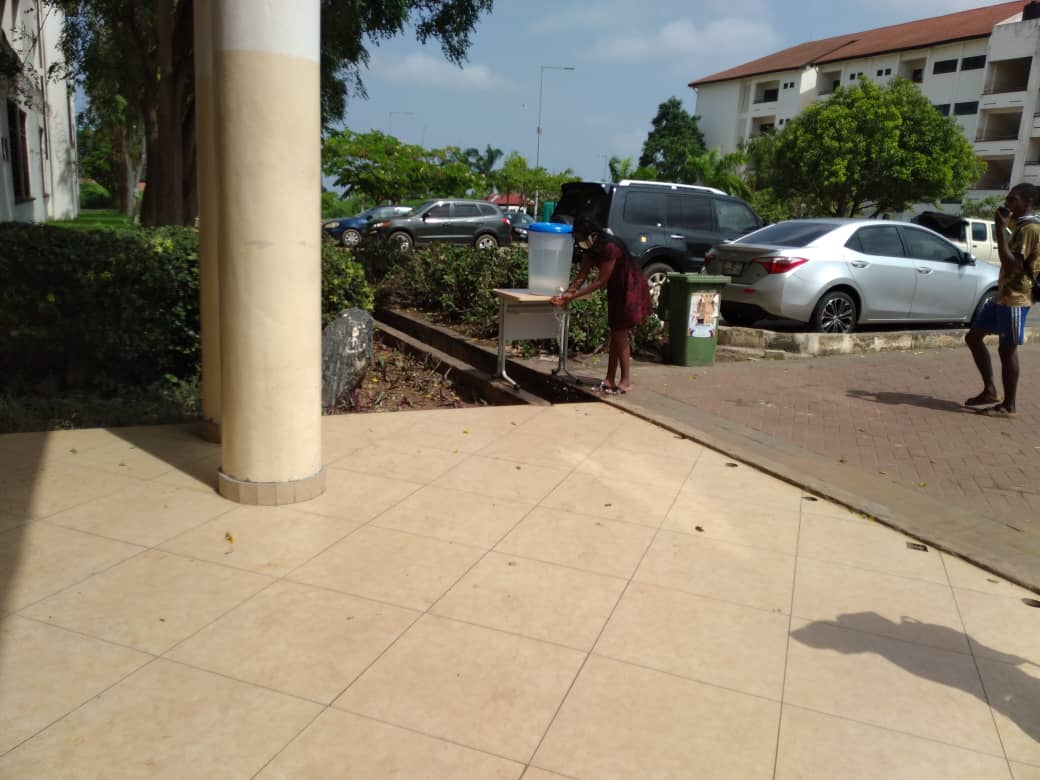 Most students wore face masks, but a few conducted their activities without any form of protection.
From the main entrance via Jubilee Hall to Hilla Limann and Alexander Kwapong Hall, a journey of more than five kilometres, theghanareport.com counted less than 30 students, with the population on campus hugely decreased.
The usual buzz within the university was gone and students trickled in one after the other with their luggage.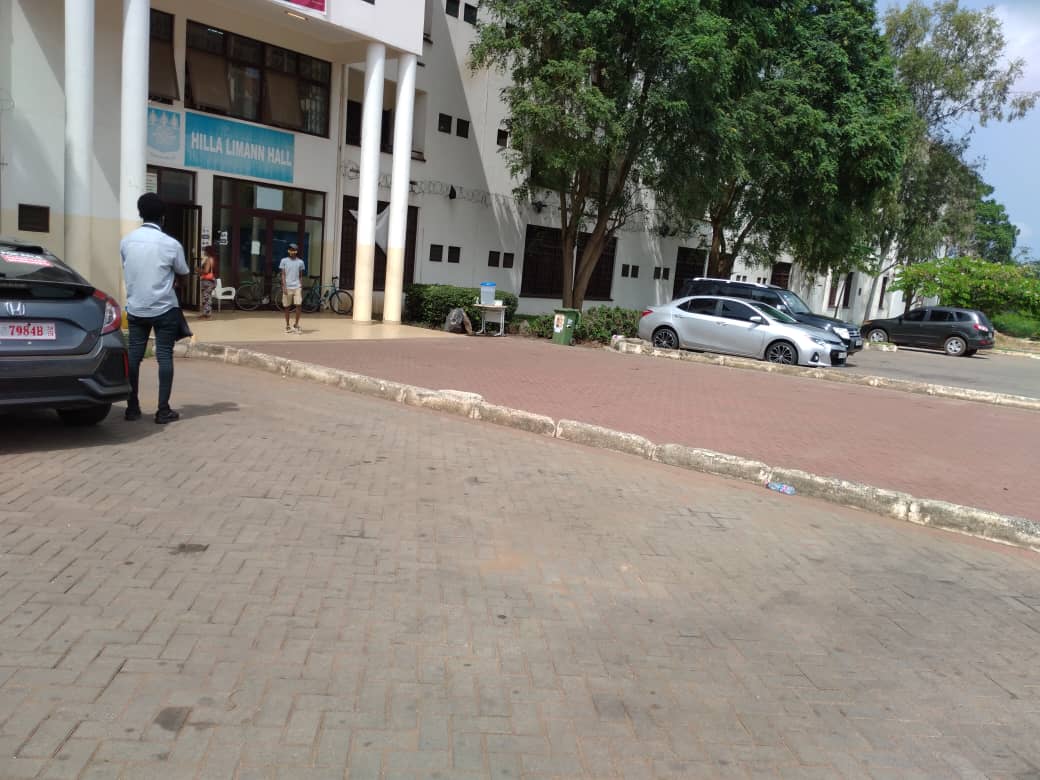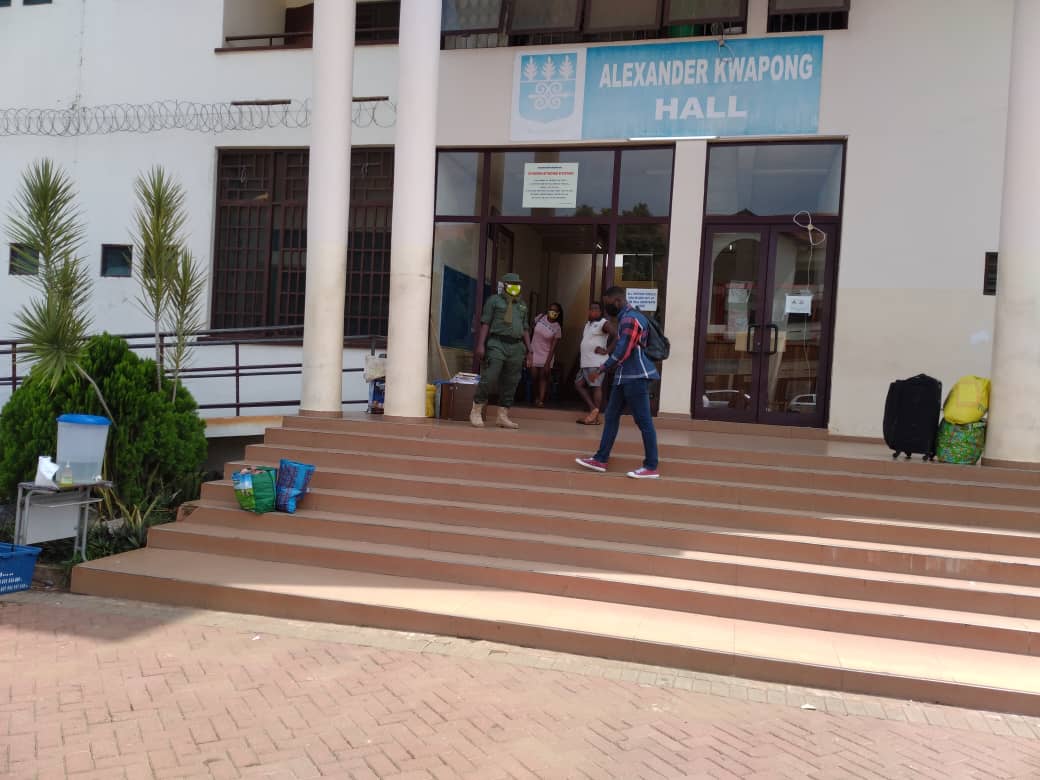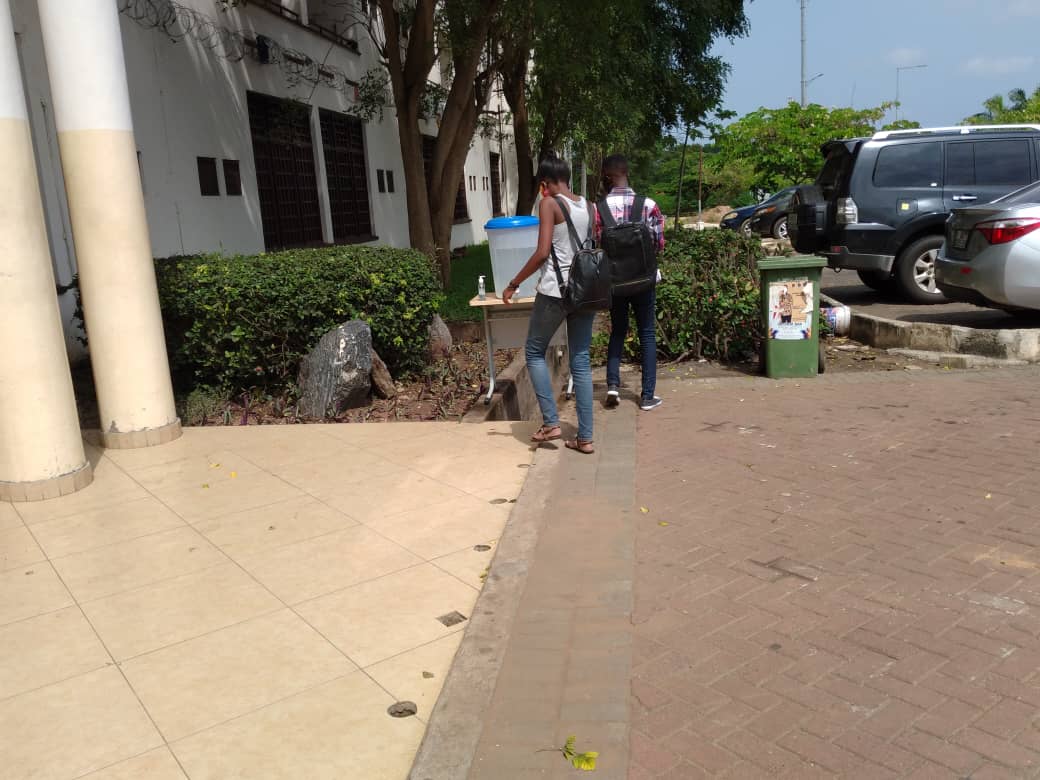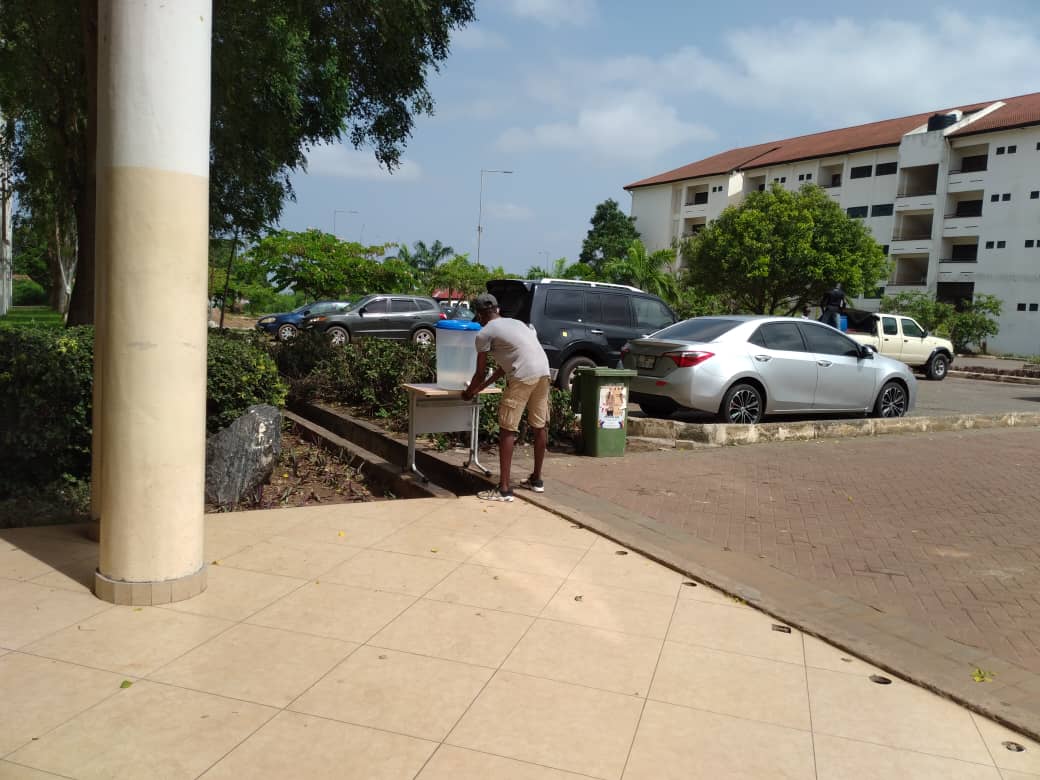 'No face mask no entry' signs were displayed at the entrance to some buildings and hand sanitisers were available to disinfect before entry.
The usual four occupants per room have been reduced to one, and a maximum of two. Restrictions have also been placed on visitors.
An official was also seen taking temperature readings of people who entered the Hilla Limann Hall.
However, nearly 10 students from different Halls who spoke to theghanareport.com indicated that they had not received the masks as announced before their return to school.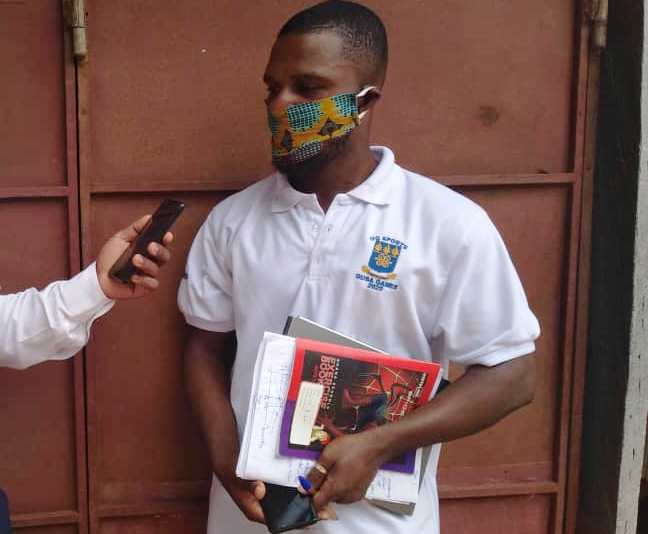 At the Alexander Kwapong Hall, theghanareport.com caught up with Werner Mawunyo Hehetror, a final-year Information Technology student who returned on Sunday.
"Not yet, maybe I think they are making the necessary provisions for us to receive it," he responded to a question on the masks for students.
Werner, who was not wearing a mask at the time, had his reasons.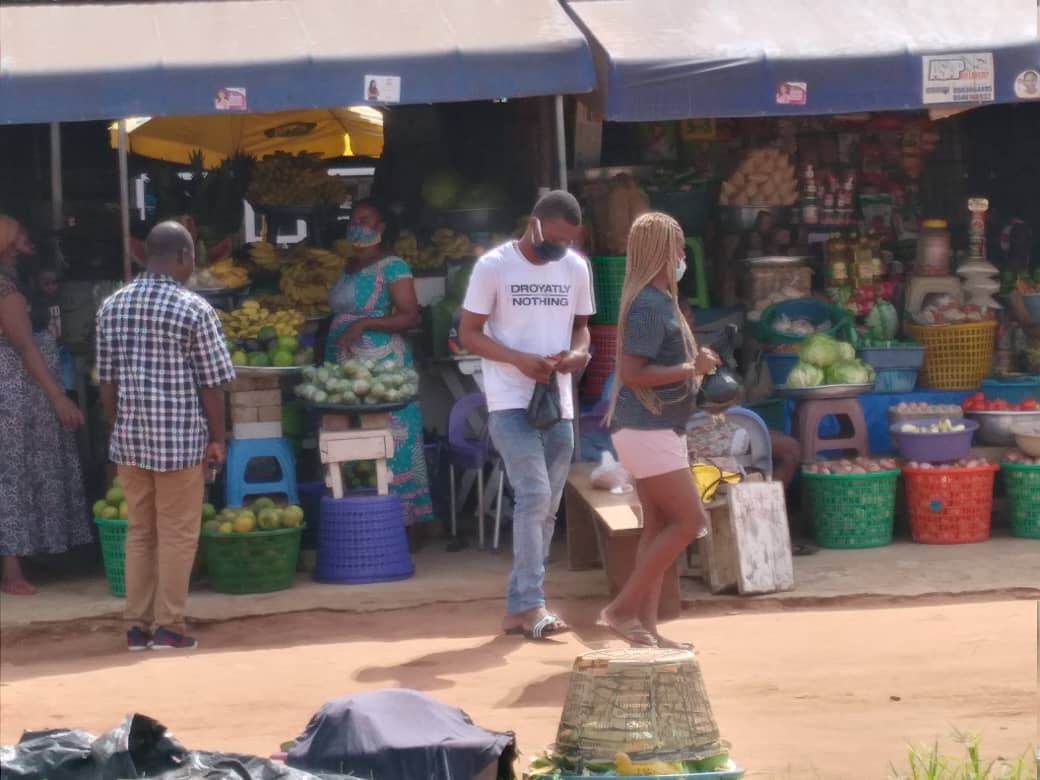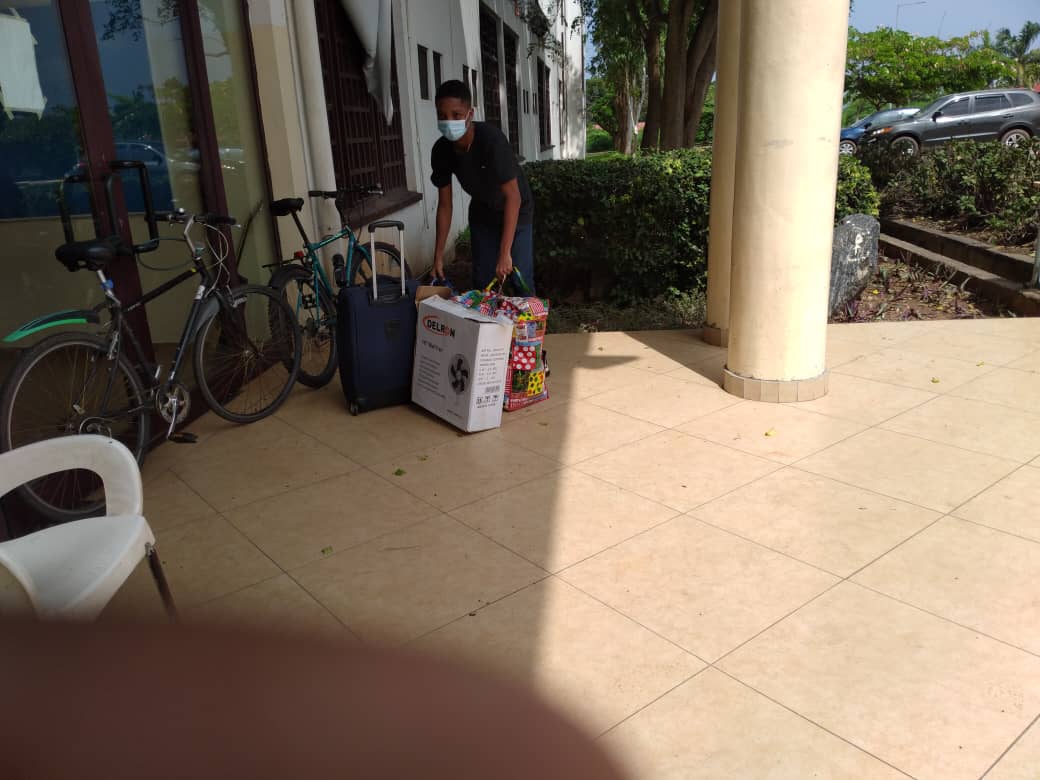 "I don't see the reason every single time the nose mask should be on my face because I want to breathe. I am not able to breathe…I don't see why I should wear it in this hot sun (and when alone)".
However, he wears the mask when he moves out of his room to places where he is likely to encounter other students.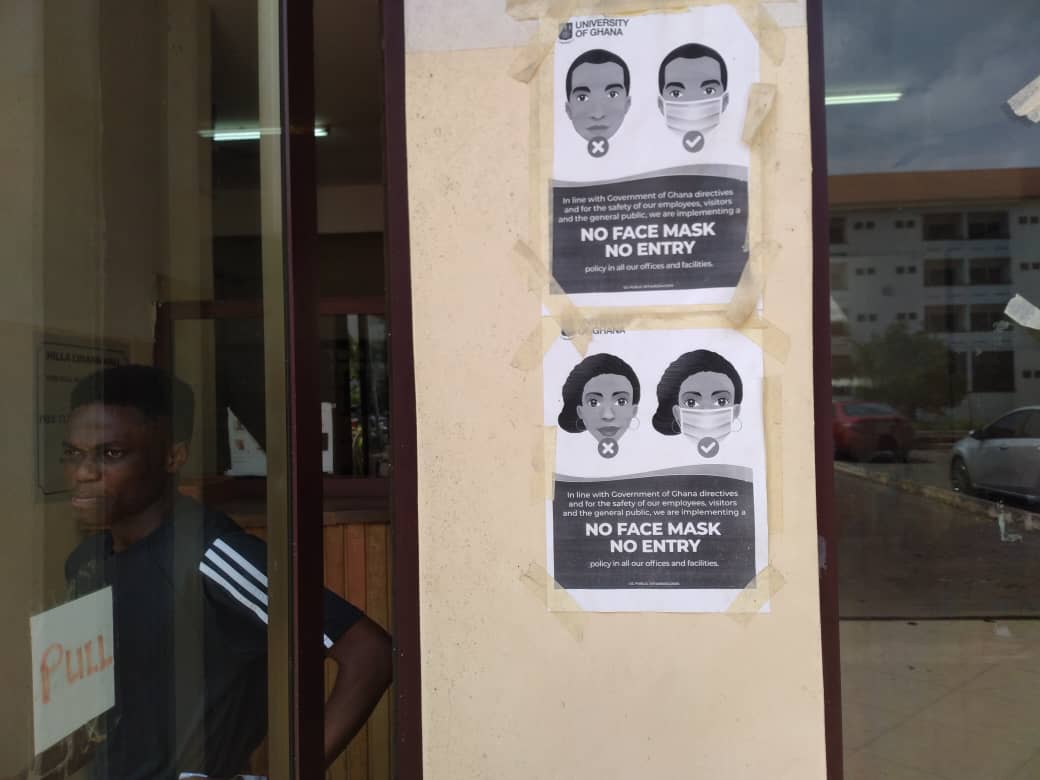 He expressed satisfaction with measures implemented by university authorities.
"I feel very safe and protected, but I am a little scared that I could get the virus because you might not know who has it. It could be a friend."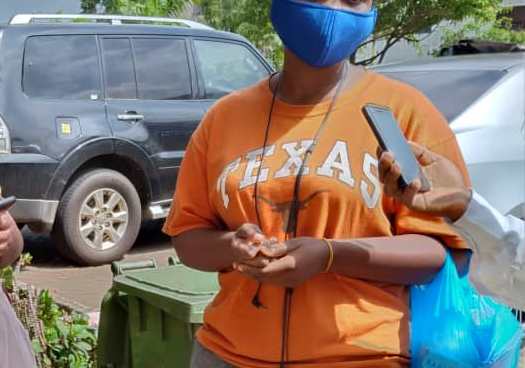 Deborah Ohene, an Economics and Statistics student, said authorities had met "the necessary requirements" to safeguard against an outbreak.
She revealed that students were asked to bring at least three re-usable masks for personal use.
She was not sure if the government's masks would be distributed later "because since we came, we haven't been given any nose masks or hand sanitiser. It's just the ones everybody brought from their various homes".
"I feel safe because I am always in my room," she concluded.
For her part,  a Consumer Science student, Bella Nadawa, who resides at Alexander Kwapong Hall, outlined measures such as hand washing, social distancing, wearing of masks, and reducing the number of students per room.
She said school authorities had not distributed any masks to students at the time of the interview.
Samuel Koranteng, an Economics student from Commonwealth Hall, told theghanareport.com that his Hall had reduced the number of occupants to two in a room.
"When you don't have your mask on, you are not allowed to enter the Hall," he noted. "I feel safe".
In his view, the university community is observing anti-COVID-19 measures because of the high literacy; hence the chances of an outbreak is limited.
Responding to the distribution of face masks, he answered: "No I haven't received it".
Edith Skuggen, a final year Actuarial Science student reported on Monday to her residence at the Pentagon Hostel.
For her, she "feels safe" because authorities have prioritised health to ensure COVID-19 protocols.
She said authorities had not given her "anything" in relation to masks earmarked for every student.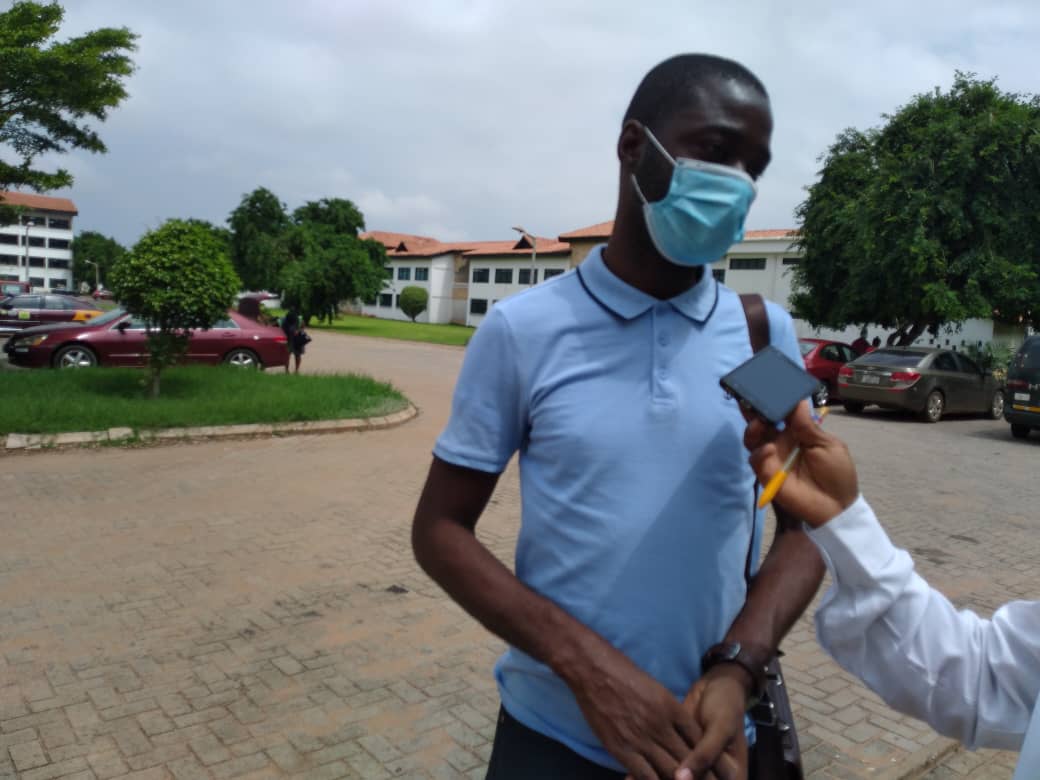 In the case of Abioudun Olayinka, an international student from Nigeria offering a PhD in Plant Breeding, he had been on campus at the Jubilee Hall since January, under special arrangements with the university.
He observed that: "Every necessary measure was put in place by the university in accordance with WHO guidelines".
He said the entire campus was fumigated "even before the final year undergraduates returned" and he had been taking his lectures and examinations online.
The PhD candidate is "very safe…everything has been top-notch. I can't get it better than I have it here", he commended the university.
Kwame Nkrumah University of Science and Technology (KNUST)
Final year students from the School of Medicine and Dentistry (SMD), Veterinary Medicine, Pharmacy, as well as Midwifery and Medical Diagnostics are expected to return.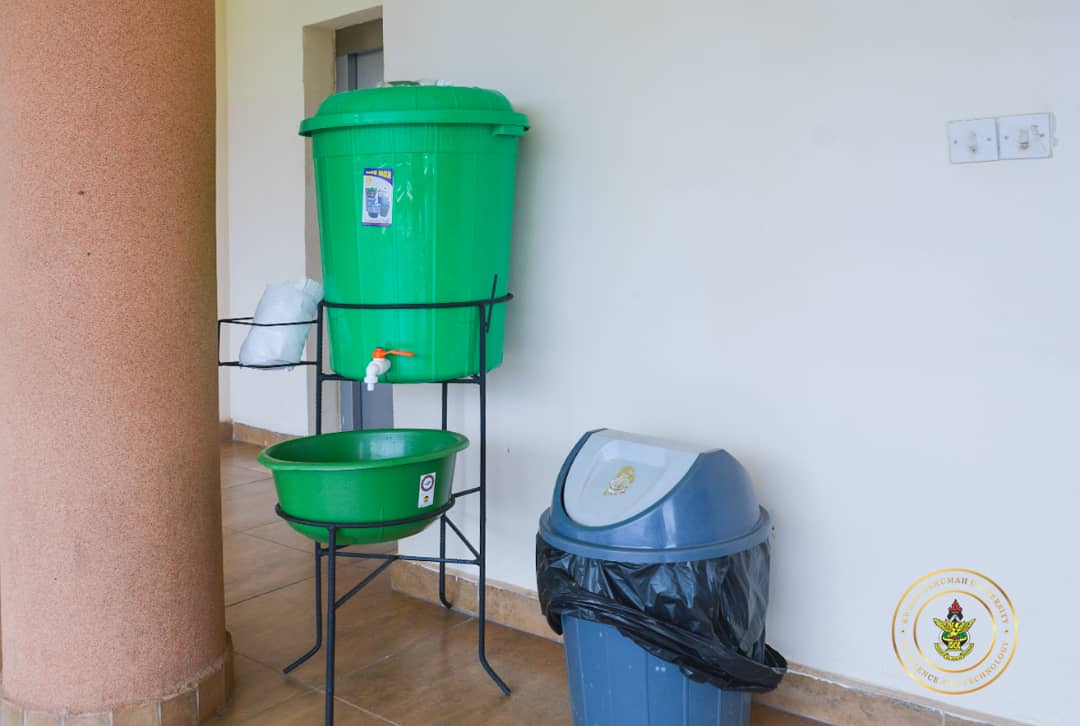 Additionally, provisions have been made for other final year students with challenges in assessing the online system to take their exams.
The university management said the government gave the school 57,166 pieces of nose masks, 25 units of Veronica bucket, 19,055 bottles of hand sanitiser, 25 gallons of liquid soap, 50 sets of tissue paper and 20 thermometer guns.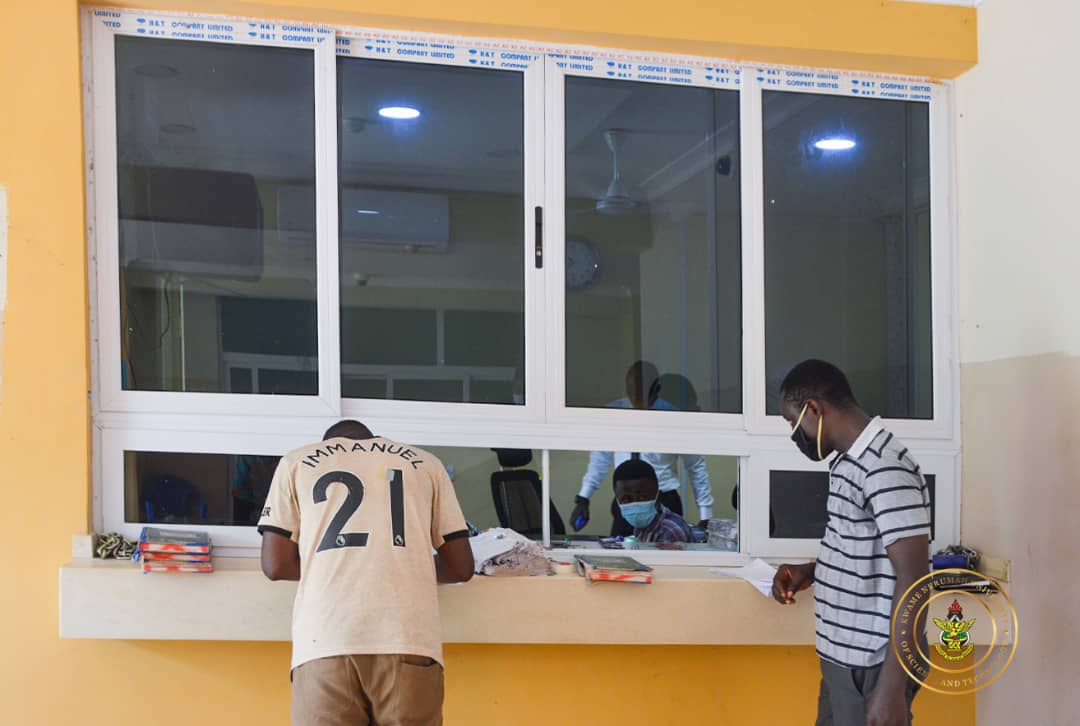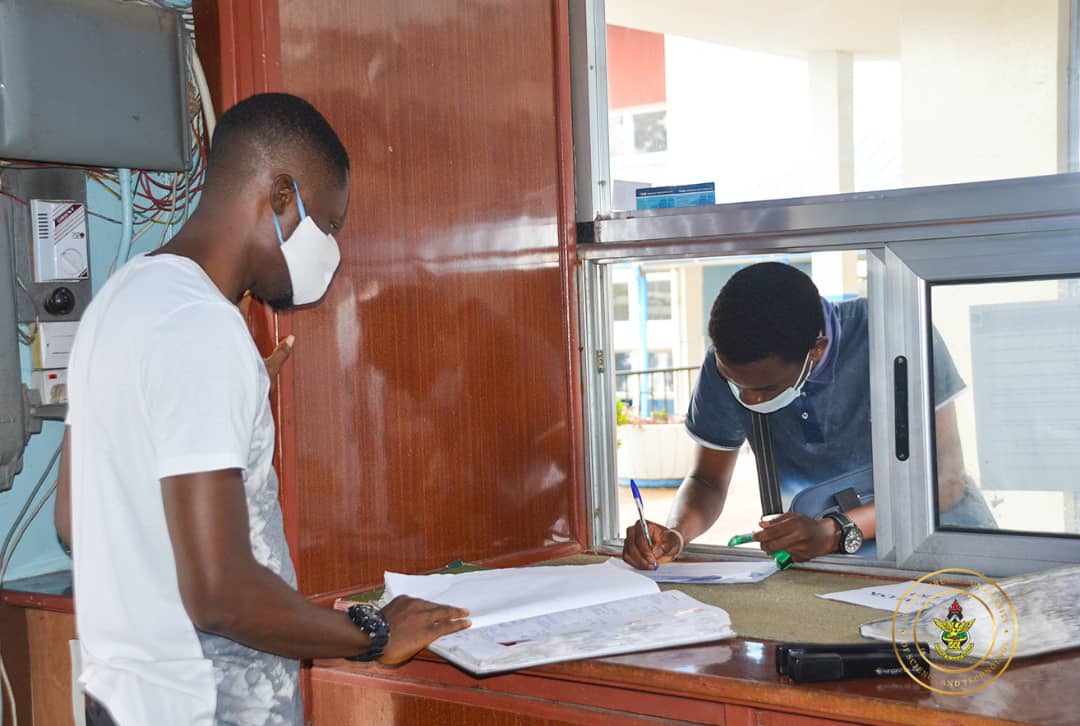 In addition to the three masks from the government, University Relations Officer, Dr Norris Bekoe, told theghanareport.com that students were each given a KNUST branded face mask and one pocket-sized hand sanitizer.
John Essien, a final year B.Sc Mathematics student and a journalist, at the campus-based Focus FM, confirmed that students had received the package.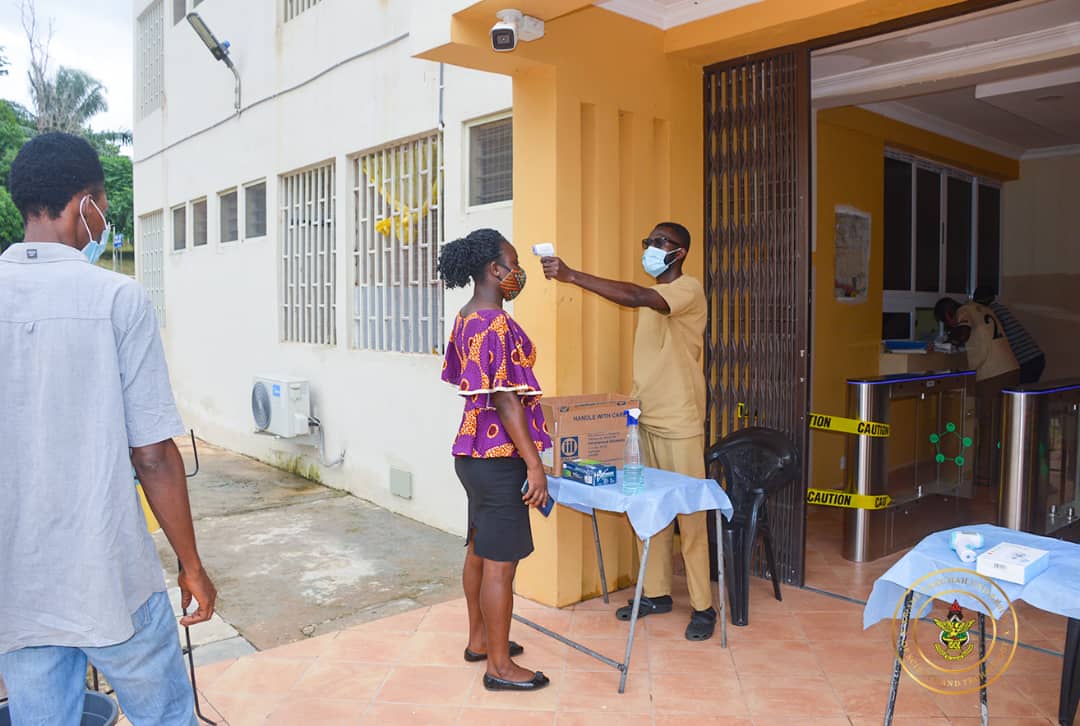 The university has limited the number of students per lecture room, while health science students taking practicals have been grouped in batches to observe social distancing.
Students have been accommodated at the Queen's Hall and the Student Representative Council (SRC) Hall.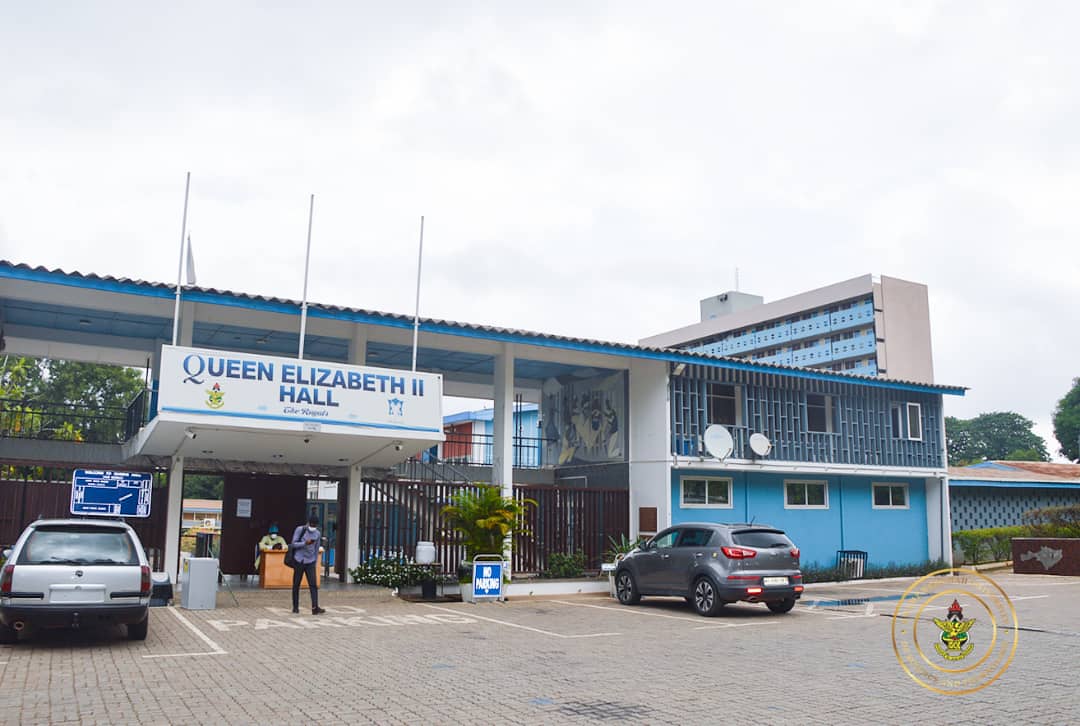 Medical personal from the KNUST Hospital and security have been stationed at the designated halls and the lecture areas to ensure strict adherence to protocols.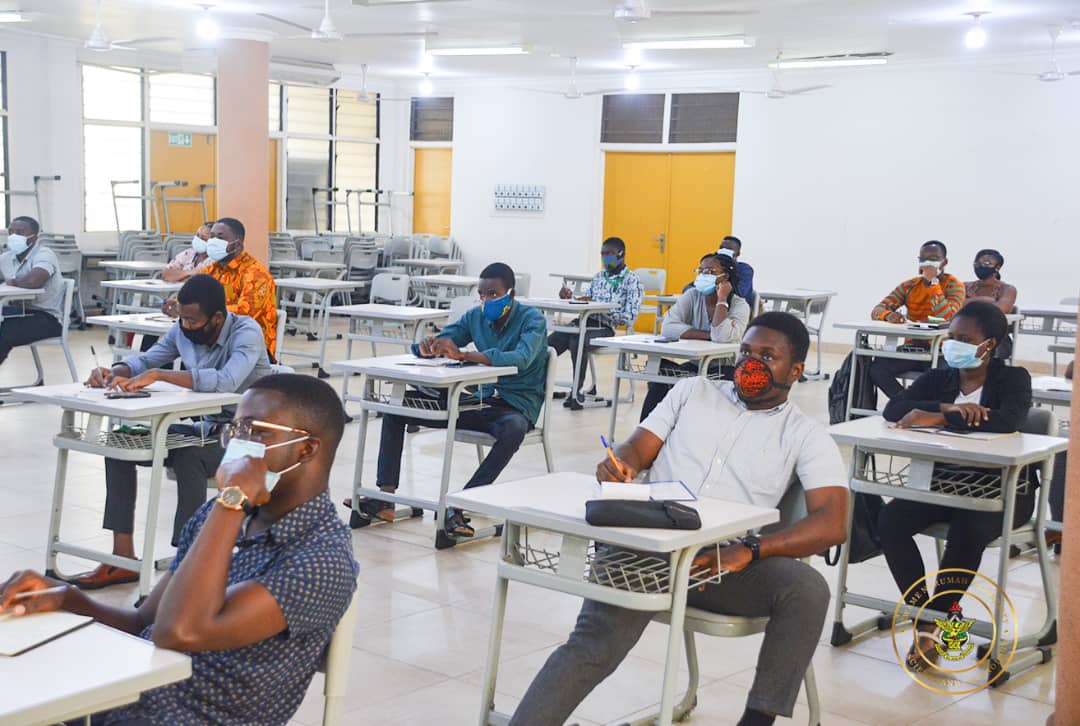 An isolation centre has also been made available to quarantine people with any suspected cases.
University of Cape Coast (UCC)
The university management confirmed receiving their consignment of PPE's from the government.
Checks by theghanareport.com indicate that distribution began after orientation for staff and students on Monday.
"As a staff, I have received mine," an official disclosed to theghanareport.com.
According to the university's plan, final year students will be in the halls of residence, a maximum of two students to a room.
Students who have special cases justifying their stay in rented hostels would be considered on the merit of each case.
Additionally, UCC will use "only large lecture theatres for revision, tutorial and examinations to ensure strict observance of the social distancing protocol."
There will be "no movement" from one hall to the other.