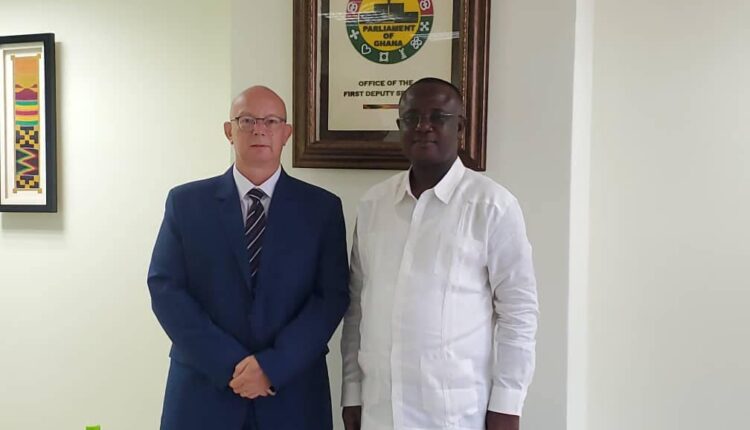 Hungarian gov't to give scholarships to 100 Ghanaian students annually
The Ambassador of Hungary to Ghana, Tamás Endre Fehér, has stated that his country will enhance its support to Ghana's education sector by increasing scholarships for Ghanaian students, especially those in the area of agriculture.
Since the re-establishment of its embassy in Accra in 2016, the government of Hungary has been awarding scholarships to 50 Ghanaians students, annually to pursue various programmes in that country as part of the Stipendum Hungaricum Programme.
The Stipendium Hungaricum Scholarship Programme was launched in 2013 by the Hungarian Government to promote the internationalisation of Hungarian higher education.
However, the ambassador, during his call on the First Deputy Speaker of Parliament, Joseph Osei Owusu, to discuss diplomatic ties between the two countries, spanning over 60 years, said, plans have been advanced to increase the number to 100.
Mr Fehér emphasised that special scholarships would also be awarded to students who specialise in agriculture.
He visited the First Deputy Speaker, who also is the Member of Parliament (MP) for Bekwai in Accra, on Thursday, October 14.
On his part, Owusu expressed his gratitude to the Ambassador for the visit and assured him of Ghana Parliament's support and readiness to reciprocate the visit to Hungary.
He drew the attention of the ambassador to the vast lands in the northern parts of Ghana which provides opportunities in the agricultural sector and called on him to ensure that Hungary channeled some of its sponsorship activities to these areas.
It is expected that the First Deputy Speaker of the Hungarian Parliament will visit Ghana from the 20th to the 26th of next month.
Meanwhile, the Hungarian University of Agriculture and Life Sciences (MATE) has also established an agency known as the Hungarian Education Agency in Ghana to facilitate and support interested Ghanaians to study in Hungary.
This move formed part of efforts to deepen Hungary's bilateral relations with Ghana in the field of education.
READ ALSO: Jospong Group Secures 50 Million Euro Contract From Hungary Government