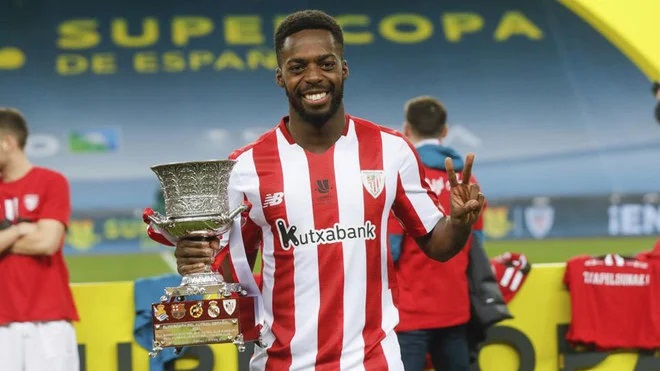 I don't deserve Black Stars call up – Iñaki Williams explains
Athletic Bilbao forward Iñaki Williams has rejected a request to play for Ghana despite attempts by the Ghana Football Association (GFA).
The 27-year-old was born in Spain to Ghanaian parents.
In a tell-all interview with The Guardian of the UK, Williams acknowledges the advances being made by the GFA to switch his international allegiance from Spain to Ghana but feels he doesn't deserve the honour to wear the Black Stars jersey.
Williams qualifies to feature for either of the countries despite playing for Spain in a friendly match against Bosnia Herzegovina in 2016.
The attempts have failed because Williams insists he feels Spanish and wishes someone more deserving – someone who "feels 100% Ghanaian" – is rather given the opportunity.
"I'm grateful…Ghana tried to convince me, but I was born in Spain, in Bilbao. I won't ever forget my family roots, but I feel Basque and can't con anyone. I would be comfortable with Ghana, I'm sure, but I shouldn't be there," he told Sid Lowe for The Guardian.
"And my mum knows how people love football there: it's quite something, and she'd be worried about me".
The pacy attacker explained that his Ghanaian connection is still quite alive through his mother and grandparents.
"When my mum's angry, she swears at us in [a] Ghanaian [language] but we speak Spanish. When my parents came [to Spain], it was English but we lost that. I could have a conversation in English but it's not fluent now. When my grandparents call, I speak to them in Twi. I admire and love Ghana, the culture, food, tradition," said Williams.
"My parents are from Accra and I really enjoy going. But I wasn't born or raised there, my culture's here, and there are players for whom it would mean more. I don't think it would be right to take the place of someone who really deserves to go and who feels Ghana 100%," he argued.
Williams grew up in the Spanish region of Basque and has been representing Athletic Bilbao since 18. He has a younger brother, Nico, a 19-year-old who also plays for Athletic Bilbao.
He made his senior team debut in 2014 and has worked hard to become an integral member of the team. Recently, he broke the record for most consecutive games in La Liga history as his side beat Alaves 1-0.
He played his 203rd successive match surpassing the record held by former Real Sociedad defender Juan Larranaga from 1986-1992.