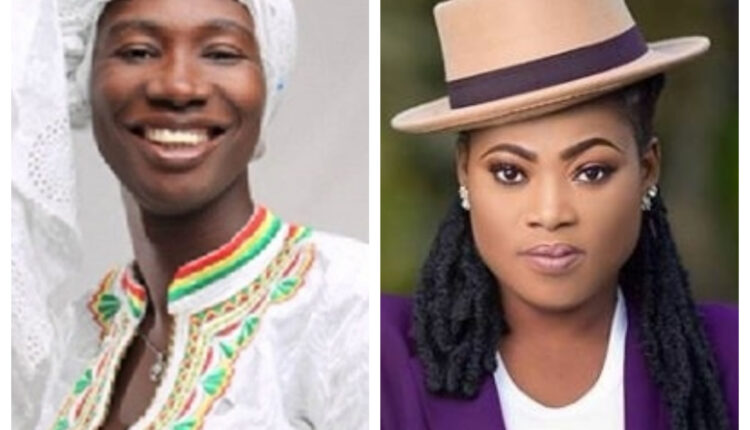 I apologized to Joyce Blessing for mic-snatching incident – Cecilia Marfo
Gospel musician Cecilia Marfo has patched up with Joyce Blessing over the public microphone-snatching incident, which embarrassed the latter.
Cecilia Marfo said she approached Joyce after realising her mistake and rendered an unqualified apology for her misconduct.
" I called her (Joyce) to apologize," She said, while claiming that Joyce "is not really my friend so it is not like I knew about her marital problems, I was directed by the Holy Spirit".
Cecilia Marfo explained the incident to Deloris Frimpong Manso, popularly known as Delay, on her entertainment show.
While Joyce Blessing was performing during the Unity Group of Companies' annual thanksgiving service on 22 January 2021, Cecilia Marfo took big strides towards Joyce with great energy and left her in shock by snatching the microphone in a manner that seemed as though Joyce was doing something wrong.
Cecilia started speaking in tongues and said God was using Joyce for His work, but what was left was for Joyce to return to her marriage.
In an enthusiastic manner, Cecilia advised Joyce to return to the man, an incident that many have condemned.
The viral generated mixed comments, with many people condemning Cecilia for her actions.
Cecilia has been involved in several controversies in the past.
She slapped another gospel singer, Brother Sammy, in 2017 at the Baba Yara Sports Stadium in Kumasi.
According to Brother Sammy, Cecilia jumped from the stage and rebuked him, saying an evil spirit had possessed him.
In a supposed attempt to exorcise the evil spirit, Cecilia poured water on and slapped him about six times in the full glare of the gathering.